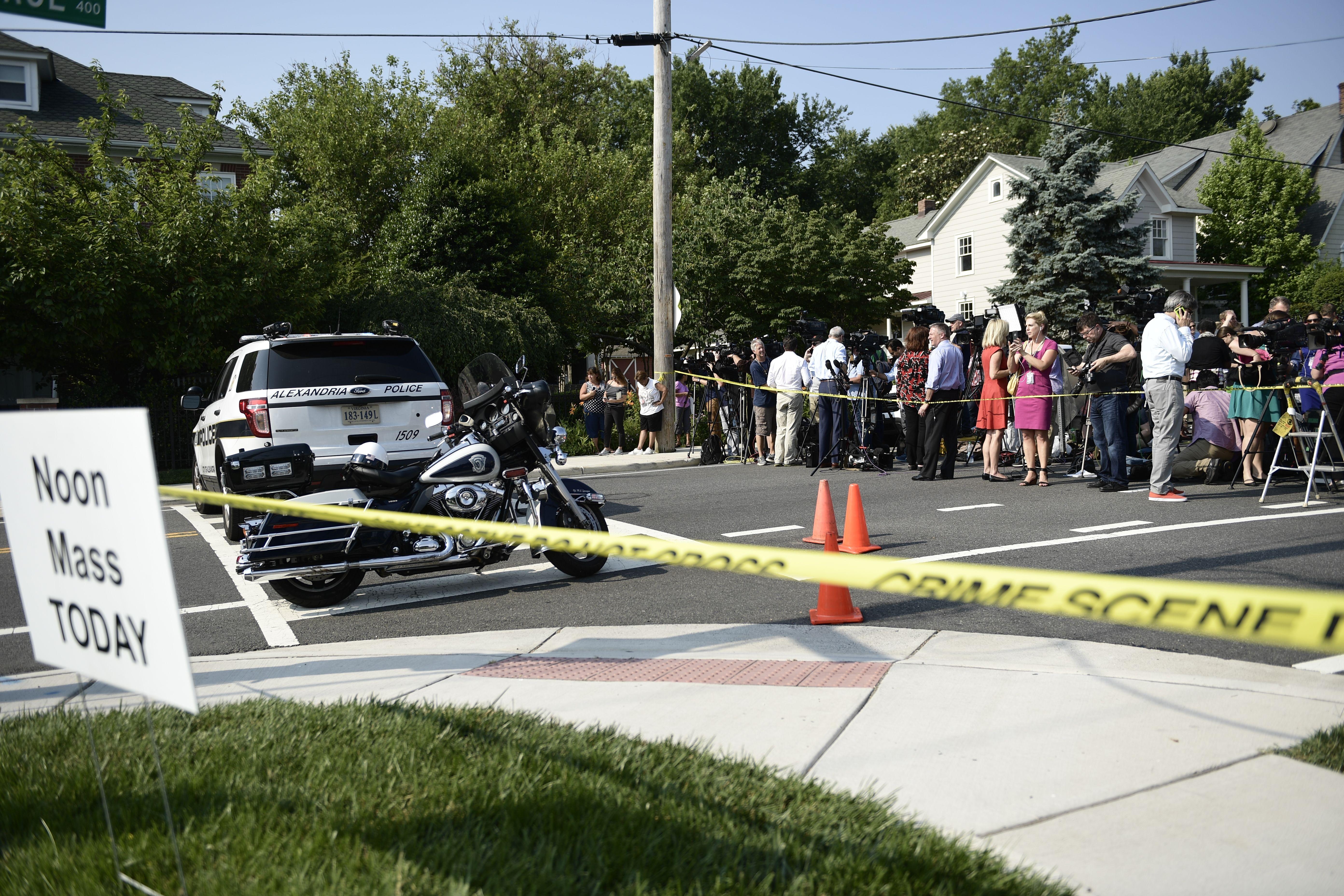 Members of Congress, political world react to Alexandria shooting
Following reports of a shooting at an Alexandria, Virginia YMCA baseball field being used for practice for the annual Congressional Baseball Game for Charity.
The shooting took place in the dugout at a field used for baseball practice shortly after 7 a.m. Wednesday morning. The injured include House Majority Whip Rep. Steve Scalise, R-Louisiana, at least two Capitol Hill police officers, the gunman, and at least one congressional staffer. His wounds were not believed to be life-threatening. A suspect is also reportedly in custody.
A source said Democratic lawmakers were practicing at their own field miles away when they heard about the shooting. They immediately stopped and prayed together.
The annual charity game is scheduled for Thursday, and Republican members were set to play against their Democratic colleagues at Nationals Park in Washington, D.C.
Reaction from both sides of the political aisle have been pouring in after the shooting. Here is some of the reaction.
President Donald Trump:
"The Vice President and I are aware of the shooting incident in Virginia and are monitoring developments closely. We are deeply saddened by this tragedy. Our thoughts and prayers are with the members of Congress, their staffs, Capitol Police, first responders, and all others affected." The president also tweeted about Scalise.
First Lady Melania Trump:
Ivanka Trump:
Speaking at a workforce development roundtable event at the White House, the senior adviser and eldest Trump daughter said she was "offering our thoughts and prayers to Congressman Scalise and all of the victims in today's tragic events." She added, "We are grateful for their service and their dedication to this country. And thank you everyone for traveling here to be with us today. My father said this morning it is times like these we must all work together for our country, and we appreciate you doing just that."
Rep. Roger Williams, R-Texas:
Williams , who was at the scene of the shooting, has been the head coach for the Republican team since he first joined Congress in 2013. A Williams staffer was reportedly shot during the incident.
Gov. Terry McAullife, D-Virginia:
In a statement following the shooting, McAullife thanked the US Capitol Police and local first responders for their swift action in stopping the gunman and treating the Congressmen.
Rep. Jeff Duncan, R-South Carolina:
"The world changed a little bit for us as members" Duncan told reporters, recalling his interaction with a person who had reportedly asked Duncan, who was leaving practice at the time, if there were Republicans or Democrats practicing on the field Wednesday morning.
Sen. Mitch McConnell, R-Kentucky:
Speaking on the Senate floor, McConnell said the Senate will embrace the spirit of the bipartisan congressional baseball game "as we come together in expressing both our concern and our gratitude."
Sen. Rand Paul, R-Kentucky:
Paul was present during the shooting, saying he is now "shaken but unharmed." He added, "Many people likely would have died this morning if not for the bravery of the Capitol Police. My thanks to them are inadequate but heartfelt. They never hesitated to put their lives on the line to save everyone. Please pray for those who were injured."
Sen. Bernie Sanders, I-Vermont:
Sen. Chris Murphy, D-Connecticut:

Rep. Kevin McCarthy, R-California:
Rep. Barry Loudermilk, R-Georgia:
"I was on the field, but I'm okay. This was a senseless act of evil. Please pray for those who were shot and their families."
Rep. Tom Rooney, R-Florida:
Rooney, a member who had just left to drop off his children at school , offered words of support to Scalise on CBS News Wednesday morning, saying, "I love you man. I'm sorry I wasn't there with you."




















House Speaker Paul Ryan, R-Wisconsin:

Vice President Mike Pence:
Sen. Claire McCaskill, D-Missouri:
Sen. Chuck Schumer, D-New York:
Rep. Steny Hoyer, D-Maryland:
Rep. Nancy Pelosi, D-California:
"This morning, the U.S. Congress suffered a despicable and cowardly attack. My thoughts and prayers are with Whip Steve Scalise and the others wounded, Capitol Police and staff, and their families. We are profoundly grateful for the heroism of the Capitol Police, whose bravery under fire undoubtedly saved countless lives. On days like today, there are no Democrats or Republicans, only Americans united in our hopes and prayers for the wounded."
Secretary of State Rex Tillerson:
At the top of his opening remarks at a budget hearing before the House Foreign Affairs Committee, Tillerson said, "We were all stunned news of the events that effected one of your colleagues. Scalise is a friend of mine and represents many of my friends in Louisiana. My prayers and those at state are with the injured and law enforcement that responded to the attack."
Nikki Haley, U.S. Ambassador to the United Nations:
Sen. Marco Rubio, R-Florida:

Mayor Muriel Bowser, D- DC:
Former Arizona Rep. Gabby Giffords:
Giffords, who, while she was in Congress, was wounded in a mass shooting in 2011 that ended with the deaths of six people. Twelve others were injured. She was the last active member of Congress to be shot before Scalise.
Former Vice President Joe Biden:
Sen. Ron Wyden, D-Oregon:
Rep. Lou Barletta, R-Pennsylvania:
Rep. John Kennedy, R-Louisiana:
Rep. Glen Grothman, R-Wisconsin
Sen. Bill Nelson, R-Florida:
CBS News' Len Tepper contributed to this report.
Thanks for reading CBS NEWS.
Create your free account or log in
for more features.