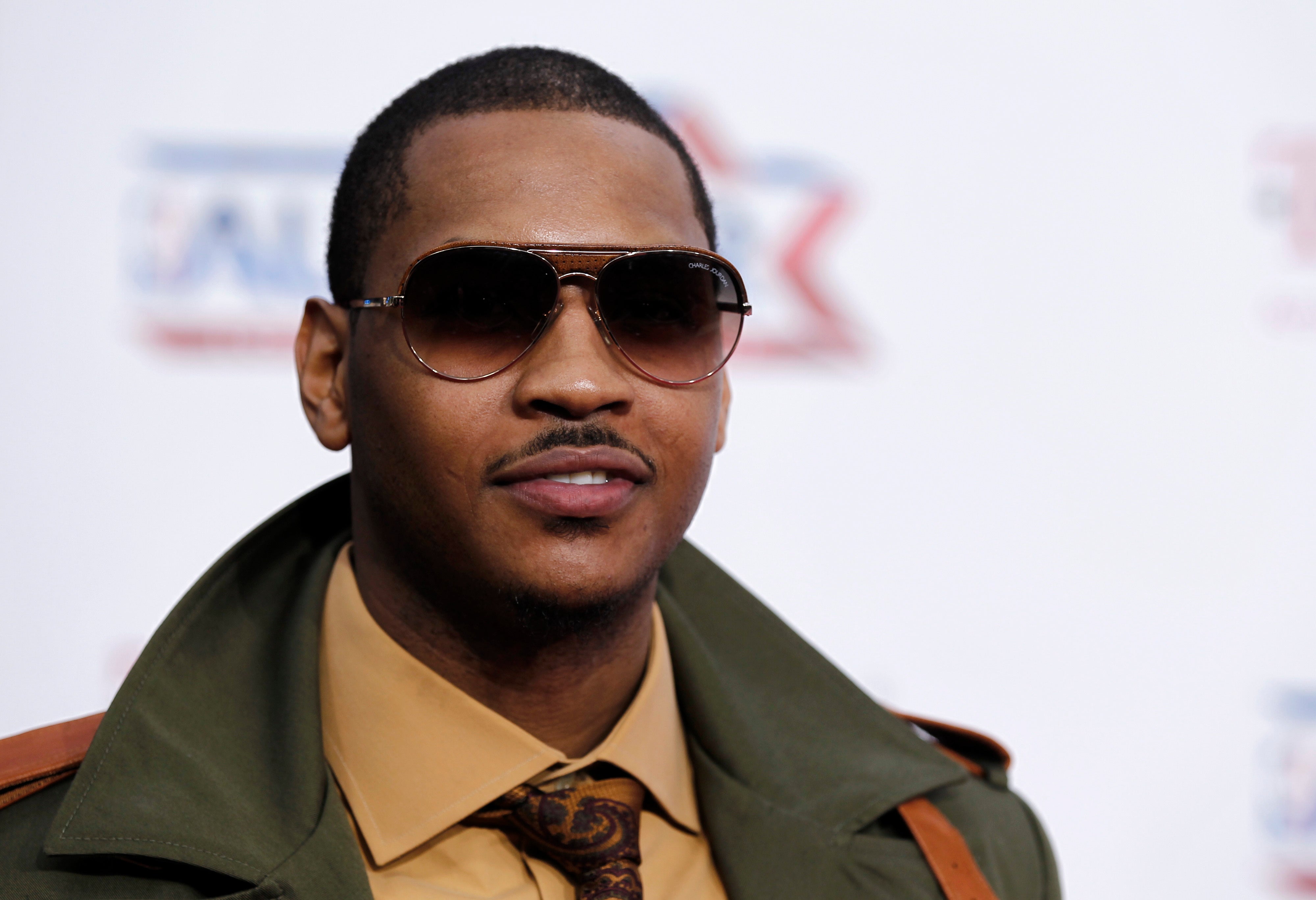 Melo-drama pits New York vs. New Jersey
LOS ANGELES - East vs. West was overshadowed by New York vs. New Jersey during All-Star weekend.
And even though Kobe Bryant won the MVP, Carmelo Anthony made the most headlines.
Anthony took the meetings, gave no answers and ultimately got none, either. The only team that seems to have any is his Denver Nuggets.
Photos: Carmelo Anthony
"The Nuggets have known everything since day one (about his intentions), so just because we don't tell you guys everything, they know everything," Anthony said Sunday after the All-Star game.
But a resolution to the season-long trade speculation could come at any moment, landing him with the Knicks or the Nets. Or it could go right until Thursday's deadline — if it happens at all — which is what his wife, La La Vazquez, thinks.
"I do, I do, I really do, because I've been hearing about this for so many months and I was thinking, 'OK, something's going to happen," she said before the All-Star game. "So at this point, I do believe that it probably is going to go down to the wire. If anything, who is to say, it's just not, stay where you are? You know?"
The Melodrama reached perhaps its most bizarre point Sunday. Nets owner Mikhail Prokhorov essentially said at least the Nets drove up the Knicks price. And the Knicks hierarchy insisted they were unified in their pursuit of the All-Star forward amid reports someone who no longer works for the team was pulling the strings.
Anthony had said he hoped to resolve his future by the end of the weekend while the entire basketball world gathered in Los Angeles, but 'Melo seemed mellow about missing that soft deadline.
He finally acknowledged meeting with Prokhorov and Madison Square Garden chairman James Dolan, saying they were "generic meetings that (the Nuggets) allowed me to take, but nothing specific."
Prokhorov told CNBC on Sunday he had a "fantastic" meeting with Anthony on Saturday night. The Russian billionaire had pulled the Nets out of talks last month, and even after they were recently renewed he said he originally had no plans to meet with Anthony during the All-Star weekend.
"As you know, my instinct was to stay away and I still think that is (the) right decision," Prokhorov said. "But when the meeting was fixed, (Nets general manager) Billy King called me and said, 'We need you.' I was convinced and I still think I'm right to stay away, but we have teamwork so sometimes we need to be all together."
Asked at Staples Center before the All-Star game if he had any news on a deal, Prokhorov said: "I don't care."
The Nets still believe Anthony would agree to sign a contract extension with them that would be a prerequisite to making the deal, despite previous reports that he would only do so if traded to the Knicks.
"I was just listening," Anthony said of his meeting with the Nets. "I didn't give anybody a definitive answer. It was a good meeting to have. I'm not going to talk about the selling points and all that stuff. It was interesting. It's hard for me to sit here and talk about what the Nets can do, because I'm not in a Nets uniform."
Even if they can't get an agreement from Anthony, Prokhorov sees value in the Nets' return to the trade talks.
"I think we made a very good tactical decision to force (the) Knicks to pay as much as they can," Prokhorov said. "So it's very good, it's very interesting, it's very competitive."
And it created reports that the Knicks' negotiations had been taken out of the hands of team president Donnie Walsh by Madison Square Garden chairman James Dolan — with former Knicks president and coach Isiah Thomas advising him. The team attempted to shoot them down with a statement Sunday.
"We want to make it abundantly clear that we have been in constant communication throughout this process and the three of us are in complete agreement with everything that we are currently working on. Together, we will do what is best for the long-term success of the franchise," said the statement, which was attributed to Dolan, Walsh and coach Mike D'Antoni.
The Knicks would send three starters -- Wilson Chandler, Danilo Gallinari, and Raymond Felton -- to Denver for Anthony, Chauncey Billups, Shelden Williams and Anthony Carter, sources told CBSSports.com's Ken Berger Sunday. The Nuggets would get the Knicks' first-round pick in 2014, while Minnesota would get Eddy Curry's expiring contract and Anthony Randolph from New York. Curry would then be waived, and the Knicks would send as much as $3 million to Minnesota to pay his freight.
Walsh has been patient in his approach with Anthony, who can become a free agent after the season. The Knicks could just sign him then without having to give up any of their young core in a trade with the Nuggets, but Anthony would prefer a deal during the season so he'd be eligible for the three-year, $65 million extension he's refused to sign with Denver.
"An extension will come into play, regardless of the situation," Anthony said. "I haven't talked to anybody today from the Denver Nuggets organization, so as of right now, I'm still a Nugget."
The New York Daily News reported Dolan met Thursday with Anthony in Los Angeles, and Yahoo! Sports reported the Knicks had increased their offer to the Nuggets to include three starters, triggering speculation the owner was overruling his basketball people because he wanted a trade done before Thursday's deadline.
Walsh previously had said he didn't understand the fuss about Dolan's involvement, since ownership always is when a trade becomes closer.
But Dolan's presence has sparked further belief — along with some panic and outrage by Knicks fans — that he is relying on Thomas, who led the team for a tumultuous 4½ years.
Though a plan to rehire Thomas as an official consultant fell through last August because his position as coach of Florida International University prevents him from being employed by an NBA team, Dolan said at the time that he would "continue to solicit his views."
But the Knicks say that's not happening on this deal.
"In addition, we want to make it clear that no one from outside our organization has been involved in this process in any way," the statement read.
The Knicks said they would not have any further comment.
Thanks for reading CBS NEWS.
Create your free account or log in
for more features.