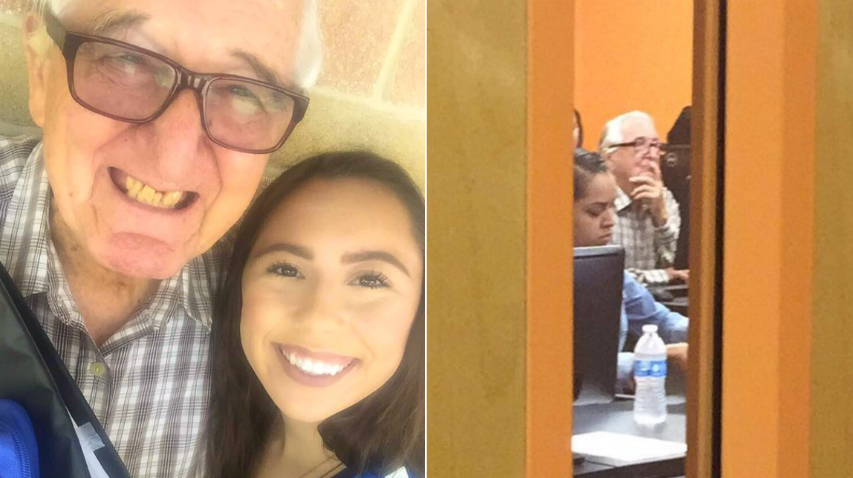 This teen girl and her 82-year-old grandpa are going to college together
The first day of college can be nerve-wracking for freshman as they try to meet new people and make new friends.
But 18-year-old Melanie Salazar didn't feel that pressure.
The teen entered Palo Alto College in San Antonio, Texas, knowing she was attending with one of her best friends -- an 82-year-old economics major that she proudly calls "Grandpa."
Her grandfather, Rene Neira, has been taking economics classes here and there for as long as Salazar has been alive. He's expecting to get his associate's degree after this semester.
"I think people are very drawn to him because this is an every day person -- an 82-year-old person -- who isn't giving up on their education," Salazar told CBS News. "He's determined to get his degree."
When the teenager tweeted about how proud she was of her grandpa on his first day of school, she never expected the tweet to go viral. More than 2,200 people retweeted photos of the pair, admiring his determination.
"It's been awesome knowing how something that seems so normal to me is so out of the ordinary and extraordinary to everyone else," Salazar said.
Neira originally started college in the 1950s, but put school on hold after he got married. He's had several jobs throughout his lifetime, but he's always been drawn back to one of his first loves: economics.
Outside of school, the bubbly elderly man is the first person to crack a joke. But when he needs to study, you won't be able to drag him away from a book.
"He'll spend hours at a time in the library by himself just studying," Salazar described. "He's very focused with schoolwork."
As soon as Neira graduates, he's going to apply to the University of Texas at San Antonio in hopes of getting his bachelor's degree.
His passion has inspired Salazar, a current liberal arts major who admits she's somewhat undecided on what she wants to do for the rest of her life.
"It really inspires me and keeps me determined," she said. "I want to be like my grandpa and be determined to find what I love and get a degree."
Neira told his granddaughter that he's happy his story is helping her and other students on campus, but that wasn't his goal.
"I'm just doing what I've always wanted to do," Salazar recalls her grandfather telling her.
Thanks for reading CBS NEWS.
Create your free account or log in
for more features.