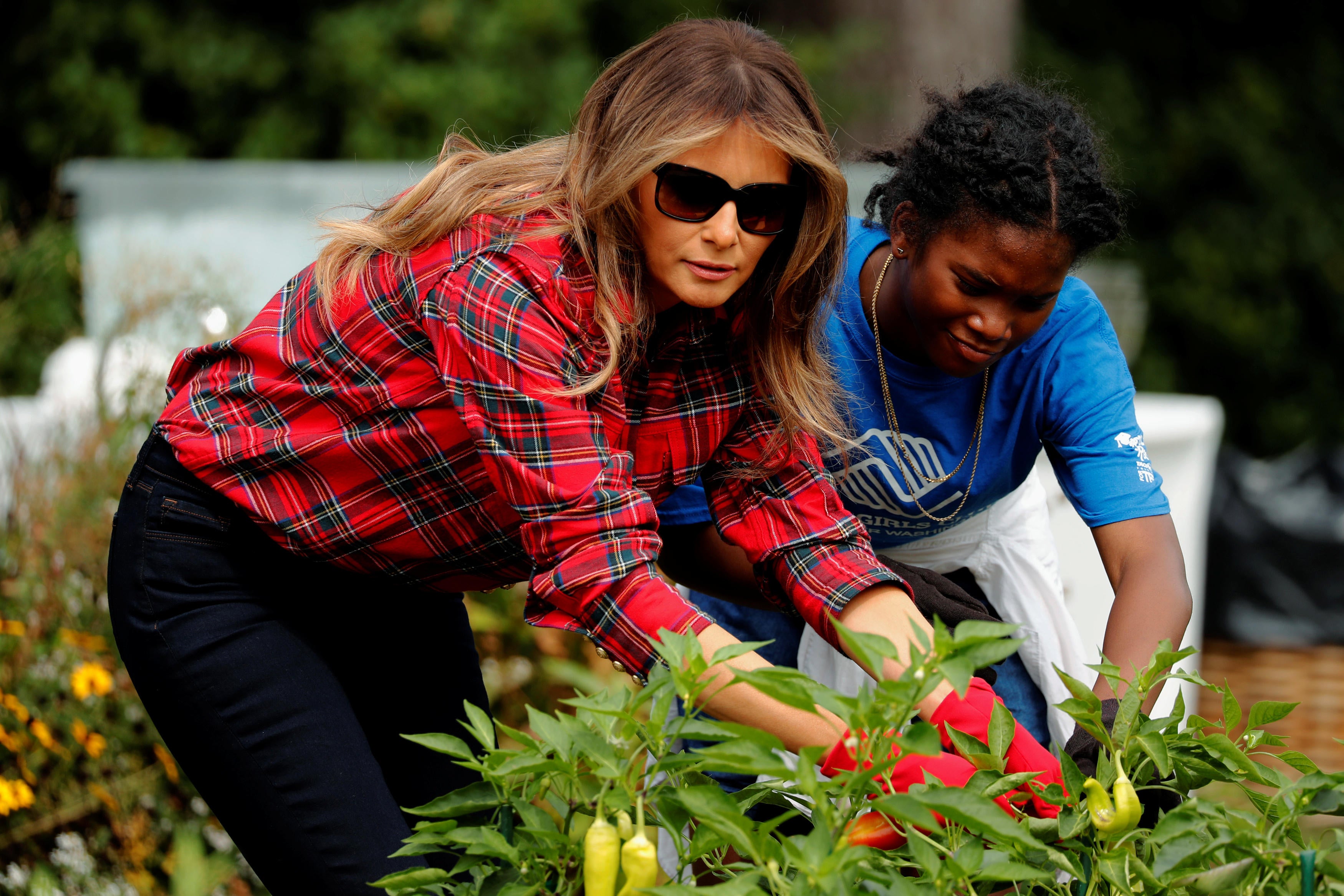 Melania Trump harvests and plants in White House Garden
Melania Trump, accompanied by a dozen children -- most of them from the local Girls and Boys Club -- went to the White House Garden to do some planting and harvesting.
Before Mrs. Trump arrived, the children walked around and examined the garden, asking questions about the vegetables they would be planting and whether their harvest would be part of lunch. The logistics of getting the vegetables cleaned meant they wouldn't get to eat what they picked. But each child received honey from the White House bee hive and a garden kit, so they can do their own planting.
Mrs. Trump engaged the children in conversation about the vegetables they like and asked whether they had gardens. She responded enthusiastically to a young girl who said she has an apple tree in her backyard. The children they helped her plant a variety of vegetables, including broccoli and lettuce, and the children also picked bell peppers. Mrs. Trump walked around the garden, trying to work a little with each of the children. At one point, she asked two girls to come help her. They smiled broadly when realized how easy it was to pull the vegetables straight out of the ground.
As the group planted and harvested, the White House chefs began hand-washing the newly harvested vegetables in ice water bins, so the vegetables can be eaten Friday evening.
Mrs. Trump's office said earlier the group would harvest arugula, peas, radishes and Swiss chard and planting cabbage, cauliflower, turnips, carrots, kale, spinach and lettuce.
This was her first event in the 2,800 square-foot garden that Mrs. Obama had made a key part of her "Let's Move!" campaign to fight childhood obesity and promote healthy eating. The former first lady said last year she hoped the garden would symbolize a healthier nation and that future first families would also cherish it.
Mrs. Obama planted the garden in 2009, and the garden has yielded hundreds of pounds of fruit and vegetables every year. Some of the harvest fed the Obamas and White House guests, while other vegetables and herbs were given to local food kitchens.
CBS News interns Danielle Gillis and Alec Snyder contributed to this report.
Thanks for reading CBS NEWS.
Create your free account or log in
for more features.