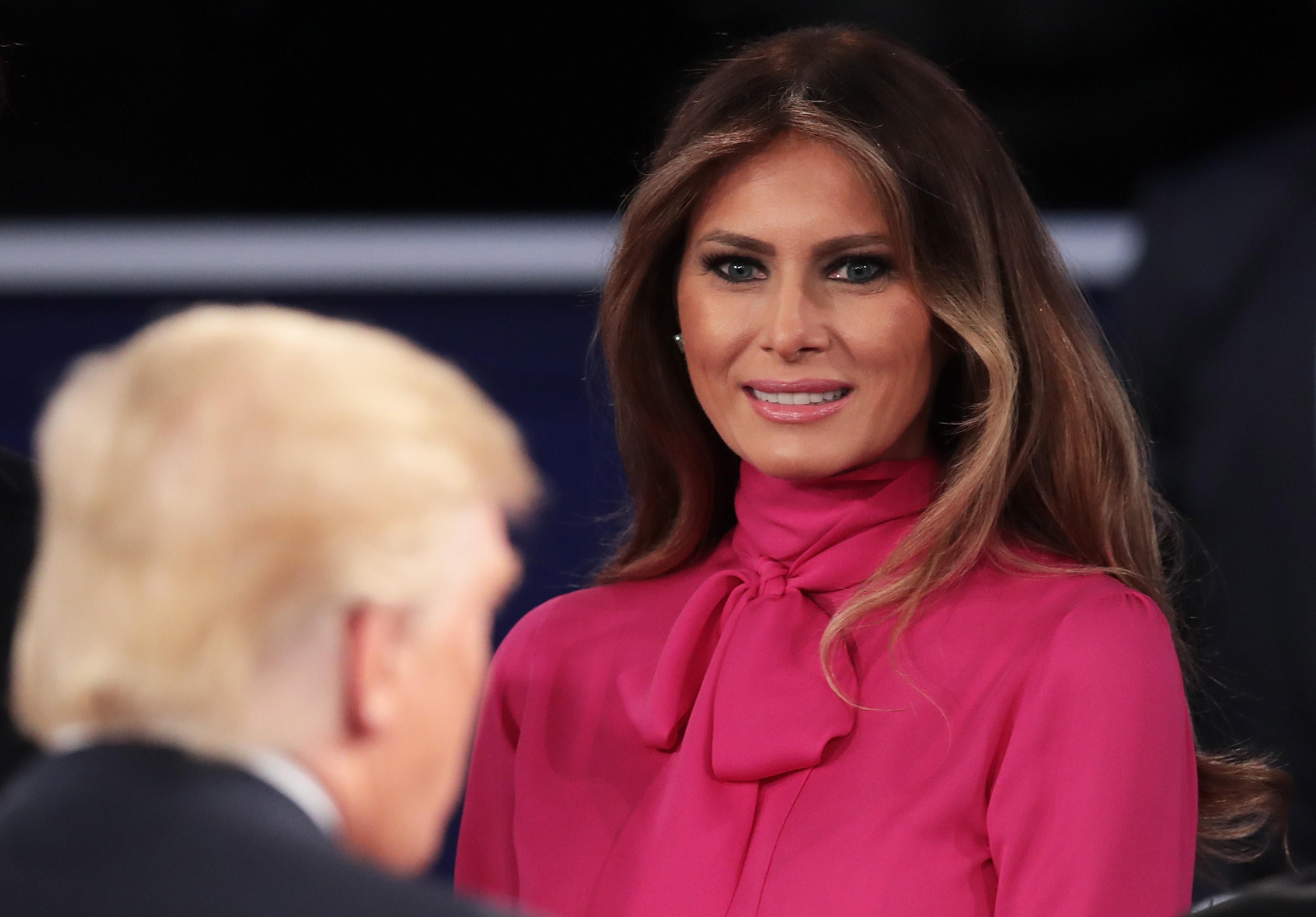 Melania Trump wears "pussy bow" to second debate
Just a few days before the second presidential debate between Donald Trump and Hillary Clinton, a video surfaced in which the Republican nominee boasts about participating in a form of sexual assault. Specifically, Trump tells then-"Access Hollywood" host Billy Bush that he just goes up to "beautiful" women and "grab[s] them by the p***y." What's more, Trump explains, "When you're a star, they let you do it."
For the Trump campaign, "P***gate" is the stuff of nightmares. In the minds of many pundits, it's a near fatal blow that has cost the business magnate crucial endorsements, female votes and any edge running mate Mike Pence had won for their ticket in last week's vice presidential debate.
For the political party of the elephant, it was undoubtedly the elephant in the room. So, imagine fashion connoisseurs' surprise when they noticed that Melania Trump walked into the debate hall wearing Gucci's fuchsia pussy-bow blouse.
Yes, you read right. In the fashion world, a women's blouse with a bow tied at the neck is known as a pussy bow or pussycat bow. The look became popular in the mid-20th century, thanks to such designers as Coco Chanel, Yves Saint Laurent and Omar Kiam. In fact, after Margaret Thatcher became Prime Minister of the United Kingdom in 1979, the pussy bow became a signature part of her look.
According to retail website MatchesFashion.com, "A pussybow blouse is one of the prettiest ways to embrace Gucci's new-found eclecticism. This fuchsia-pink design is cut in Italy from silk-georgette, and detailed with softly gathered shoulders and buttoned cuffs to maximise the vintage vibes. Tuck it into a knife-pleated skirt, finishing with statement accessories."
Melania, for her part, chose to pair the ironically named blouse with a pair of matching fuchsia-pink pants -- a choice that set social media on fire.
The Trump campaign maintains that the choice of blouses was made exclusively for aesthetics, not monikers. The Internet, it seems, will agree to disagree.
Thanks for reading CBS NEWS.
Create your free account or log in
for more features.