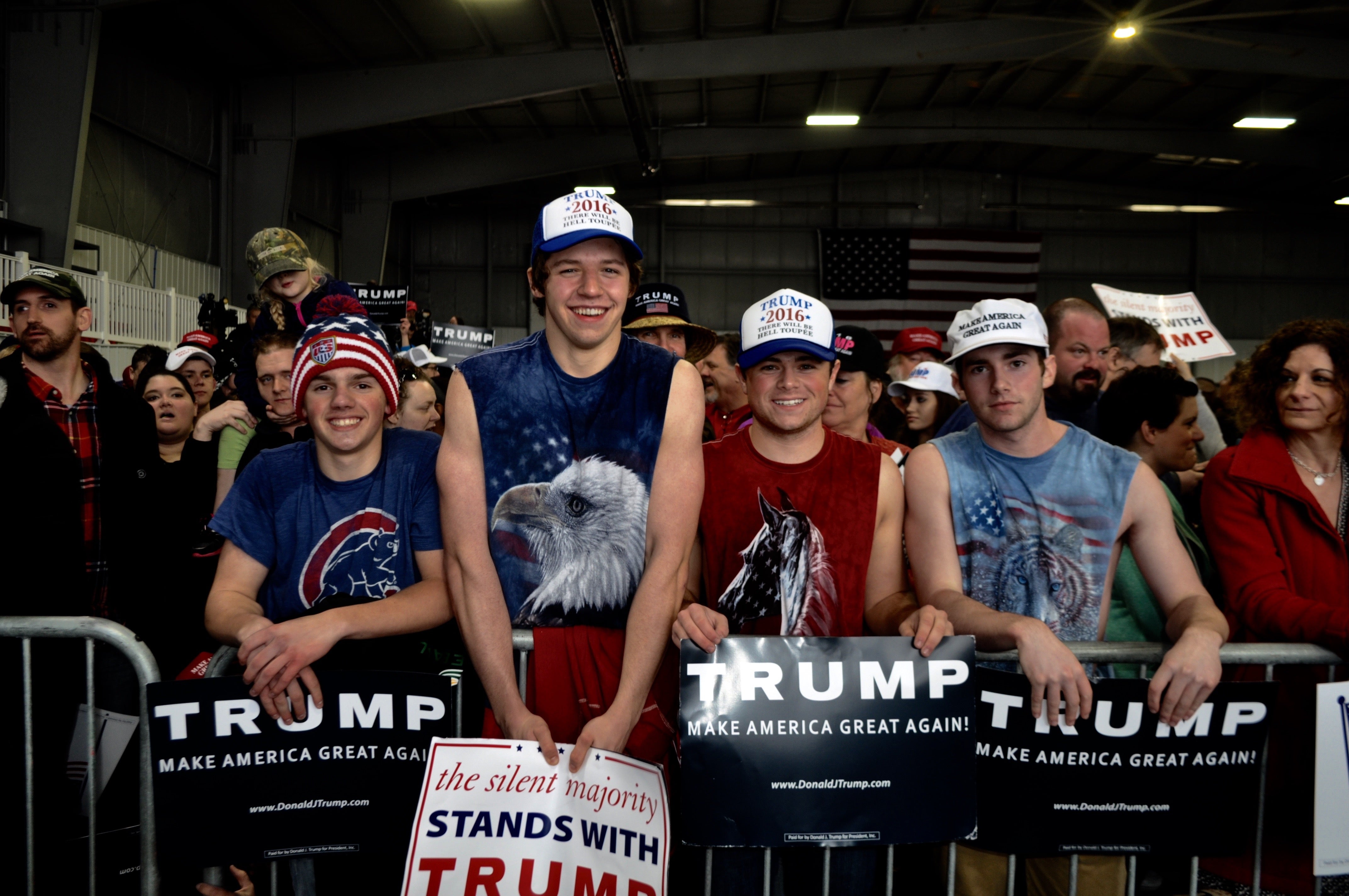 Jack Rowe, an 18-year-old high school student from St. Paul, Minnesota, sat in the front row of a Donald Trump rally in Eau Claire, Wisconsin last weekend, sandwiched between two friends.
He had caucused for Trump in Minnesota for the very first time a few weeks earlier. Freckled and grinning, he sported a red "Make America Great Again" hat and a gray Trump t-shirt.
Rowe had some thoughts on Trump's rhetorical treatment of women, which had been dominating the news lately thanks to the Republican front-runner's comments about punishing women who have abortions. Mainly, Rowe said, it's a non-issue.
"Misogyny was an issue about maybe 60, 80 years ago," said Rowe. "That's not an issue today. There are a lot bigger fish to fry...You know, ISIS is chopping off heads. We've got 19 trillion dollars in debt."
Young men like Rowe are a common sight at Trump rallies around the country: Mostly white, they travel in packs and frequently wear Trump's signature "Make America Great Again" hats, pumping their fists and cheering loudly as protesters get hauled out by security. They document their political activity like any good millennial would, recording their outings on Snapchat, Instagram and Twitter.
They are dudes, jocks, preps and just-your-average college and high school kids. But on the campaign trail, they've come to be known simply as "Trump Bros."
"Bro," once just shorthand for "brother," is a term that today describes a white youth subculture of "fratty masculinity," as National Public Radio once politely put it. Depending on your perspective, "Bro" can either be meant as high praise (usually from a fellow khaki-wearing bro), or a derisive insult.
In dozens of interviews conducted around the country in recent months, one thing is clear: Many of them absolutely love the GOP frontrunner.
At a recent Trump event in Bloomington, Illinois, Tony Maniscalco and Ryan Poland arrived at 5:30 a.m. to line up for an 11 a.m. rally inside a chilly airport hangar on the outskirts of town.
Standing patiently with their arms draped over the fence at the front of the venue, wearing matching tie-dye muscle tees and baseball hats that read "TRUMP 2016, THERE WILL BE HELL TOUPEE," the two 18-year-old high school seniors had coveted spots with an unobstructed view of the man they called "Mr. Trump."
Maniscalco wore a blue tie-dyed shirt with a bald eagle painted over a faded American Flag, while Poland wore a bold crimson tee featuring the American-flag-colored mane of a horse. Both shirts were purchased at a Walmart over the summer. The red-white-and-blue hats were from a Spencer's at their local mall. Even their Nike shoes were patriot themed.
"We needed to get as much Trump gear as we could, and as much America gear as we could," Maniscalco said of the inspiration behind their coordinating wardrobes.
Their reason for backing Trump was simple, and echoed the sentiments of his other fans: He isn't politically correct, and he doesn't back down in the face of criticism.
"I like Trump because he speaks the truth," Poland said.
David Portnoy, the founder of Barstool Sports -- the frat-focused sports website where the "Smokeshow of the Day" serves as the ultimate clickbait -- said Trump's appeal to young men speaks to anxiety over a creeping political correctness throughout American society.
"There is a sentiment among frat guys, lacrosse players and middle class affluent white kids that they are kind of getting persecuted lately," Portnoy told CBS News.
"You tell a joke it gets blown out of proportion. You gotta walk on eggshells. There's kind of that feeling, and Trump, he tells a joke and doesn't back down. He says things that would normally been frowned upon. At a school, a kid would get expelled. Not that it's right or wrong, but he's sort of defending a lot of the things they've been attacked for in the last five years or so."
"It's an F-U to society, who is telling us we are a bad guy because we like hooking up with girls on spring break," he added. "And they see Trump sticking up for that."
J. Camm, the managing editor of Bro Bible, another bro-focused site, said Trump's lack of policy details means little to his young supporters.
"Part of the allure of Trump is that people find him to be someone who tells it like it is and honest, although he has no specific policies to back up anything that he's actually saying," Camm said.
The appeal personality over policy was on clear display among one group of young men in Eau Claire.
A pack of seven 18- to 20-year-olds bounced up and down on their toes, eager for Trump to take the stage - think CPAC meets a Dave Matthews Band concert. They puffed out their chests and rattled off one-liners they seemed to have practiced in their dorm room mirrors, describing why they were supporting the billionaire frontrunner.
Bro 1: "He's got spine."
Bro 2: "I think money attracts money. And that's why I like Trump."
Bro 3: "I think America needs doers in the country -- not just talkers -- doers."
Bro 4: "He's not Bernie Sanders."
Bro 5: "He not any other candidate."
Bro 6: "He does him. Doesn't pretend to be anyone else, he does him."
Grant Sandberg and Matt Manas, seniors at Eau Claire's Regis High School, stood out from the pack in matching suits and baseball caps. They had decided to dress like Trump himself that night in lieu of Americana gear.
"We're not afraid to show that we enjoy being Americans, and Trump portrays being a good American," Sandberg explained.
The group of first time voters may have gathered together on this Saturday night to get "pumped," as Sandberg phrased it, but they were also in tune with the news cycle, offering detailed responses to the rocky week Trump had faced in the run-up to the Wisconsin Primary.
"We were just talking about that," Sandberg said of Trump's campaign manager Corey Lewandowski being accused of simple battery for grabbing a female reporter. "I don't know the complete story, but from what I've heard, this reporter or woman was being aggressive to Trump, and as a campaign manager that's something you don't want your candidate to go through. He did his job and that's it.
At a time when Trump has watched his favorability numbers among women tumble, these bros have come to his defense. The Eau Claire crew unanimously agreed that Trump respects women, something they said is important to them.
Manas, a young entrepreneur with a sock business whose Twitter bio reads "Bros do Bro Things" and who made a point of checking himself out in his iPhone camera in selfie mode before speaking with a reporter, piped in enthusiastically.
"I love women!" he said.
Trump took the stage, and they screamed.
Thanks for reading CBS NEWS.
Create your free account or log in
for more features.