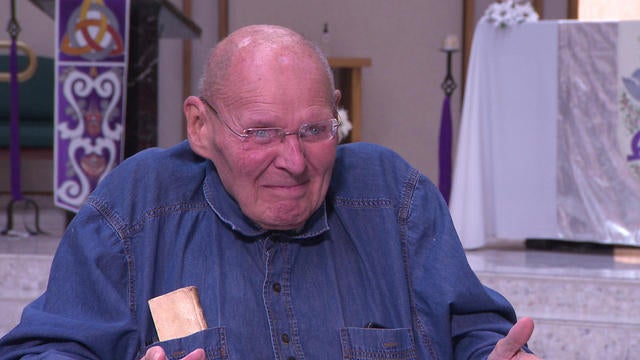 Meet the priest determined to keep the Latin language alive
In the basement of a nursing home in Milwaukee, the world's best Latin lessons are given for free. That's where Father Reginald Foster, a priest who lacks patience, gives his lessons. He's managed to convince hundreds of people to dedicate their lives to a language no longer living, reports Brook Silva-Braga.
"His passion is what drives us," one of his students said. "He's like the rock star of the Latin world, so it's just great to be in his orbit."

The language was once at the heart of Western culture, and for centuries, most books and official letters were written in Latin. But today, it's considered a dead language – except to those who are trying to resurrect it.

"Do you see what I'm sitting on? My butt. If you sit on your butt and study Latin as long as I have you'll be a master, too," Foster said of why he's so good at the language.
And if you think it seems too hard to learn, he's not buying it.
"No. Every poor person, derelict, prostitute, anyone else in Rome spoke Latin," he said.
As a young man, Foster, the son of a Milwaukee plumber, became a priest in Rome with a knack for the language. In 1970, he got a call from the Vatican. They wanted him to translate Latin for the pope. For the next 40 years, he would write speeches and letters in the names of four popes.

"Pretend that you're the pope. What would you say? I said, 'Well I have some ideas,'" Foster said.

One of Foster's ideas was rejecting the trappings of the church. Instead of a priest's habit, he dressed like a working man. Instead of a mattress, he slept on the floor. His Latin was so good the church tolerated Foster, but the high-profile job didn't quite satisfy him.
"Because what we were doing upstairs in the office was useless. No one's reading those letters," he said. "So I said, I want to do something useful …Teach them Latin in my way."

His way meant scrapping the traditional method of memorizing tables of text and instead treating Latin as a living, spoken language. It was a radical departure in approach.
"Something out of the world of fantasy, a monk in Rome speaking Latin," said Jason Pedicone.

Pedicone had studied Latin by rote, but never heard anyone speak it out loud.

"He has scores of students who have become Latin teachers, several who have become Ivy League professors. That has affected a change on the culture of the way Latin is taught," he said.

Foster would still be teaching and translating at the Vatican if a bad fall hadn't landed him in a wheelchair – just as an appearance in Bill Maher's 2008 documentary "Religulous" landed him in hot water with the church. He was flown home to Milwaukee, never to return to Rome.
Now, at 78, he's working on textbooks to share his method, but is devoid of sentiment. When asked if he had photos of his life he said he'd thrown them all in a dumpster years ago. Luckily, a neighbor climbed in and saved them.
"I'm never going to look at that again. And it's gone, passed, finished, over with, done, forgotten, goodbye, ciao ciao," he said.

Except it isn't really. Foster's old students not only carried on the Latin summer classes in Rome, but also Jason Pedicone's nonprofit, the Paideia Institute, now brings Latin into underserved American classrooms, helping their English vocabularies in the process.
And on a recent Saturday, high school students swept through New York's Metropolitan Museum of Art for a Latin scavenger hunt.
The gospel of Father Reginald Foster is winning converts.
So she won't forget, Grace Milliman wrote the date she started Latin on her shoes in Roman numerals.
"September 2, 2016 and I walked into that classroom and, like, my entire life changed," she said.
When confronted with the notion that Latin is a dead language, Milliman countered "It's Roman around. It's not dead."
"Seeing a young person that excited, even if he doesn't want to admit it, I think would make Reginald really really happy. And I think that in her, he will live on and the tradition will live on," Pedicone said.

Foster maintains that Latin is easy – only if it's taught right.
Thanks for reading CBS NEWS.
Create your free account or log in
for more features.