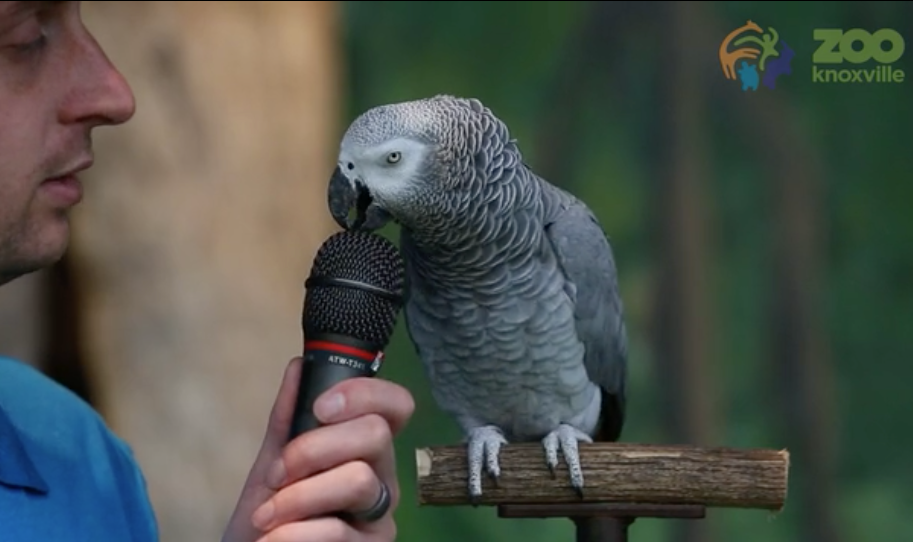 Einstein the parrot shows off impressive vocabulary skills on 30th birthday
Einstein the parrot has always known she was a genius. Now the internet knows it, too.
The African grey parrot, who lives at Zoo Knoxville in Tennesee, turned 30 years old on Tuesday, and to celebrate, Einstein and the zoo's head trainer, Adam Patterson, showed off the bird's impressive vocabulary. The zoo shared a five-minute video of the hilarious exchange online, and now it's going viral.
"Are you famous?" asked Patterson, holding a microphone up to the bird's beak.
"Superstar!" Einstein squawked.
"Can you say hi?" Patterson asked.
"Hello."
"Can you be a little more polite?"
"Hi, sweetheart," the friendly parrot replied.
Patterson continued to ask Einstein a series of questions, like, "What does a pirate say?"
"Argh," the parrot replied.
Einstein can make at least 200 sounds, including words, and knows at least 70 on cue. Sometimes, she just says words on her own.
The impressive bird became an instant celebrity after a winning the title "Pet Star" on Animal Planet's hit game show in 2006. Later that year, Einstein appeared in a TED talk with trainer Stephanie White, who said the parrot "babbles" all day long.
A video of the parrot's TED talk was viewed more than 2.2 million times. The audienced roared with laughter and applause as the parrot impersonated a spaceship, monkey and even a skunk.
The show didn't stop there. The bird also serenaded — on key, by the way — Al Gore on his birthday.
Somehow, even with the dozens of videos posted online, the bird never fails to impress. The only question viewers are left with is, what funny impression will this talented parrot tackle next?
Thanks for reading CBS NEWS.
Create your free account or log in
for more features.