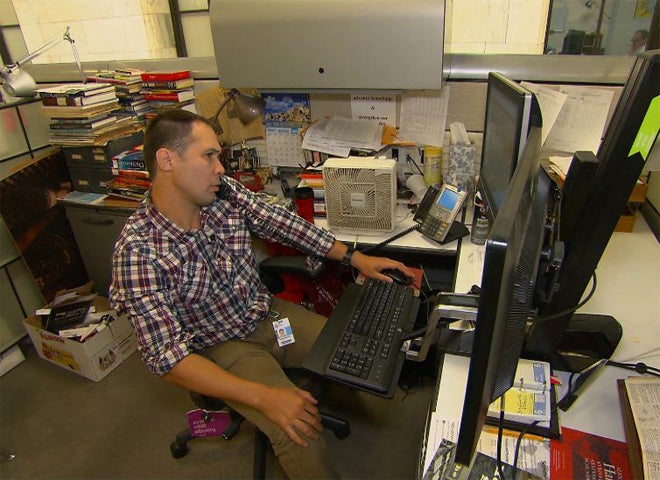 Meet the "Human Google" at the New York Public Library
The local library is a great place to fill your summer reading list for free. But it also remains a vital source for research. And in an era of online searches, librarians at the New York Public Library are still the most- trusted source.
They have been called the "Human Google," said CBSN's Elaine Quijano. And though they may not be as fast as your favorite Internet search engine, they're as reliable as ever.
The Fifth Avenue branch of the New York Public Library attracts about 2.5 million visitors each year.
Many pose with the lions named Patience and Fortitude ... snap pictures in the grand entry hall ... and pass through the reading rooms without cracking a book.
But the tables are full here. "Shushing" happens as much as you may remember. And the phones keep ringing for researchers.
"One of the number one comments that we get from callers is, 'Thank God I've reached a human being," said Rosa Li, who manages the library's "Ask Desk." "Even on chat sometimes people will say, 'Is this a robot or a person?' We have to laugh and say, 'I'm a real person.'"
The Ask Desk receives about 300 inquiries a day -- via telephone, email, chat or text message. "Facebook, Twitter, and even snail mail queries from New Yorkers and even people from around the world," Li said.
Researchers here can access materials not available to the general public, but Google -- and even Wikipedia -- are not off-limits.
"We love the fact that more and more things are online," Li said. "The computer is a tool for us, so the faster we can find an answer for somebody, the better."
While the average Google search takes 0.2 seconds, this human search engine is a bit slower. Five minutes per call is typical.
Quijano asked, "Is there such a thing as a typical question?"
"Uhm, no, not when you work in reference."
Here are some recent questions they've received:
"I need to know the exterior dimensions of Radio City Music Hall."
"I am looking for a New York City law that prohibits solicitation by monkeys."
"I'm looking for information on the history of black lipstick."
"Are the lions Patience and Fortitude in front of the Library life-size or larger-than-life?"
Researcher Bernard van Maarseveen keeps a file card archive on hand for the queries best defined as random.
Such as the definition of Lobro: "Well, I guess this is a city nickname, a neighborhood nickname, that didn't quite pan out ... Lobro borders NoHo, SoHo and Little Italy." Yet, unlike those well-known neighborhoods, "it didn't quite catch on."
Quijano asked, "What is the most interesting that you've ever received?"
"Well, it's usually the last one that I've gotten," van Maarseveen replied. "There is one that I've been working on about Manhattan. There is this one caller who found that their street -- East 84th Street -- is wider than the ordinary street. I didn't quite believe them at first, so I actually went up to their block and I measured it out. And it's true. It's about seven feet wider than the standard block!"
"Wow! So Bernard, you are awfully dedicated."
"You know, I'm glad that I'm able to do this job," he said. "Don't tell the management, but it's kind of like I'm always amazed that I get paid to do this work!"
Surprising as it may sound, that sentiment is shared on this floor, where people proudly answer whatever's on your mind.
Quijano asked Li, "What is it that you are able to discern after you've answered a question?"
"Gratitude," she replied. "Also, that moment -- that 'A-ha!,' that 'A-ha!' moment is great to listen to. Hearing that joy in their voice. It's almost like a little checkmark goes off and it's like, OK, I've managed to accomplish that!"
In case you're wondering, the lions named Patience and Fortitude ARE larger than life-size; the law prohibiting monkeys from soliciting money dates back to 1887; and black lipstick first came en vogue in the 1930s -- all answers to real questions provided by the hard-working researchers at a still-very human search engine.
Have a query for the NYPL's Help Desk? Click here or call 917-ASK-NYPL.
Thanks for reading CBS NEWS.
Create your free account or log in
for more features.