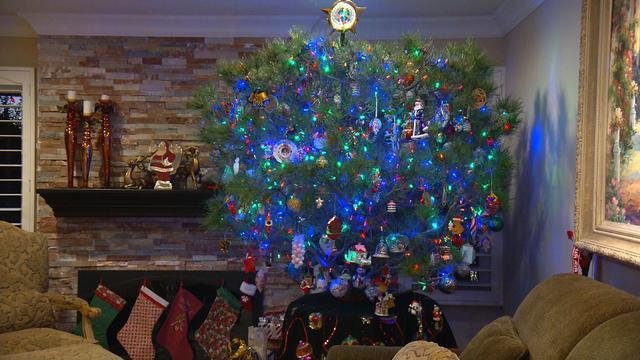 Meet the California family who has kept their Christmas tree alive for 34 years
Joe and Gina Mistretta bought a potted Scotch pine 34 years ago, when it was about three feet tall. Back then, it was so small it could only hold one string of lights. When the holiday was over, out it went -- not to the trash or a recycling bin, but to a new, year-round home in the yard, reports CBS News correspondent Mireya Villarreal.
"It looks different every year. Some years are good, some years are not. You happened to catch it on a really good year," Gina said.
"It's got its own shape, it's got its own character, but it's still growing," Joe said.
A few years later, Joe and Gina had two little boys who grew to love Christmas morning around their tiny tree. Now 27 and 31, it's the only Christmas tree Michael and Joe Jr. have ever known.
"If someone is more traditional, for a triangular tree, that's great. But it's really what the tree represents," Joe Jr. said.
"It's like people -- it's got good years and bad years, and even when we thought it wasn't going to make it, they were like, 'Well, you can't get rid of this tree, Dad. This is our tree,'" Joe said.
While it looks more like a Christmas bush, with a little TLC it continues to thrive.

"I enjoy trimming it, I go out there, I spend a little time with it," Joe said. "Yeah, I'm a tree talker now."
He's re-potted the tree four times and it even survived a fire. The home's front door had to be doubled in size so the nearly 300-pound tree can be rolled in.
"There is no perfect life, there is no perfect tree and we like it that way. And the ornaments that we put on it are not perfectly put in the perfect spot, but they mean something to us," Gina said.
The tree is a time capsule of their lives. It was there when Gina's parents were alive and shared the holidays with them. It was there when Michael was diagnosed with leukemia at the age of 13 and 5 years later when he went into remission.
"It's really a family member. You bring it in and you go OK, it's time for you now, come on. I've taken care of you the whole year, now it's your turn. Show time!" Joe said.
"It definitely represents tradition….It brings back memories," Joe Jr. added.
And it will continue to be there as the family makes new memories. After all, the Scotch pine could well be around for another 100 years.
"There's so many people who have touched this, our lives and have been part of that tree," Joe said. "We're getting older and the tree's getting older with us and you know it's growing with us."
Thanks for reading CBS NEWS.
Create your free account or log in
for more features.