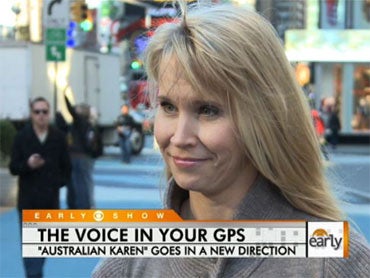 Meet Karen Jacobsen, the "Guiding Voice" of GPS
Karen Jacobsen is the person behind the soothing voice that gives you directions when you get in your car and use your GPS; and sometimes she can drive you nuts when those directions go haywire.
To millions of GPS users, she is known as "Australian Karen."
But as CBS News correspondent Michelle Miller reports, Jacobsen is now hoping to be not only be heard but seen, as she launches a music career.
While she has anonymously been speaking to people for years, she now hopes to put a face to her famous voice.
Jacobsen was chosen by GPS maker Garmin ten years ago for her calming accent, guiding drivers around the world.
On a ride through midtown Manhattan, Miller told Jacobsen she hates it when she tells her she is "Recalculating."
Asked why, Miller joked, "'Cause you sound condescending!"
"It's not meant to be condescending!" Jacobsen explained. "It's meant to be reassuring and will get you back on track!"
"Right now, up to 25 million people are listening to me give them directions around the world," Jacobsen said.
"They actually have the ability to go on to the device and pick Karen. How does that make you feel?" Miller asked.
"Awesome I feel very popular! I always wanted to be popular!" Jacobsen joked.
Those 25 million fans may not know her by face but her voice is instantly recognizable. Karen is now trying to "relocate" from your GPS to your car radio by launching a music career.
Some fans have navigated their way to her music online, but she's still waiting for that big hit. No matter what, her voice will still be the one most use to find their way home.
Thanks for reading CBS NEWS.
Create your free account or log in
for more features.