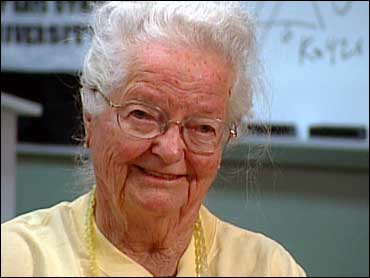 Meet A True College Senior
You may have to be a smart kid to make it at Fort Hays State University in Hays, Kansas, but all you need is a nursery education to tell you which one of the kids is not like the others.
Her name is Nola Ochs and she's 95 years old.
"I came up here as a senior," she told CBS News correspondent Steve Hartman for Assignment America.
"I know you did," Hartman said.
"A college senior," Ochs explained.
Ochs came to Hays last fall for the final leg of what has been the longest college career in history.
To see exactly how long, you have to go to the basement of the administration building, where you'll find a little 3 x 5 card that shows Nola Ochs – then Nola Hill – started a correspondence course called Directed Study April 19th, 1930.
That's 77 years ago.
"There's a great satisfaction in completing what you started," Ochs said.
Nola was born in 1911 in Jetmore, Kansas. She always loved learning but after that first class, she got a little sidetracked.
"I lived on a farm. I was a mother, grandmother, great grandmother," she said. "I had plenty to do. But the yearning didn't go away."
---

Only On The Web: Nola Ochs shares more of her story.

---
So after her husband died in 1972, she started taking correspondence courses again, slowly plugging away at her Bachelor's Degree.

"I just say Nola is the poster child of a life-long learner," said Joleen Briggs, Nola's advisor.

Nola has spent the last year in a dorm for non-traditional students working on her general studies degree.

"I'm real proud of my apartment," she said.

Outside of class she's made a lot of friends.

"I feel like just another one of them," she said of the traditional college students.

But she has a favorite fellow student – perhaps because the student is also her granddaughter. Alexandra and Nola were even in a class together.

"I skipped class, which I felt terrible about — my grandmother being in class," Alexandra said.

"I didn't know she was skipping. I thought she had a legitimate excuse," Ochs said.

They say it has been a truly wonderful year, which will draw to a close tomorrow, when Nola and Alexandra graduate together.

"It is with great pride that I walk across that floor Saturday," Ochs said.

The Guinness Record Book will now list Ochs as the oldest person ever to finish college – if you can call it finish.

"The first class I'm going to take this fall…" Ochs said.

Wait, she's going back to school again?

Sure, Ochs said. She said a Master's Degree is not out of the question – in fact, she'd like to accumulate as many degrees as possible.

"And I'm going to use them too, when I get old," Ochs said.

If her spunk is any indicator, that won't be anytime soon.
Thanks for reading CBS NEWS.
Create your free account or log in
for more features.