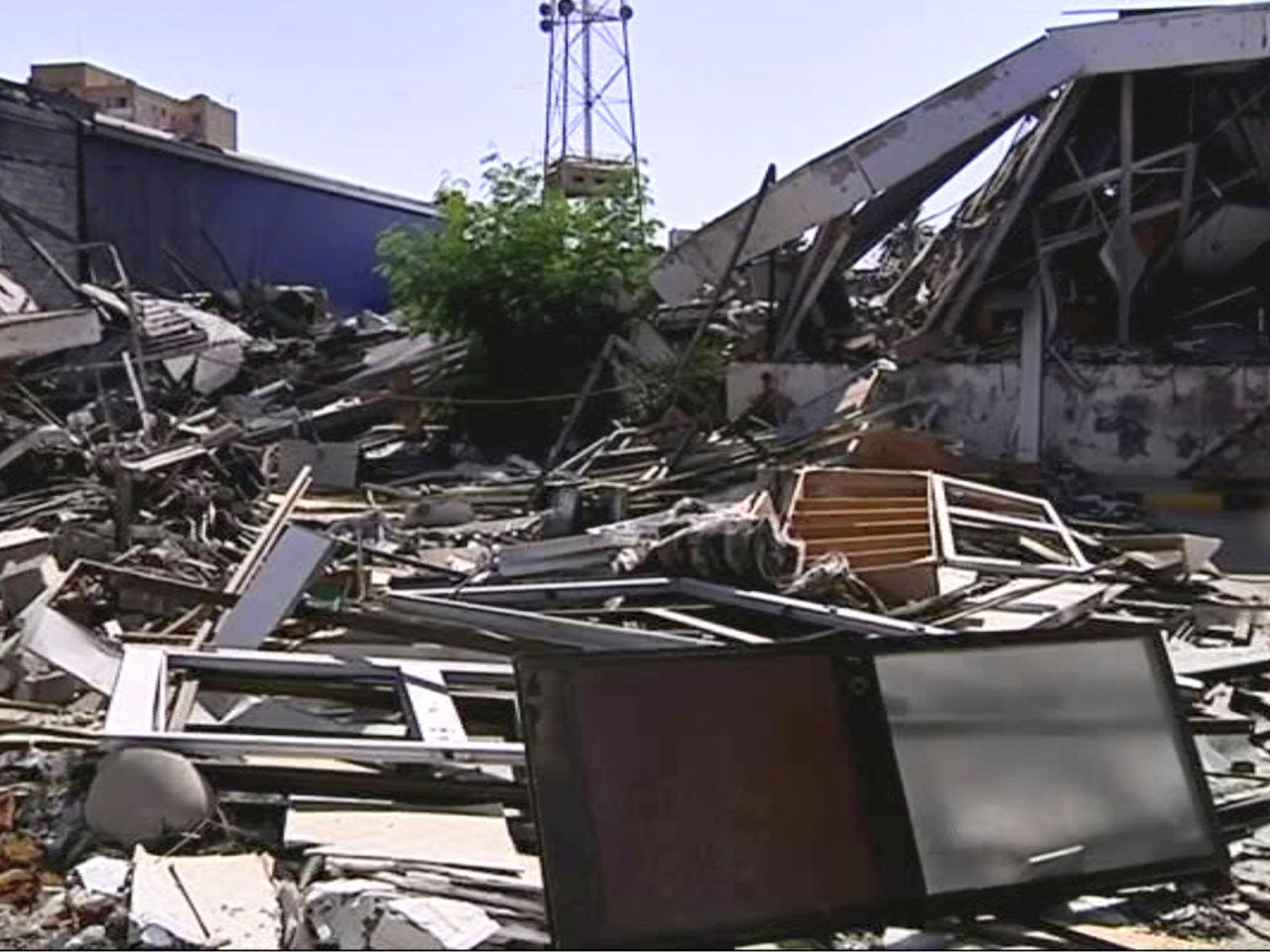 Media group condemns NATO bombing of Libyan TV
BRUSSELS - An international journalists' group sharply criticized NATO air strikes against Libyan television, which killed three people and injured 15, saying Wednesday they violated international law and U.N. resolutions.
The International Federation of Journalists said the bombing Saturday was in contravention of a Security Council resolution passed in December 2006 that explicitly condemned such attacks against journalists and media.
"We utterly condemn this action, which targeted journalists and threatened their lives in violation of international law," Brussels-based IFJ secretary-general Beth Costa said.
Libyan officials said the airstrikes early Saturday killed three journalists and injured 15 other people.
NATO said the bombing of the Libyan TV's satellite dishes was in compliance with the U.N. mandate authorizing the strikes to protect the civilian population.
Complete coverage: Anger in the Arab World
25 Libya migrants found dead on Italy-bound boat
Libya rebels try to root out own insurgents
NATO spokeswoman Carmen Romero there was evidence the state TV was increasingly being used by Muammar Qaddafi's regime to incite violence against the civilian population.
"It is for the military commander to decide on the selection of targets, but his decision is always made in full cognition of and in compliance with international law," Romero said.
Costa dismissed that explanation, saying the use of "violence to stifle dissident media spell catastrophe for press freedom."
"Our concern is that when one side decides to take out a media organization because they regard its message as propaganda, then all media are at risk," Costa said. "In conflict situations, international law is clear that unarmed journalists cannot be treated as combatants, irrespective of their political affiliations."
She likened the airstrikes to the 1999 NATO bombing of Serbian TV in Belgrade, which killed 16 people. At the time, NATO said the station was a legitimate target because it was a "propaganda mouthpiece" for the regime of Slobodan Milosevic.
Costa urged the alliance to refrain from further attacks on media.
NATO has been increasingly embarrassed by the failure of the bombing campaign, now in its fifth month, to dislodge Qaddafi's regime. With the fasting month of Ramadan due to last through August, there is a growing realization within the alliance that the costly campaign will drag on into autumn and possibly longer.
Stratfor, a U.S.-based analysis group, said confidence among Western powers leading the air campaign was waning as chances for a quick victory receded.
"The strategy of bombing, waiting for the regime to implode ... has been adopted in its stead," said the analysis, released Tuesday.
Thanks for reading CBS NEWS.
Create your free account or log in
for more features.