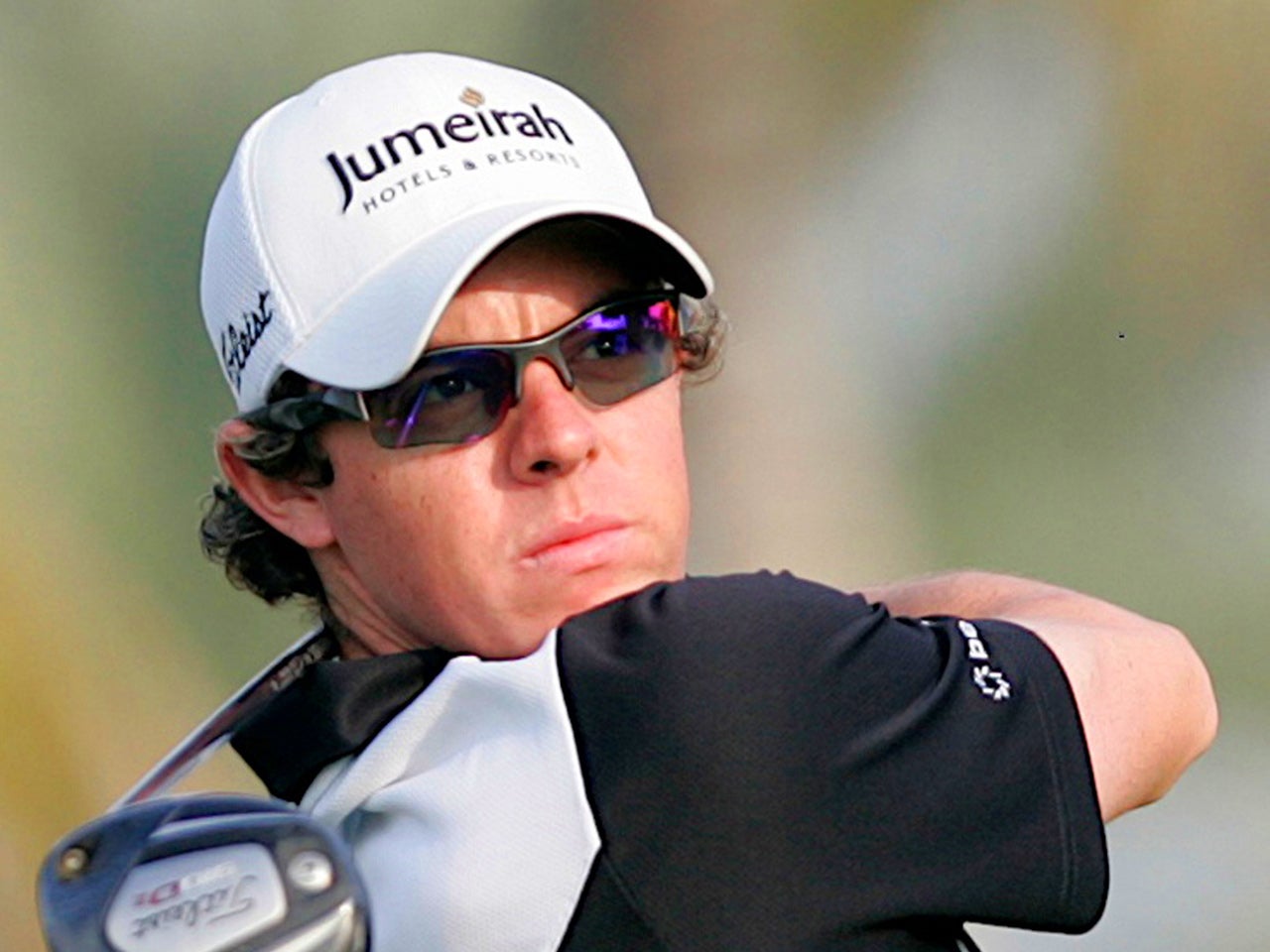 McIlroy's 65 Takes Lead at Dubai, Woods 6 Back
DUBAI, United Arab Emirates - Rory McIlroy shot a 7-under 65 Thursday to take the lead after the first round of the Dubai Desert Classic, four shots better than Lee Westwood and Martin Kaymer and six ahead of Tiger Woods.
McIlroy, whose only European Tour win came in Dubai two years ago, had eight birdies to go with one bogey at the Emirates Golf Club.
Woods shot a 71 and struggled early in the day, twice going to 2 over. But he eagled the 18th hole after hitting a 3-wood about 250 yards to the green.
"It was one of those days where I fought hard," Woods said. "Unfortunately, I got to 2-over par on two different occasions. I was 2 over early, I got it back, birdieing 10, 11, threw it right away again with a double on 12 and got it back to under for the day. All in all, I think a positive result."
U.S. Serviceman Plays Golf with Tiger
Much of the buzz coming into the opening round centered on the grouping that included the world's top three golfers. But only the top-ranked Westwood threatened by reaching 4-under before dropping a shot on the final hole to fall into a tie with Kaymer at 3 under.
"I played well. I played solidly. I didn't make too many mistakes," Westwood said. "It was disappointing to shoot 1 over for the last two holes. One under would have been nice."
The seventh-ranked McIlroy, who was runner-up in last month's Abu Dhabi Championship, took the early lead and held it. He is two shots ahead of Sergio Garcia (67) and Thomas Aiken (67). Five others trail by another shot, including Danny Willett, Steve Webster and Jean-Baptiste Gonnet.
"Today was good," the 21-year-old McIlroy said. "I really had a lot of iron shots and got away with a couple of drives that I was quite fortunate to make birdies from. I had a putt for a 64 on the last that didn't quite go in. but I'll take 65 in these conditions any day."
The Northern Irishman came into the tournament saying he felt he should be winning more tournaments. Along with his win in Dubai, he won the Quail Hollow Championship in 2009. He said he was benefiting from the work he has done on his swing in the offseason and this week.
"With the big three being paired together, I tried to go in a little under the radar," McIlroy said. "It was nice to get a good round in there early."
Much like McIlroy, Garcia has been overhauling his game and trying to return to the form that had him ranked as high as No. 2. The Spaniard has been in the news more for missing cuts than winning tournaments — though his game has improved with a top-10 finish in Qatar last weekend. He is ranked 79th.
"You know, it's slowly getting there," Garcia said. "Still needs to improve, and there will be some not nice rounds coming. This is just the beginning."
Defending champion Miguel Angel Jimenez (72) was in the mix until the final four holes, when he had two double-bogeys.
There is more at stake this weekend than just the tournament title.
Westwood could lose the top ranking if Kaymer wins and he finishes lower than second, and if Kaymer finishes second and Westwood is out of the top 10. If Kaymer is tied for second, he could still become No. 1 if Westwood finishes out of the top 36.
Woods could move ahead of Kaymer if he wins and Kaymer finishes outside the top five.
Thanks for reading CBS NEWS.
Create your free account or log in
for more features.