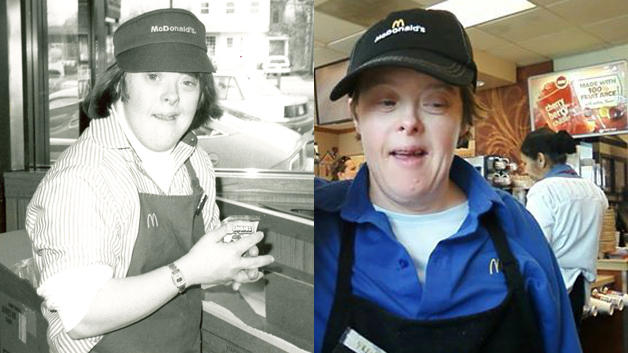 McDonald's throws retirement party for longtime employee with Down syndrome
NEEDHAM, Mass. – There was a one-of-a-kind retirement party at a McDonald's in Needham, Massachusetts on Monday, that celebrated the long career of a remarkable woman, CBS Boston reported.
Freia David, who has Down syndrome, has been serving customers for 32 years at the Chestnut Street fast food restaurant. After three decades of working at the french fry station, she's finally hanging up her apron.
"It was nice, I'm really happy," David told CBS Boston. "I like all my friends here."
And those friends from the restaurant and the community turned out today to wish her well.
"When she sees any kids in the lobby, she started making fries and comes out and says 'Hi sweetie.' She's a lovely, lovely girl," says Rony Sandoval, the restaurant's manager.
Her coworkers said that every time David came in for a shift, she'd greet all her fellow employees with a hug.
"Freia is a terrific employee," a representative for McDonald's said. "We learned a lot more from her than she could ever learn from us."
David lives at the Charles River Center-supported home in Needham. The agency helps out adults with developmental disabilities, and David was one of the first to benefit from its services.
"I make a lot of french fries," David said, and that's an understatement – she's ruled the fryolator since 1984.
Anne-Marie Bajwa, the center's chief operating offier, said David is very easygoing, friendly and loves to dance.
"People with disabilities can be integrated in the community and learn new skills and learn new interests so that they can give back to the community and contribute," she said.
Bajwa said she was one of the first people that the Charles River Center placed in a job in the community.
David told CBS Boston that she's going to miss her job, but she's also looking forward to retirement at the center, where she will work on maintaining the skills she's learned.
"I get to relax and take care of myself," she said.
Thanks for reading CBS NEWS.
Create your free account or log in
for more features.