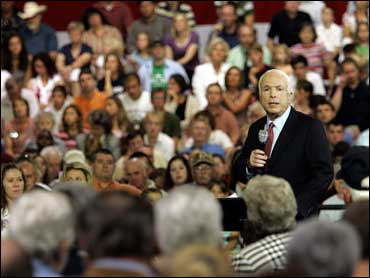 McCain: "Today, We Are All Georgians"
Republican presidential candidate John McCain phoned Georgia's president Tuesday to tell him all Americans back his country's efforts to thwart military attacks from Russia.
McCain told more than 2,000 voters in York that he spoke Tuesday morning with Georgian President Mikhail Saakashvili to make sure he knows "that the thoughts, prayers and support of the American people are with that great little nation as it struggles today" for independence.
"I told him that I know I speak for every American when I said to him, today, we are all Georgians," McCain said to loud applause. He said Saakashvili asked him to express his thanks to Americans.
McCain said Moscow is using "violence against Georgia to send a signal" to "any country that chooses to associate with the West." Russian leaders, he said, must realize they risk "the benefits they enjoy from being part of the civilized world."
Both McCain and his Democratic opponent, Barack Obama, have called for a multi-pronged diplomatic approach to pressure Russia to withdraw from Georgia, a former republic of the Soviet Union. Georgia has been trying to keep the pro-Moscow province of South Ossetia from breaking away.
Obama, who is vacationing in Hawaii, said in a statement Tuesday: "Now is the time for action not just words. It is past time for the Russian government to immediately sign and implement a cease-fire. Russia must halt its violation of Georgian airspace and withdraw its ground forces from Georgia, with international monitors to verify that these obligations are met."

Thanks for reading CBS NEWS.
Create your free account or log in
for more features.