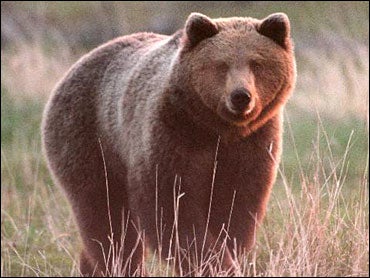 Mauling Sounds Captured On Tape
The graphic sounds of a fatal bear attack were recorded on tape, Alaska State Troopers discovered Wednesday while reviewing videotape recovered from the campsite where a wildlife author and his girlfriend were killed.
The remains of Timothy Treadwell, 46, and Amie Huguenard, 37, both of Malibu, Calif., were found Monday at Katmai National Park and Preserve on the Alaska Peninsula.
Trooper Chris Hill said the tape suggests the video camera was turned on just before Treadwell was attacked. The recording is audio only and the screen remains blank for all six minutes.
"They're both screaming, she's telling him to play dead, then it changes to fighting back. He asks her to hit the bear," Hill said. "There's so much noise going on. I don't know what's him and what might be an animal.
"It's pretty disturbing. I keep hearing it in my mind."
An air taxi pilot who arrived to pick up the couple near Kaflia Bay contacted the National Park Service and troopers to report a brown bear was apparently sitting on top of human remains in the camp.
A ranger shot and killed a large brown bear when the animal charged at them through the dense brush. Troopers and rangers later killed a smaller bear apparently stalking them.
An autopsy on the human remains confirmed the couple were killed by bears, according to results released Wednesday.
Troopers recovered video and still photography equipment as well as three hours of video footage from the site, which is located across Shelikof Strait from Kodiak Island.
Much of the footage is closeup shots of bears. Treadwell built his reputation as an author and videographer living among Katmai bears each summer for more than a decade. Huguenard, a physician's assistant, had been traveling to the park for the last couple of years with Treadwell — co-author of "Among Grizzlies: Living With Wild Bears in Alaska."
Jewel Palovak, program director of Grizzly People, which is dedicated to preserving bears, and one of the last people to talk to Treadwell, told CBS News Early Show co-anchor Julie Chen said Treadwell was there to protect the brown bears from poachers.
"Timothy was there at this time of year in this area of Alaska because this has been, historically, one of the most heavily poached areas," she explained.
"He mentioned to me that he had not seen his favorite bear, Downey, and he couldn't live with himself if he didn't try and go back and find her," Pavlovak said. "He also knew there was a big salmon run and that would mean that there were more bears there and more chance to get footage for our educational campaign."
Some of the recovered footage has bears no more than a few feet away from Treadwell. Others show a more timid Huguenard leaning away as bears come close to her on the bank of a river.
Hill said he was stunned by what he heard.
"The audio starts while he's being mauled and ends while he's being mauled," Hill said.
Perhaps Treadwell heard a bear and asked Huguenard to turn on the camera, which was found with the lens cap on and packed in a camera bag, Hill said.
"At first, she sounds kind of surprised and asks if it's still out there. I'm not sure if she was asking if a bear was outside their tent or in the brush," Hill said. "The audio stops because the tape runs out. Otherwise, it probably would have captured the whole thing."
Hill said he will attempt to transcribe the tape. There are no plans to make the recording or transcripts public, trooper spokesman Greg Wilkinson said.
On Wednesday, the Park Service focused its investigation on the campsite.
Human remains and a T-shirt were found in the stomach of the larger bear. But other bears had eaten most of the smaller bear or buried some of its remains, Hill said.
There's no way to tell if either bear killed Treadwell and Huguenard, said John Quinley, a Park Service spokesman.
"No doubt we'll be looking for evidence of human remains, but there's a difference between killing and consuming," Quinley said. "The fact that those bears consumed humans doesn't mean they did the killing."
"Timothy would never have harmed the bear, even if his life was in question," Pavlovak told CBS News. "He had utmost respect for them and he felt that they let him into their world, that he was the observer and that he was the guest and that he knew that they had the ability to terminate him at any time and he would never have harmed a bear."
Rebecca Dmytryk, who oversees an animal rescue organization in Malibu, said Treadwell was more fearful among humans sometimes than with bears.
She recalled video footage of Treadwell before his death that showed him in a streambed near an older bear he nicknamed "Quincy."
"Quincy, do you remember when you stood over me? You were so hungry, and you should have eaten me, but you didn't. Thanks for not eating me, Quincy," Dmytryk recalled him saying to the bear in the clip. "If Quincy had eaten me, good cause. He's a nice bear. Love 'm."
Treadwell's family was in shock.
"I was dumbfounded, ready to fall through the floor," said his father, Valentin Dexter, who lives in Pompano Beach, Fla. "Oh God, I was very proud of him."
"We talked about the risk of him living by himself in the woods, but we never dwelled on it because he always came home happy and with so many good stories," said his mother, Carolann Dexter.
"Not too many get to do what they love and he did just that."

Thanks for reading CBS NEWS.
Create your free account or log in
for more features.