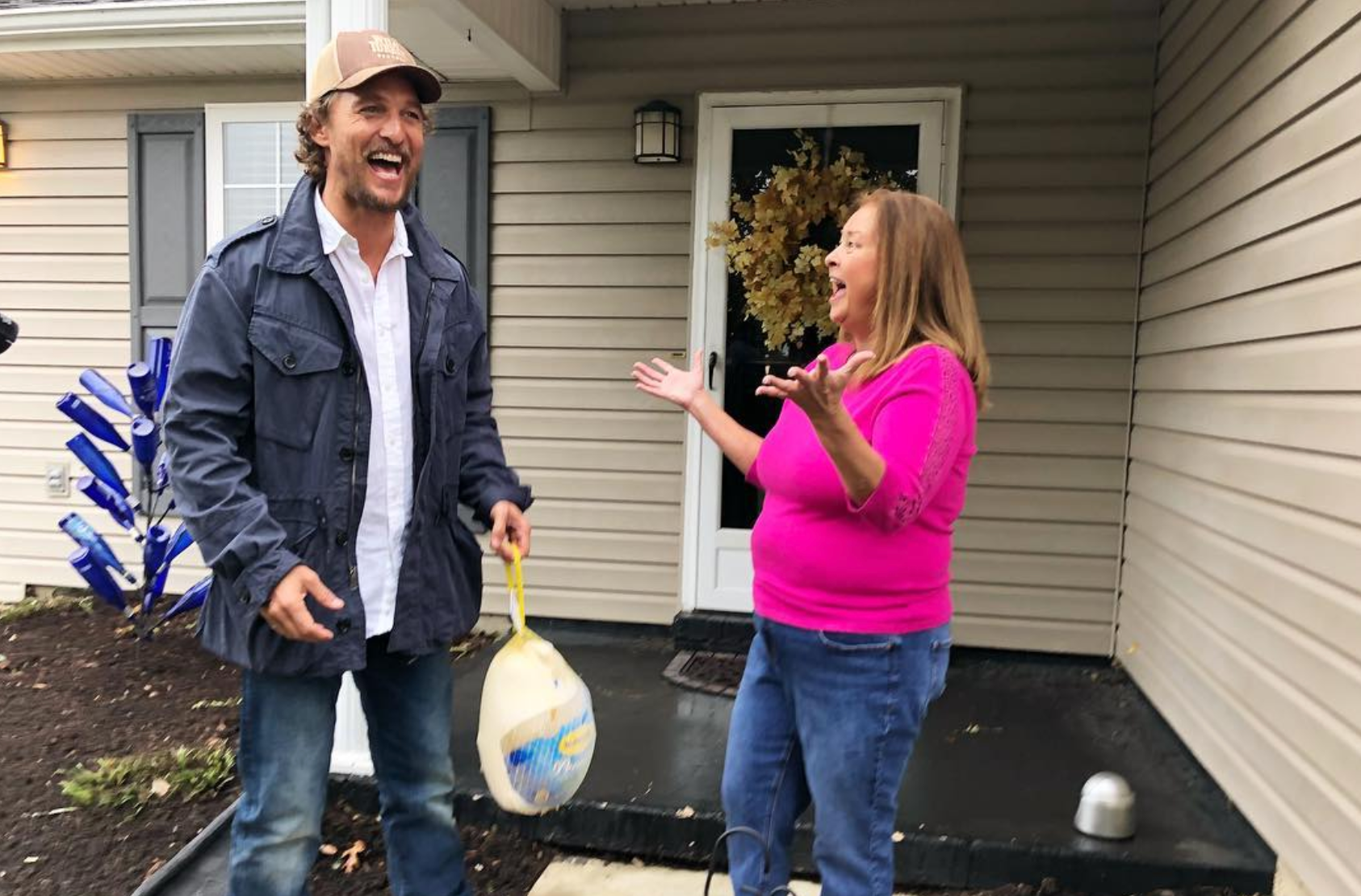 Matthew McConaughey delivers free Thanksgiving turkeys to families
With a grin on his face and a frozen turkey in hand, Matthew McConaughey slowly made his way up a stranger's driveway — ready to surprise a family ahead of Thanksgiving.
He knocked on the door, and a group of seven women answered.
"Come here, come here, come here," said McConaughey, waving the women over to the front door. "How you doing? You know what this is? It's a turkey."
They circled around the Oscar-winning actor as he explained why he was there.
"We're delivering turkeys ... and y'all were on my list," McConaughey said.
McConaughey, a spokesman for the Wild Turkey Distillery, traveled around Lawrenceburg, Kentucky, along with 250 volunteers to pass out 4,500 Butterball frozen turkeys on Saturday, which also happened to be the actor's 48th birthday.
"I feel thankful and just overall grateful. [He] gave up his own birthday to help out," Carrie, who preferred to be identified by first name only, told CBS News. "I think that makes it even more incredible. My little town will never be the same."
Carrie, a 24-year-old Lawrenceburg native, and her mother met McConaughey as he was out and about Saturday. He happily agreed to pose for pictures with the pair.
"Amazing, to say the least," Carrie said of the encounter.
A video of McConaughey surprising screaming fans with free turkeys went viral Saturday with more than 1 million views on Facebook.
"Thank you so much for the turkey," Brittany Perkins commented on the post. "I am so blessed to get one."
"Thank you for the turkey we received today. Your generosity warms my heart," Cynthia Benham-Watson added.
McConaughey said he was more than happy to "put some smiles on some faces" by delivering turkeys to people in the town who needed them.
"We're taking turkeys for Thanksgiving — Thanksgiving, gratitude," McConaughey. "We believe in our family that the more you're thankful for, the more you're going to show gratification for, the more you're going to create in your life to be thankful for. I think it's kind of scientific, and here is kind of living proof of it."
Thanks for reading CBS NEWS.
Create your free account or log in
for more features.