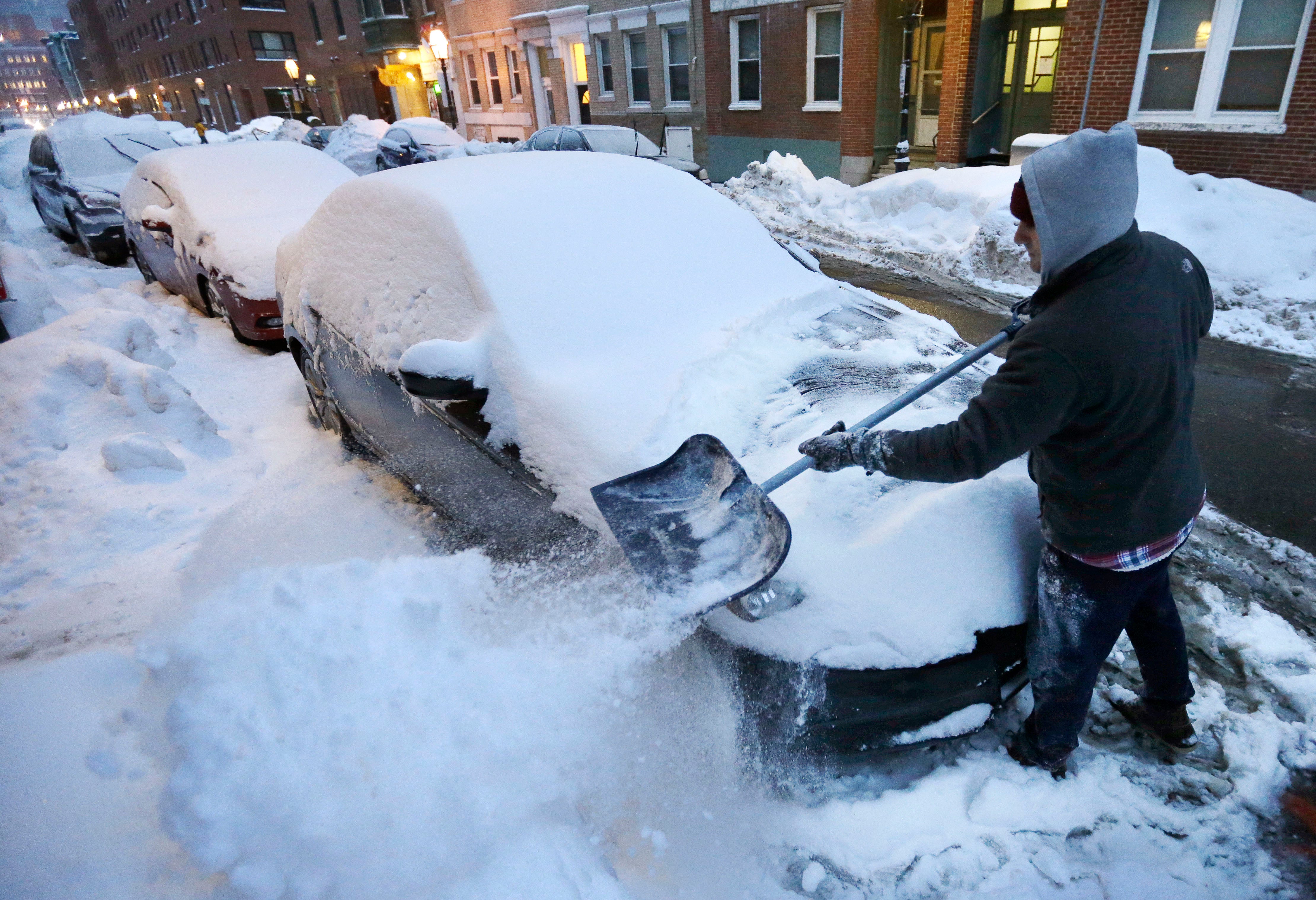 Snow storm hits New England again, emergency declared in Mass.
BOSTON - Massachusetts Gov. Charlie Baker declared a snow emergency for the state Sunday as New England prepares for the workweek amid a massive snowfall.
This makes the third week the region is dealing with a snowstorm and ultimately digging out from one.
Two weeks ago it was the blizzard, which started on a Monday, raged all day Tuesday and left many schools closed for several days to follow.
Last week it was the Groundhog Day Nor'easter, another early-week storm with most of the snow coming on Monday, once again putting many schools and businesses on hold until midweek.
Baker stopped short of declaring a statewide travel ban because certain parts of the state will not receive the predicted 18 to 24 inches of snow, CBS Boston reported.
Courts also announced they would close Monday due to the forecast, delaying jury selection in the Boston Marathon bombing case and in the ongoing murder trial of former NFL star Aaron Hernandez in Fall River, Massachusetts.
Light flurries fell in the morning, but the "long duration" storm is expected to intensify on Sunday night. The National Weather Service issued winter storm warnings for central New York, the western Catskills and much of New England through early Tuesday.
Boston is expected to take a heavy dusting of snow again, with areas north of the city expected to get up to two feet of new powder.
CBS Boston meteorologist Terry Eliasen reports this time will be different from other storms, as the snow will be slow and steady, but persistent. Snowblowers and plows should have no trouble clearing the way with a methodical and persistent approach. The biggest problem this go around for many New Englanders is where the heck to put all this new snow.
Boston's transit system, the nation's oldest, has been particularly hard hit. The buildup of snow and ice on trolley tracks combined with aging equipment has stalled trains in recent days, delaying and angering commuters. Massachusetts Bay Transportation Authority general manager Beverly Scott said Saturday that crews were doing everything they could, including deploying massive jet-powered snow blowers, to clear tracks before the next storm.
Baker acknowledged on Friday that the MBTA was handed an extraordinary situation with old equipment but said the system's overall performance was unacceptable.
Meteorologist Tom Hawley of the National Weather Service in Gray, Maine, predicts the storm will try the patience of snow plow drivers and the general public with its fits and starts over the next 40 or so hours.
As with the previous two snowstorms, southern portions of northern New England are expected to get hit hardest, with 10-15 inches forecast for southern Vermont, New Hampshire and Maine.
Hawley says the heaviest snow will fall late Sunday and overnight into Monday and the storm will move out of the region by Tuesday morning.
"It's going to be a long 35-48 hours," Hawley said. "It'll probably give the plow operators fits. They're going to have to be at the ready for the next 48 hours. That makes their lives a little bit miserable."
Hawley said snowfall in northern Vermont and the mountains of Maine will probably total 6-10 inches by Tuesday morning.
Still the steady run of winter blasts has already sucked up over 70 percent of New Hampshire's Department of Transportation winter maintenance budget. And the next round of snow was already promising trouble Sunday.
New Hampshire State Police closed parts of northbound Interstate 93 in Manchester for hours as tow trucks removed a school bus that lost control on slushy roads and rolled down an embankment. The driver was the only person on board.
The small college town of Henniker, which lost its fleet of plows in a fire Jan. 30, was using plows on loan from the state. DOT spokesman Bill Boynton said the three back-up trucks would probably remain with the town throughout the winter.
Boynton said that, as of Friday, the DOT had already spent $30.4 million - just over 70 percent - of its winter maintenance operation budget.
Temperatures are predicted to remain in the teens and single digits throughout the duration of the storm.
The New York region didn't take the brunt of the storm, but it didn't escape it, either. The National Weather Service has issued a winter weather advisory from midnight Sunday through 6 a.m. Tuesday for New York City, Nassau County, Westchester County, Rockland County, northeastern New Jersey and coastal Connecticut, CBS New York reported.
Thanks for reading CBS NEWS.
Create your free account or log in
for more features.