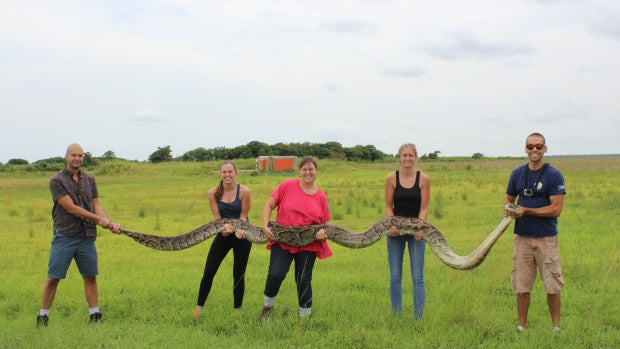 Massive python captured in Everglades National Park in Florida
FLORIDA -- A python researcher who regularly works in Everglades National Park has caught a giant snake that may be the second-largest python ever caught in Florida, reports CBS Miami.
The snake was captured along the Shark Valley tram road in early July. It measured 18 feet, 3 inches, reports CBS Miami.
The largest snake ever caught in Florida was 18-feet and 7 inches, caught in 2013 in Miami-Dade, the station reports.
Everglades National Park officials don't officially track the size of the snakes that are captured outside of the park.
Burmese pythons are an invasive reptile with no natural predators. They appear to be wiping out most of the small mammals that once thrived in Everglades National Park, according to CBS Miami.
According to park officials, the snake was removed from the wild, which helps protect the diverse wildlife in Everglades National Park. The snakes became established in Florida several decades ago as a result of the international pet trade.
According to Everglades National Park spokeswoman Linda Friar, the snake was humanely euthanized.
CBS Miami reports that a necropsy was conducted, which found the snake was a female, but had not reproduced this season. Her stomach was also empty. Snakes that large are capable of ingesting prey like deer and alligators, according to the U.S. Geological Survey officials.
Estimates for how many pythons now call South Florida home greatly vary, ranging from several thousands to 100,000 or more.
Florida prohibits possession or sale of the pythons for use as pets, and federal law bans the importation and interstate sale of the species.
Thanks for reading CBS NEWS.
Create your free account or log in
for more features.