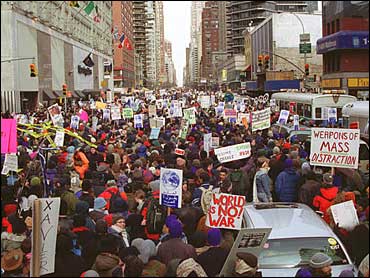 Massive Anti-War Outpouring
Millions of protesters - from London to New York to Canberra - demonstrated Saturday against a possible U.S. attack on Iraq.
In a global outpouring of anti-war sentiment, Rome had the biggest turnout - 1 million according to police, while organizers claimed three times that figure.
In London, at least 750,000 people joined the city's biggest demonstration ever, police said. Organizers put the figure at 2 million.
About 660,000 people protested in Madrid, Spain, police said, while organizers said three times that number gathered.
Berlin had up to half-a-million people on the streets, and Paris was estimated to have had about 100,000.
Anti-war demonstrators packed the streets north of the United Nations headquarters in New York Saturday, filling police-barricaded protest zones for more than 20 blocks as civil rights leaders and celebrities energized the banner-waving crowd.
"Just because you have the biggest gun does not mean you must use it," Martin Luther King III told the demonstrators as he stood before an enormous banner reading: "The World Says No To War."
"Peace! Peace! Peace!" Archbishop Desmond Tutu of South Africa said as he walked from the United Nations toward the massive rally. "Let America listen to the rest of the world - and the rest of the world is saying, `Give the inspectors time."'
New York police wouldn't provide a crowd estimate, but the protesters stretched for 20 blocks along First Avenue and spilled west to Second Avenue, where police in riot gear and on horseback patrolled.
CBS News correspondent Jim Acosta says organizers claim the rally drew five hundred thousand people. There were certainly several hundred thousand, Acosta reports, carrying signs that read "no blood for oil" and "get the warheads out of D.C."
At times protesters broke down the barricades that were designed to contain them and scuffled with police, and there were some arrests, Acosta adds. Many were taking out their frustration on the city's decision to prevent the demonstrators from marching through the streets, and in front of the United Nations, because of terror concerns, Acota explains.
Anti-war rallies were also held in about 150 U.S. cities, from Yakima, Wash., to St. Petersburg, Fla., as well as in major cities including Chicago, Philadelphia, Miami and Seattle. Protesters in Detroit chanted "Give peace a chance."
"Can you justify blood for oil?" read a sign held by 14-year-old Marianna Daniels at a rally in Madison, Wis.
The New York rally was opened by singer Richie Havens performing "Freedom," just as he did 34 years earlier at the original Woodstock Festival. Speakers included Susan Sarandon, Harry Belafonte and Pete Seeger.
Security in New York was extraordinarily tight, with the city on high alert for terrorist threats.
London's marchers hoped - in the words of keynote speaker Rev. Jesse Jackson - to "turn up the heat" on Prime Minister Tony Blair, President Bush's staunchest European ally for his tough Iraq policy.
Hollywood actor Tim Robbins, who attended the rally, said his message for Blair was: "Wake up and smell the democracy.
"I'm proud to be an American because I can express my opinion freely and I have always been opposed to war," Robbins said.
Lindsey German of the Stop the War Coalition told the crowd at Hyde Park that the huge turnout was a warning to Blair: "If you go to war with George Bush, we will bring you down."
But in a speech Saturday, Blair said Iraqi concessions to United Nations weapons inspectors are "suspect." Blair said he was still committed to solving the Iraq crisis through the United Nations and said weapons inspectors would be given more time. But he insisted Saddam Hussein must be dealt with.
Rome protesters showed their disagreement with Prime Minister Silvio Berlusconi's support for Mr. Bush, while demonstrators in Paris and Berlin backed the skeptical stances of their governments.
Some leaders in German Chancellor Gerhard Schroeder's government participated in the Berlin protest, which turned the tree-lined boulevard between the Brandenburg Gate and the 19th-century Victory Column into a sea of banners, balloons emblazoned with "No war in Iraq" and demonstrators swaying to live music. Police estimated the crowd at between 300,000 and 500,000.
"We Germans in particular have a duty to do everything to ensure that war - above all a war of aggression - never again becomes a legitimate means of policy," shouted Friedrich Schorlemmer, a Lutheran pastor and former East German pro-democracy activist.
In the Paris crowd at the Place Denfert-Rochereau, a large American flag bore the black inscription: "Leave us alone."
Police estimated that 60,000 turned out in Oslo, Norway; 50,000 in bitter cold in Brussels, Belgium; and about 35,000 gathered peacefully in frigid Stockholm, Sweden.
About 80,000 marched in Dublin, Irish police said. More than 70,000 marched in Amsterdam in the largest demonstration in the Netherlands since the anti-nuclear movement of the 1980s.
Crowds were estimated at 60,000 in Seville, Spain; 40,000 in Bern, Switzerland; 30,000 in Glasgow, Scotland; tens of thousands in Belfast; 25,000 in Copenhagen, Denmark; 15,000 in Vienna, Austria; more than 20,000 in Montreal and 15,000 in Toronto; 5,000 in Cape Town and 4,000 in Johannesburg in South Africa; 5,000 in Tokyo; and 2,000 in Dhaka, Bangladesh.
"War is not a solution, war is a problem," Czech philosopher Erazim Kohak told about 500 people in Prague, the Czech Republic.
In Baghdad, tens of thousands of Iraqis, many carrying Kalashnikov assault rifles, demonstrated to support leader Saddam Hussein and denounce the United States.
In Damascus, the capital of neighboring Syria, an estimated 200,000 protesters chanted anti-U.S. and anti-Israeli slogans while marching to the People's Assembly.
Najjah Attar, a former Syrian cabinet minister, accused Washington of attempting to change the region's map.
"The U.S. wants to encroach upon our own norms, concepts and principles," she said in Damascus. "They are reminding us of the Nazi and fascist times."
In Beirut, Lebanon, some 10,000 people took to the streets, carrying Iraqi, Syrian and Lebanese flags, and placards reading: "No More Blood for Oil," "Stop Mad Cowboy," and "Don't Sack Iraq." A sudden downpour caused many protesters to leave.
But heavy rain and near freezing temperatures were no deterrent in Amman, Jordan, where some 3,000 demonstrators marched to the U.N. offices. Holding posters of Iraqi leader Saddam Hussein, protesters urged him to attack Israel. "Our beloved Saddam, attack Tel Aviv," protesters shouted.
An estimated 2,000 Israelis and Palestinians marched together in Tel Aviv against war on Saturday night.
Hundreds of people, some beating effigies of President Bush with shoes and sticks, marched in several Pakistani cities on Saturday demanding a peaceful solution to the Iraq crisis and a halt to Washington's march toward war.
In Bulgaria, Hungary, South Korea, Australia, Malaysia and Thailand, demonstrations attracted thousands, while the crowds were in the hundreds or less in Romania, Bosnia, Hong Kong, Indian-controlled Kashmir and Moscow.
In Ukraine, some 2,000 people rallied in snowy Kiev's central square. Anti-globalists led a peaceful "Rock Against War" protest joined by communists, socialists, Kurds and pacifists.
In the Bosnian city of Mostar, about 100 Muslims and Croats united for an anti-war protest - the first such cross-community action in seven years in a place where ethnic divisions remain tense despite a 1995 peace agreement.
"We want to say that war is evil and that we who survived one know that better than anyone," said Majda Hadzic, 54.
In divided Cyprus, about 500 Greeks and Turks braved heavy rain to briefly block a British air base runway.
Several thousand protesters in Athens, Greece, unfurled a giant banner across the wall of the Acropolis - "NATO, U.S. and EU equals War" - before heading toward the U.S. Embassy.
Police fired tear gas in clashes with several hundred anarchists wearing hoods and crash helmets, who smashed store windows and threw a gasoline bomb at a newspaper office. Thirteen youths were arrested, while five policemen and two protesters were injured.
About 900 Puerto Ricans chanted anti-war slogans against the possible invasion of Iraq. One man waved a U.S. flag on which the stars were replaced with skulls.
In Brazil, President Luiz Inacio Lula da Silva began efforts to unite South American nations against a possible U.S.-led attack on Iraq. Police estimated 1,500 marchers showed up in South America's largest city, Sao Paulo.
About 2,000 demonstrators rallied in Sofia, the Bulgarian capital. In Moscow, 300 people marched to the U.S. Embassy, with one placard urging Russian President Vladimir Putin to "be firmer with America."
Six hundred people rallied in downtown Hong Kong, as did 50 or so in Almaty, Kazakhstan.
Police in Srinagar in Indian-controlled Kashmir detained at least 35 protesters after about a hundred people, mostly supporters of the Communist Party of India (Marxist), marched through the city.
The day of protest began in New Zealand, where thousands gathered in cities across the country. Over Auckland harbor, a plane trailed a banner reading "No War - Peace Now," at the America's Cup sailing competition.
Between 3,000 and 5,000 people marched through a suburb of Canberra, the Australian capital, to protest government support for U.S. policy. Australia has already committed 2,000 troops to the Persian Gulf for possible action.
In the Aussie city of Melbourne on Friday, some 100,000 people turned out for one of the largest anti-war demonstrations since the Vietnam.
"We must stop the war as it is part of the United States' plot for global domination," protest organizer Nasir Hashim told 1,500 cheering activists outside the U.S. Embassy in the Malaysian capital Kuala Lumpur.
After an hour at the embassy, the protesters marched to the world's tallest buildings, the Petronas Twin Towers, about 1½ miles away, where they assembled at a park. Police, backed by water cannons mounted on trucks, stood guard, and there were no reports of arrest. The demonstrators dispersed 45 minutes later.
Other groups gathered in Bangkok, Taipei, and Singapore.

Thanks for reading CBS NEWS.
Create your free account or log in
for more features.