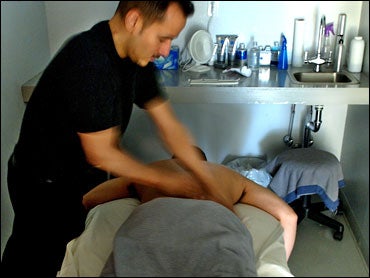 Massage Scores For Pain Relief
For the treatment of pain, Americans rate massage as highly as medications, a new survey shows.
Conducted by an independent research firm, the annual survey is the ninth commissioned by the American Massage Therapy Association (AMTA).
It shows that one in five U.S. adults got a therapeutic massage in the last year. Three-fourths of them would recommend it to others — one reason for the body therapy's growing popularity.
Among those who actually had a massage in the past year, 28 percent say massage therapy gives them "the greatest relief from pain." Another 28 percent say medication gives them the greatest relief. Chiropractic comes in third at 11 percent, followed by 8 percent who got the most pain relief from physical therapy, 3 percent who said acupuncture was best for their pain, and 1 percent whose pain best responded to biofeedback.
Survey Findings
The survey, conducted by Opinion Research Corp. International in Princeton, N.J., surveyed a national sample of 1,014 U.S. adults. The poll has a margin of error of plus or minus 3 percent. It found that:
90 percent of Americans feel massage is good for a person's health.
93 percent agree with the statement that massage can be effective for pain relief.
Use of massage in people age 65 and older has tripled from 4 percent in 1997 to 15 percent in 2005.
22 percent of Americans had a massage in the past year; 34 percent had a massage in the last five years.
73 percent of those who had a massage would recommend it to a person they know.
46 percent of respondents at some time had a massage to relieve pain.
Among respondents who discussed massage with their health care provider, 57 percent said this health professional strongly recommended massage or encouraged them to get a massage.

Whole-Body Approach To Pain

Massaging sore muscles obviously reduces pain. But massage is really meant as a whole-body approach, says AMTA vice president and licensed massage therapist M.K. Brennan, RN, LMBT.

"One of the things about massage that helps pain is that it goes down to the heart of where people feel their pain," Brennan tells WebMD. "There is the overall sense of well-being one can get from the massage approach. And the stress responses in the body associated with pain, such as elevated cortisol, are reduced through massage."

For these reasons, massage can be used to treat many different kinds of pain, says Tiffany Field, PhD, director of the Touch Research Institute at the University of Miami School of Medicine.

"Basically we have found massage to be effective in chronic pain syndromes in arthritis and diabetes; in depressive disorders such as ones that involve addiction like eating disorders; in chronic fatigue and fibromyalgia and other autoimmune disorders — HIV-associated diseases, too," Field told WebMD in a June 29 interview. "We have looked at the A-to-Z of medical conditions, and we have not found a single condition massage has not been effective for."

Brennan says all trained massage therapists learn the same basic techniques. As they go on to advanced training, massage therapists may specialize in one or more specific kinds of massage. There are more than 200 of these techniques, according to the Massage.com web site.

Qualifications For Therapists

Brennan recommends that a person seeking therapeutic massage look for a well-trained professional. Most states, she says, require that massage therapists be licensed or registered. And the AMTA web site maintains a referral list of massage therapists who meet certain standards:
Graduate from a minimum 500 in-class-hour massage therapy training program, or
Pass the National Certification Examination in therapeutic massage and bodywork, or
Possess a current AMTA-accepted license to practice, and
Earn continuing education credit, and
Uphold the AMTA Code of Ethics.
"If you are looking for someone dealing with chronic or acute pain issues, you may want to look for someone who does sports massage, neuromuscular massage therapy, orthopedic massage, or someone who does craniosacral work or uses strain/counterstrain techniques," Brennan says. "But any list like this leaves out some qualified professionals. The best thing to do is to find a qualified massage therapist and talk with him or her about what you want massage for, be it relaxation or pain relief. Then ask what is their experience in addressing that issue."

Brennan says weekly massage is most effective but admits that not everyone has the time or money to get massage therapy that often.

Field, however, has a solution. Though there's no replacement for a qualified massage professional, she recommends that families learn basic massage techniques.

"In our studies, we try with adults to get them two 20-minute massages a week," she says. "With kids, we use parents as therapists so they can give their children massages every night, 10 minutes before bedtime. We say this because most of the children in our studies have chronic illnesses and can really benefit from a daily dose of massage."

Sources: 2005 Massage Therapy Consumer Survey, Opinion Research Corp. International, Princeton, N.J., conducted Aug. 11-14, 2005. M.K. Brennan, RN, LMBT, vice president, American Massage Therapy Association. Tiffany Field, PhD, director, Touch Research Institute, University of Miami School of Medicine.

By Daniel J. DeNoon
Reviewed by Louise Chang, MD
© 2005, WebMD Inc. All rights reserved
Thanks for reading CBS NEWS.
Create your free account or log in
for more features.