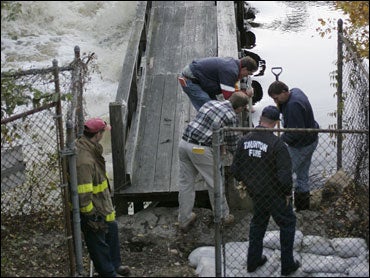 Massachusetts Town Fears Dam Break
Taunton prepared for the worst Tuesday, evacuating residents, canceling school classes and city government hours and closing off the downtown as a dam upstream on the rain-swollen Mill River continued to deteriorate.
There could be a wave of water unleashed, up to 12 feet high, through the downtown, reports Karen Anderson of CBS station WBZ-TV. "No one is allowed in the downtown area unless they are here for official emergency business."
Mayor Robert Nunes, at a hastily called news conference, said the situation at the wooden Whittenton Pond Dam took a turn for the worse about 2 a.m., resulting in an increase of water flow.
"The city of Taunton still is a state of emergency," Nunes said. He said dive teams are standing by if rescues are necessary, and a shelter has been set up at the local high school, manned by the Red Cross.
"If the dam goes, it will create massive flooding along the Mill River and into the downtown area," Nunes said.
Taunton is about 39 miles south of Boston and 20 miles northeast of Providence.
Nearly 2,000 people were evacuated from their homes near the river on Monday when emergency management officials warned that the dam had lost a timber column, and could break within 24 hours. The National Weather Service issued a flood warning, calling the situation "extremely dangerous."
Nunes said National Guard troops were deployed, and the Taunton Fire Department called in mutual aid on a standby basis. Dive teams were also ready in case they were needed.
"We're very concerned about public safety," said Gov. Mitt Romney after surveying the damn late Monday.
Earlier Monday, Rose said officials were attempting to relieve pressure on the dam by tweaking the flow between it and a second dam upstream.
The major task now, he said, will be balancing the pressure behind the dam with the water in front of it.
The state has 3,000 private dams, Romney said. The governor said Whittenton Pond Dam was inspected two years ago and was considered in fair condition at that time.
Romney said officials would look into building an appropriate spillway for the dam to avoid possible flooding in the future. He also said the state would examine other measures to safeguard dams during and after steady rains, such as what Massachusetts experienced last week.
It was a door-to-door evacuation, reports Anderson. Throughout Monday afternoon and evening, police and firefighters knocked on doors to urge residents to stay with relatives and friends or at a makeshift shelter in the field house at Taunton High School.
"I don't want to leave, but my husband and my children are making me leave," said Vicki Rose. "This is my home, I don't want to leave it."
"I'm a nervous wreck, it's never happened to us before," said another resident.
Lisa Campbell, who lives near the river, said she and her children planned to stay at her sister's house on the other side of the city.
"It's better to be safe than sorry," she said. "You saw how many people had to be rescued from New Orleans when they didn't leave."

Thanks for reading CBS NEWS.
Create your free account or log in
for more features.