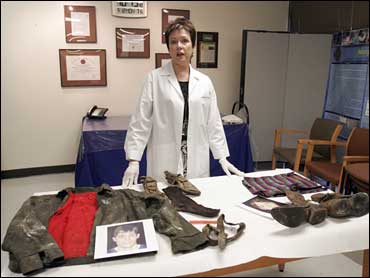 Mass Killer's Victims Unknown For 35 Years
One after another, as a steamy summer evening faded from dusk to darkness, the bodies of young boys were pulled from the dirt floor of boat stall No. 11.
By night's end on Aug. 8, 1973, eight corpses had been recovered from makeshift graves. The next day, nine more were discovered inside the corrugated metal shed in southwest Houston.
Another 10 bodies were found on remote High Island beach, 80 miles east of Houston, and in a wooded area near Lake Sam Rayburn in East Texas.
Twenty-seven dead. Some as young as 13, none older than 21. All victims of one killer, Dean Corll, and his two teenage accomplices, Elmer Wayne Henley and David Owen Brooks.
The term serial killer had not yet been coined, so this unfolding horror was simply called the Houston Mass Murders - at the time, the worst in U.S. history.
Most of the bodies were badly decomposed, their identities obscured by time and elements. A few were buried with mementos that whispered of their youth and the fashions of the day: a brown fringed leather jacket, ankle-high leather boots, shorts in a tie-dyed pattern.
The condition of their bodies hinted of agony in their final minutes.
Some were wrapped in plastic, and encased by a thin layer of lime powder. Others had cords wrapped around their necks, and tape strapped around their feet and mouths. A few had been sexually mutilated. One boy was found curled in a fetal position.
All over Houston, all over the country, parents of missing boys learned of the murders and feared the worst. In the working-class Houston neighborhood where Henley and Brooks lived, where Corll had once owned a candy shop across from an elementary school, where dozens of boys had seemed to vanish over the previous three years, the dread was almost unbearable.
Were our boys, our sons, among the dead?
For some families, the answer would come swiftly. For others, it would take decades. But some have been trapped in a limbo that has stretched from the Nixon administration into the 21st century.
Three bodies remain - three young men, believed to have been 15 to 20 years old, their bodies chilled to 38 degrees in the long-term storage unit of the Harris County medical examiner's office.
The 11th and 16th bodies unearthed from Southwest Boat Storage. One of the young men found at Lake Sam Rayburn.
ML73-3349. ML73-3356. ML73-3378.
Nameless. But not forgotten.
Not by Sharon Derrick, a forensic anthropologist with the medical examiner's office. Not by the families who still contact her, seeking word of long-vanished sons and brothers.
At the coroner's office, the search for their identities has not ended. Instead, it has intensified.
Parents and other relatives are aging. Many have passed away. The window for finding family members is closing - and with it, the possibility of finding the names to match the numbers.
"We need to get the word out, because at some point before too awful long, there won't be anyone living that will have memories of them," said Derrick. "We really need to push this."
She displays three images - forensic facial approximations - that show what the three might have looked like at the time of their deaths.
One wore a navy blue jacket with red lining, and denim jeans with a 30-inch waist. He was buried with an orange plastic pocket comb. Another had cowboy boots, corduroy slacks, red, green and blue-striped swim trunks and a knotted rope bracelet popular in the 1970s.
Also found with the boys: a tie-dyed tee-shirt emblazoned with a peace sign.
"I can't quite let go of them yet. I've spent long hours with their remains and I've seen what they went through and I just want them to be taken care of," said Derrick. She speaks of the three victims with an almost maternal tenderness, her hands brushing across the images as if caressing their cheeks.
Somewhere, in the voluminous police case file of the murders, yellowed news clippings, and 12-inch stack of old missing persons reports, Derrick believes there may be some name, some incident, some clue that might lead her to the right families.
Somewhere, in the hundreds of plaintive letters written by parents trying to find lost sons, there may lie the path to the three nameless boys' identities:
"I have a son missing who was, when last heard from, 'heading toward Texas.' If he is among those found, would you please notify me?"
"Dear Officers! I am watching the terrible news from Houston ... our Dear Son is missing for a long time. He is very handsome and proud and I fear the worst."
"I know you are getting thousands of letters like this one but I just have to try to find out something. ..."
The night he disappeared, on Aug. 3, 1973, 13-year-old James Dreymala hopped on his red bicycle and went out for a ride.
He never came home - like Marty Ray Jones and Charles Cobble, who slipped from sight two weeks earlier, and James Eugene Glass and Danny Michael Yates, who had vanished from an evangelical rally three years before.
Like so many boys from the Houston Heights, then a working-class neighborhood of bungalows and Victorian cottages, James just vanished.
Anguished parents called police, filed missing persons reports, questioned friends and classmates, but they could find no sign of the missing boys - until Aug. 8, 1973, when Elmer Wayne Henley called police in the Houston suburb of Pasadena to report a shooting.
The 17-year-old high school dropout said he had killed Dean Corll after the 33-year-old electric company employee threatened to rape and kill Henley and two other teenagers who had gone to party at Corll's modest bungalow.
But there was more.
Henley, a slight boy with a sagging mustache, also told police that Corll - a former resident of the Heights who was known to socialize with teenagers - had sexually tortured and killed more than 20 boys over the previous three years. The bodies, Henley said, were buried in a boat storage unit Corll had rented in southwest Houston.
The scene inside Corll's house seemed to back up Henley's outlandish claims, recalled David Mullican, the now-retired Pasadena homicide detective who investigated the case. There, police found a plywood board with holes cut out for handcuffs and restraints, plastic sheeting covering a bedroom floor, and a toolbox filled with a variety of sexual devices.
Then, Henley led police to the storage shed.
"When we opened the door to the boat house, he turned as white as a sheet of paper," Mullican said. "And we knew he was involved."
The next morning, in a rambling confession, Henley told police that he and David Brooks, 18, had procured boys for Corll, who would pay them anywhere from $10 to $200 per victim. Many were friends or acquaintances from the Heights.
Henley and Brooks also helped Corll kill and bury some of the victims, who were strapped to the plywood "torture board" and suffered hours, sometimes days, of unimaginable sexual and physical abuse before they were shot or strangled.
"Those kids suffered a lot," said Mullican. "Henley was kind of ashamed of what he had done, but he wanted to tell us everything."
Inside the boat shed, at High Island, and at Lake Sam Rayburn, Henley pointed to each grave, told police who they would likely find buried there, and how that boy was killed.
"I desired that the entire incident be over with and the only way to completely end it was to give up all the information," Henley said in a recent interview. "It took me way too long to figure out how to get out of it, but once I made that step, I wanted to get all the way out."
There were only a few victims he could not name.
After three days, four bodies had been identified, and the police were flooded with inquiries about missing boys from as far away as Russia.
James Dreymala, the last boy to disappear, was the first body recovered from the boat shed. Not far from his crumpled body was the bicycle he had been riding.
Donald and Jerry Waldrop, 15-year-old and 13-year-old brothers who disappeared on Jan. 30, 1971, after heading to a local bowling alley, were found buried in the same grave.
Billy Lawrence's father recognized Wayne Henley as a boy his 15-year-old son had befriended shortly before he vanished in June 1973. Billy's body was found at Lake Sam Rayburn.
Many of the bodies were not much more than skeletal remains. They were identified through dental records, histories of broken or fractured bones and physical descriptions.
At the end of the first week, 11 boys had been identified, but the number of teenage boys who had vanished from their homes and fit the profile of Corll's victims crept upward of 200.
By July 1974, when Henley was convicted in six of the murders and sentenced to six life terms in prison, 21 victims had been identified. Brooks was convicted of one murder, and also sentenced to life.
It would take more than a decade to identify the next two victims, and another 10 years and the advent of DNA testing to confirm the death of the 24th, 15-year-old Mark Scott.
ML73-3349, ML73-3356 and ML73-3378 still had no names.
One thought has propelled Derrick though months of fruitless investigation.
"Their families need to know," Derrick said. "If there's an 80-year-old mother who has thought, 'Well, maybe my son just didn't love me and just took off and never wanted to see me again,' I would want her to know that he would have come home, that it wasn't his fault he didn't come home."
Last year, Derrick sent samples from the three boys to the University of North Texas for DNA testing, hopeful that advances in technology could result in a breakthrough. She hit the jackpot. There was mitochondrial DNA from all three boys.
Now, she needed a relative to provide a match.
So she again pored through the paperwork. One name caught her eye: Randell Lee Harvey.
The 15-year-old fit the physical description of one of the remaining victims. His disappearance in March 1971 fit the time frame. His last known addresses in the Heights fit the right neighborhood.
And his name turned up again and again.
It was included on a list of 22 missing boys compiled by Houston police 10 days after the bodies were discovered. Another report noted that a local man had mentioned a boy named Randy Harvey had vanished without taking any clothes or personal belongings.
A third report, dated Aug. 11, 1973, shows that police contacted Randy's mother, who had previously filed a missing persons report on her son. They asked her to provide dental records for the medical examiner.
But there was no record of the results, no further mention of his name.
Derrick finally found Lenore McNiel and Donna Lovrek, Randy's two sisters, in Trinity, Texas.
For decades, the two have suspected that their brother was one of the Corll victims. One of Lenore's boyfriends, Malley Winkle, was found in the boat shed, and they had friends among the dead.
Their mother, Frances Conley, died just after Mark Scott was identified through DNA. But she did not want to go in for testing.
"When Randy went missing, she knew in her heart that he was dead. She didn't want to go through that heartbreak again," said Lovrek.
But Lovrek and her sister want to know. In late May, they submitted samples of DNA for comparison with the unidentified victims.
"I tried every resource to find him. It was like he dropped off the face of the earth," said Lovrek. "Now, I'm relieved and scared and terrified that it could be him. Relieved, because if it is him, I can put him to rest. Scared that what happened to other boys, happened to him."
It may take up to two months to get results. But then, perhaps, she'll know, leaving only two nameless young men in the coroner's cold storage.|

Thanks for reading CBS NEWS.
Create your free account or log in
for more features.