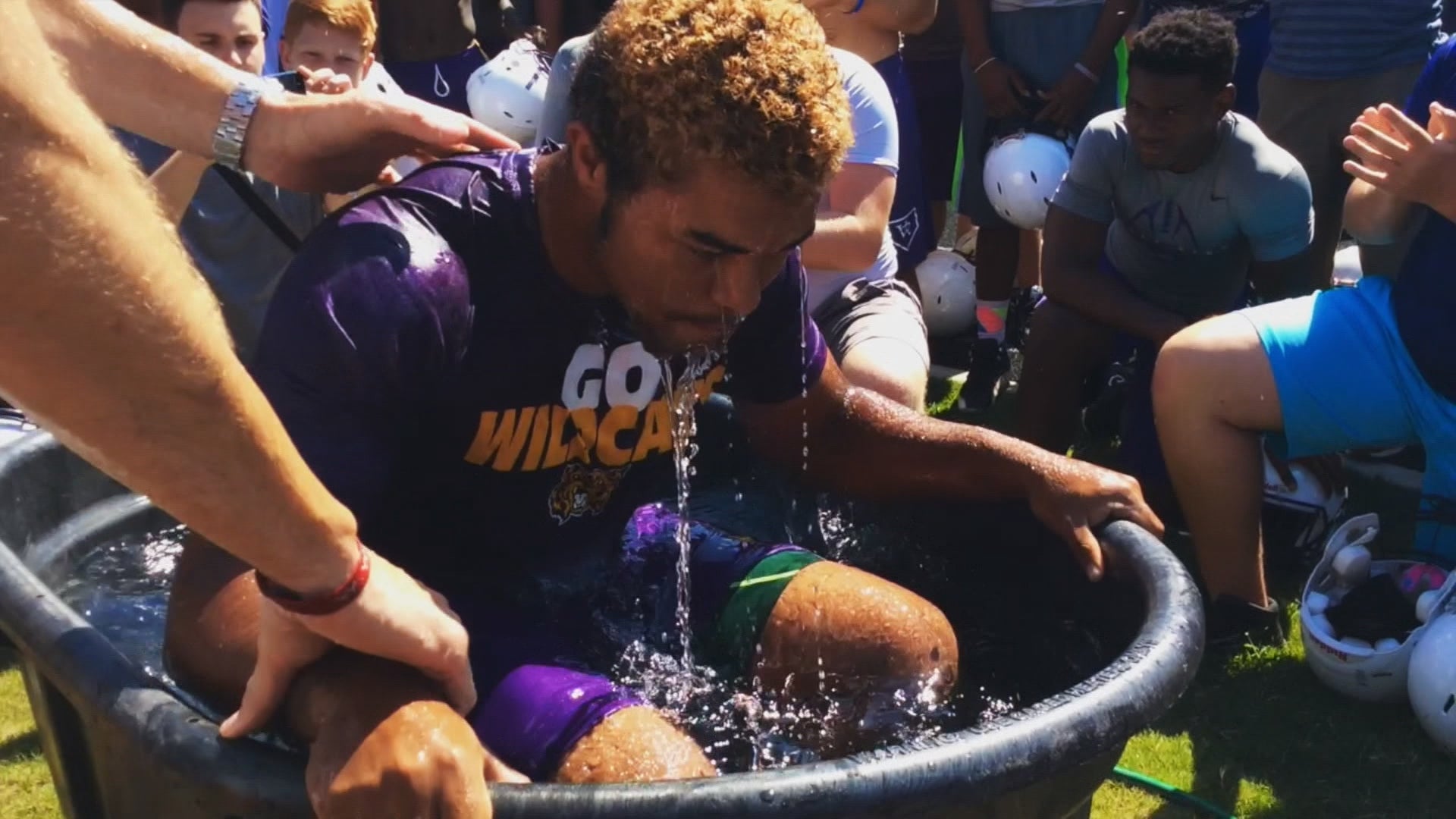 Mass baptism at Georgia high school spurs controversy
Video of a church's mass baptism at a Georgia public high school caught the attention of critics after it showed up online.
Now, administrators are investigating what's become a battle over church, state and sports, reports CBS News correspondent Mark Strassmann.
Three weeks ago, a local Baptist church took a video showing almost two dozen people being baptized before the Villa Rica Wildcats' football practice.
On the video, defensive coordinator and gym teacher Andy Szatkowski was first to be baptized. Then one player after another lined up, 18 in all.
The soon-to-be controversial video was uploaded to YouTube with the caption, "Take a look and see how God is still in our schools!"
Alan Martinez, head of the local booster club, watched the baptisms and said the overall message of that day was one of "hope, care and compassion from the community."
"I was so proud for these young men and their example of their new relationship with Christ and what it means in their life and what it means in that school," Martinez said.
Kevin Williams, the senior pastor of the First Baptist Church in Villa Rica, said no one asked the school first.
"The school really didn't have anything to do with it. It was really us, the church and men in community kinda setting it up," he said.
He said there are a lot of people who "don't want God in anything."
Freedom from Religion Foundation Co-president Annie Laurie Gaylor said religion and public schools do not mix.
"Our students should not be forced to pray to play, and this is coercive and proselytizing," she said.
Her group sent the school district a letter asking it to "immediately investigate and take action to ensure there will be no further illegal religious events."
"Football players are at mercy of their coach and want to please their coach, and when they are being corralled to come and attend a religious worship service to be dunked and baptized, how can anyone not realize that's coercive?" Gaylor said.
Williams said it was always voluntary and there was no coercion or proselytizing.
"We never thought we would get so much attention over some kids getting baptized," he said.
The Carroll County School District released a statement saying it is "looking into the specifics of this situation and will take appropriate steps to ensure all state and federal laws are followed."
The Freedom from Religion Foundation, which is already suing another Georgia public school over school prayers, told "CBS This Morning" it would take legal action against this school if it thinks it's necessary.
Thanks for reading CBS NEWS.
Create your free account or log in
for more features.