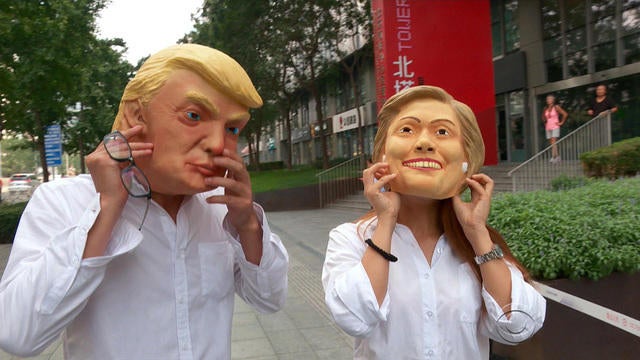 "Mask index" helps predict Election Day outcome
JINHUA, China -- What better night than Halloween eve to look at this year's presidential "mask index."
It's a poll put out by the retail chain "Spirit Halloween" -- which tracks the sales of its presidential candidate masks.
Over the past 20 years, the poll has correctly predicted every presidential election winner based on the top-selling mask.
This year, the "mask index" has Donald Trump ahead of Hillary Clinton 55-to-45 percent.
CBS News went inside a factory in China that makes some of these masks.
Forbes Yang is a sales manager at the Jinhua Partytime Latex Art and Crafts Factory in Jinhua, China, where workers carefully design, stretch, spin and spray tan America's presidential candidates.
And it can be difficult.
"It's not easy, but all our sculptors are full of experience," said Yang.
Every four years, political masks become a Halloween must-have. They're largely made in China and Mexico, and shipped to the U.S., where voters get to "try on" candidates.
Who does Yang prefer?
"I think Donald Trump," Yang said. "Because he's funny. I think most Chinese like him better than Hillary."
Both candidates have attacked China while campaigning, so CBS News took the masks onto the streets of Beijing to get people's reactions
Some recognized them instantly. Others, not so much.
"I would have recognized Obama. He's handsome," one woman said.
While a majority of Chinese support a Clinton presidency, Bai Jingyu, a foreign exchange analyst, said he supports Trump.
"He's a bit crazy," he said. "I support him because has better ideas and logic."
For Yang, a Trump loss would be good business. And he said he would want him to run again in four years, to sell masks.
"Yeah run again, in four years, good for us," he said.
And a second opportunity to scare up some votes.
Thanks for reading CBS NEWS.
Create your free account or log in
for more features.