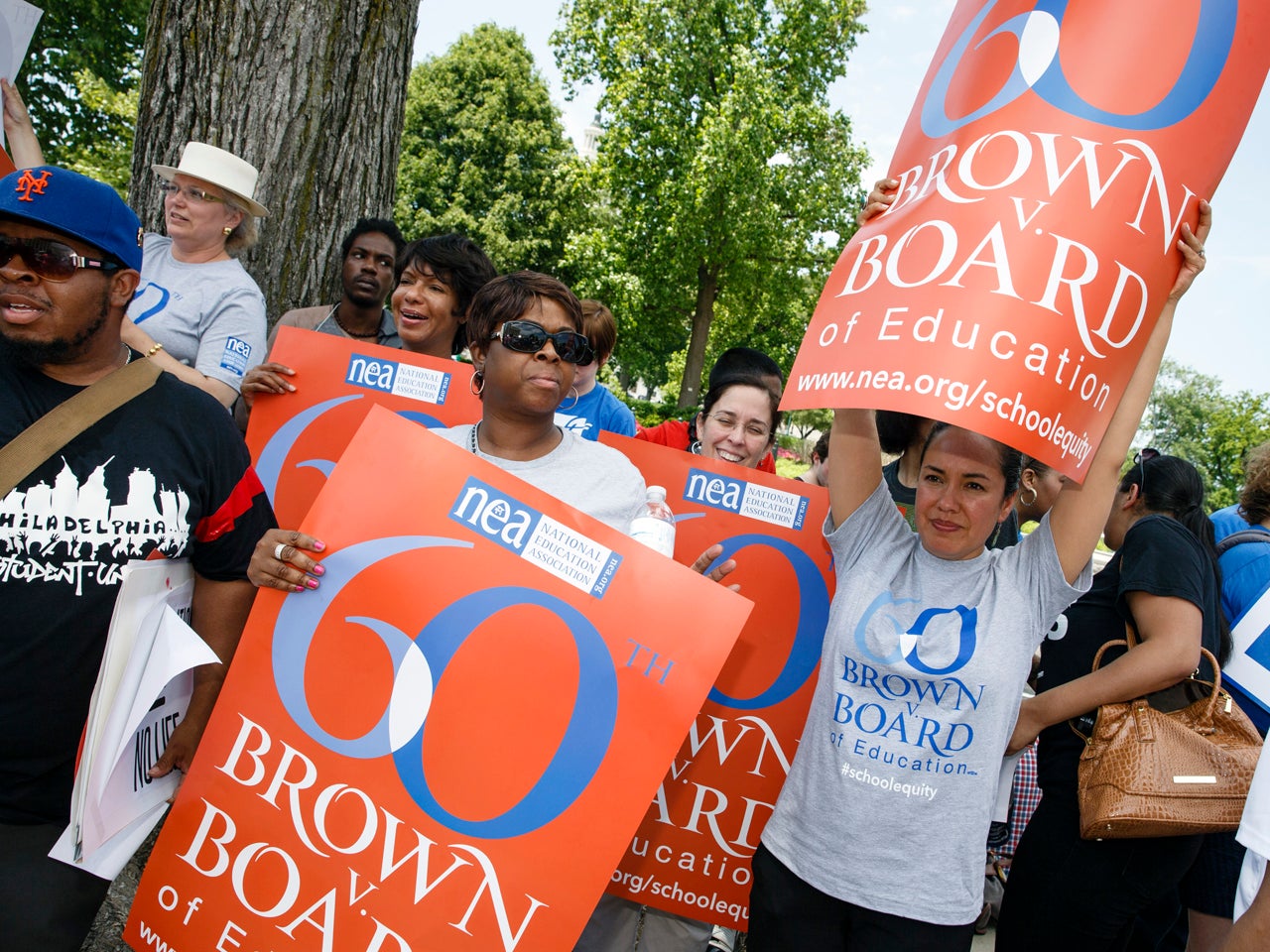 Historically black colleges still seeking equality in Md.
BALTIMORE -- Attorney General Eric Holder marked the 60th anniversary of the Supreme Court's historic decision in Brown v. Board of Education, which overturned the doctrine of "separate but equal," by addressing graduates at a Maryland university that is at the center of the ongoing fight for equality and integration.
A federal judge recently ruled that the state of Maryland continues to violate the constitutional rights of students at historically black institutions like Baltimore's Morgan State University, where Holder spoke Saturday.
Federal District Judge Catherine Blake ruled in October that Maryland's educational policies violate the 14th Amendment's equal protection clause by depriving historically black colleges and universities of unique, high-demand programs that would attract a competitive and diverse student body.
The court found that Maryland's traditionally white institutions have an average of 42 unique programs while historically black institutions have an average of 11 per institution.
"Throughout the states where there are historically black colleges, you will find the pattern of having separate institutions is still a major problem," said Earl S. Richardson, the former president of Morgan State University.
Richardson was one of the plaintiffs' supporters who turned out for a town hall meeting at Coppin State University in Baltimore to discuss the case.
In 1992, the Supreme Court held in U.S. v. Fordice that eight public universities in Mississippi needed to take more action to promote integration to comply with the equal protection clause.
In October, Blake declared that Maryland's efforts toward integration were lacking.
"This disparity is highly suspect in light of the history of Maryland's system of higher education," she wrote in her opinion.
She held that Maryland never made a "serious effort" to address the issue of duplication that existed before Brown.
"Duplication is basically two systems - one for blacks and one for whites," Richardson said.
Duplication makes it harder for historically black colleges to attract students, especially since Maryland has several public institutions all concentrated in the Baltimore area and competing for the same students.
Blake also held that Maryland didn't prevent additional, unnecessary duplication over the past several decades, to the detriment of historically black institutions in Maryland.
"Do you need all of those institutions offering the same programs to the same audience?" Richardson asked.
Prior to the Brown decision, the state of Maryland forced black students to attend schools that were insufficiently funded and lacked the resources and opportunities afforded to white students. Blake pointed out that Maryland failed to adequately remedy the disparity for decades after the Brown decision was issued.
By 2000, Maryland had to enter into a partnership agreement with the U.S. Department of Education's Office for Civil Rights in an effort to bring the state's higher education system into compliance with federal law. Maryland was required to take specific steps to address issues in recruitment, retention and funding for historically black colleges and universities.
The agreement required Maryland to abide by its commitment not to duplicate unique programs at historically black colleges and universities at traditionally white institutions, which would have the effect of siphoning students from the former to the latter.
According to court documents, in June 2006 Maryland wrote to the Office of Civil Rights seeking an acknowledgement that it had fully implemented its commitments, but the state never got a response and no further action has been taken on the agreement.
Then came another lawsuit. The Coalition for Equity and Excellence in Maryland Higher Education, an organization of prospective, current and former students of Maryland historically black institutions of higher education, filed suit in 2006.
The plaintiffs argued that the inequality continues to exist between historically black institutions and traditionally white institutions in terms of missions, programs, funding, infrastructure and duplication of programs that would attract high quality students over half a century after Brown.
"States have not grown and developed historically black colleges in the same way they have supported traditionally white institutions," said Richardson. "Our states continued to fund a dual system."
It took almost seven years for the case to wind its way through the courts. When Blake issued her opinion in October, she found that on the issue of duplication Maryland is comparable to and in some cases worse than duplication found in Mississippi.
Blake ordered the parties to try to mediate the issue and to focus on ways to address unnecessary program duplication and to expand the offering of unique programs at historically black institutions.
The parties are due to report to the judge on the status of the mediation by May 30.
At that time, Michael D. Jones, lead counsel for the plaintiffs, said he is hopeful that the state will give a remedial proposal that will address the constitutional violations that the court found.
"In case they do not remedy those constitutional violations ... we are fully prepared as soon as the court is ready to accommodate us to have a full-blown hearing," he said.
Acting secretary of the Maryland Higher Education Commission, Catherine Schultz, issued a statement to CBS News: "The state is committed to good faith mediation of the Coalition lawsuit. That mediation is on-going. We hope that the mediation will lead to a satisfactory resolution for the students of Maryland."
According to Richardson, "It is only when we have all of our institutions equally competitive regardless of race, that we will have desegregated the system."
Thanks for reading CBS NEWS.
Create your free account or log in
for more features.