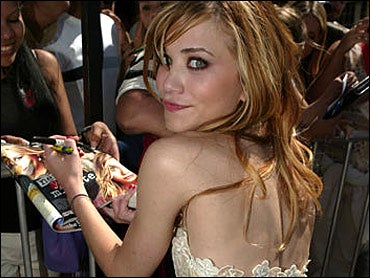 Mary-Kate Olsen Heads Home
Mary-Kate Olsen, the brunette half of the Olsen twins, has been released from a treatment facility after six weeks, her publicist said Monday.
"She is feeling very well and is looking forward to rejoining her family and friends and preparing for her freshman year at New York University," said spokesman Michael Pagnotta. She was released Friday night.
The 18-year-old actress was reportedly battling an eating disorder.
Mary-Kate will now have to go through post-facility treatments for a while.
"There's no cure for an eating disorder," People magazine's Peter Castro said on CBS'The Early Show. "It's going to be tough, especially in the midst of college."
Mary-Kate still plans to attend New York University with her sister Ashley in the fall. In late August, she will fly there from L.A. for orientation.
Castro said Ashley has been very supportive throughout this ordeal. "She's stepped up to the plate. She tried to keep the commitments that they had as business people while Mary-Kate was away at facility and has really stayed very close to her sister. Did not want to leave her side. She could have gone to Australia and all over the world promoting their new movie, but she said, 'No way. I'm going to be right near Mary-Kate.'"
As far as drug rumors go, Mary-Kate's representatives stand by their statement that she's absolutely not battling a drug problem. Only the tabloids have reported on this, and the Olsens say there's no truth whatsoever to the rumors, Castro said. "We'll see if there will be legal action down the road."
Mary-Kate and Ashley turned 18 on June 13, assuming control of Dualstar Entertainment. They are estimated to be worth $150 million each.
They've been acting together since they were 9 months old, most notably on the sitcom "Full House" and in a series of direct-to-video movies. They have also attached their names to a line of merchandise including clothing, beauty products and home decorating materials.
Their big-screen debut, "New York Minute," did poorly at the box office after its May release.

Thanks for reading CBS NEWS.
Create your free account or log in
for more features.