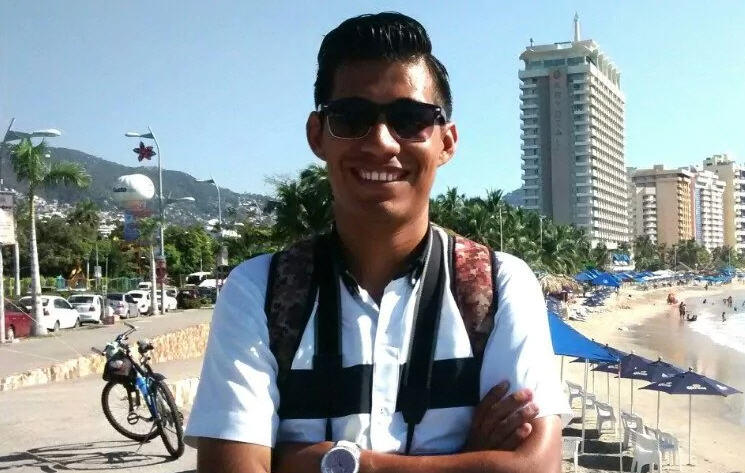 Journalist from Mexico denied entry to U.S. for D.C. press event
A well-known journalist from Mexico was denied entry to the United States this week to be a panelist at a journalism event in Washington, D.C., according to Reporters Without Borders, in a case that calls out America's "once-high post as a beacon of press freedom."
Martin Mendez Pineda, 26, was scheduled to be at the "Press Freedom: Lessons Learned From Around The World" panel discussion hosted by Digital Content Next in partnership with the Newseum and Reporters Without Borders (RSF) on Wednesday. Those on the panel were to describe the dangerous conditions under which they work to cover news in their country.
Mendez spoke to RSF and said, "I am angry and disappointed that I was not able to attend the events with everyone in Washington D.C. this week."
He's a former reporter for "Novedades Acapulco" in Guerrero, Mexico, where he received threats after writing a story about local police violence, RSF reports. Mendez tried to seek asylum in America earlier this year, but was unsuccessful.
RSF writes that Mendez filed a legal application at the U.S. border on Feb. 5, but was immediately taken into detention by Immigration and Customs Enforcement (ICE). Despite passing his credible fear interview on March 1, he was twice denied a request for parole pending his asylum determination and remained in detention at various ICE facilities for more than three months. Due to the deplorable conditions of his detention and concerns for his health, Mendez ultimately decided to withdraw his asylum request and returned to Mexico, though he remains in hiding to this day.
"I was very much looking forward to sharing my experiences as a journalist in Mexico and as someone whose threat to safety has been ignored by the United States Immigration officials," Mendez told RSF.
Thursday afternoon the U.S. Customs and Border Protection released a statement about Mendez as they look into his claim that he tried to enter the U.S. on Sept. 10 via the Paso Del Norte port of entry using the humanitarian parole process, but was denied.
"It must be emphasized that humanitarian parole is used sparingly to bring someone who is otherwise inadmissible, into the United States for a temporary period of time due to a compelling emergency," the CBP told CBS News. "There must be an urgent humanitarian reason or significant public benefit for the parole to be granted. Attending a conference does not generally rise to the 'compelling emergency' standard," they added.
Mendez was also supposed to attend high-level meetings while in D.C., including some at Congress and U.S. State Department. RSF said it worked with Carlos Spector, an immigration attorney in El Paso, to request Mendez's entry to the U.S.
"I lost the only job I was able to find in Mexico, while remaining in hiding, in order to have the opportunity to attend these events, which would've allowed me to discuss the dangers journalists face throughout the world and which I currently face in Mexico right now," Mendez said.
The National Press Club (NPC) said in a statement that "the case of Martin Mendez illustrates how far the United States has fallen from its once-high post as a beacon of press freedom."
The NPC was to hold an event Monday night with Mendez in person, but had to adjust its plans and carry out the event with him over the phone.
Margaux Ewen, advocacy and communications director for RSF's North America bureau, was upset about Mendez's situation.
"We are saddened and quite frankly upset that Martin was not able to be with us in person for the meetings and events we had arranged for him this week," Ewen wrote in a RSF press release. "Martin's story is a harrowing one, and he most certainly deserved to tell it in person to those who could potentially offer a solution. The American people also deserve to know what has happened to him for shedding light on police violence and corruption in Mexico."
Ewen went on to describe how deadly it is in Mexico for journalists and said "what happens there should interest America as much as anything that's happening at home.
Mexico is the western hemisphere's most dangerous country for journalists, according to RSF. Out of the 180 countries RSF cites in their 2017 World Press Freedom Index, Mexico is 147th, North Korea is ranked 180th and America is ranked 43rd.
CBS News' Manuel Bojorquez reported this summer about journalists in Mexico and how their assignments often turn deadly.
Reporting on cartel violence and government corruption has led to 100 journalist killings in the past 25 years, according to the Committee to Protect Journalists. This year alone eight journalists were killed, including Miroslava Breach, one of Mexico's leading investigative reporters. She was gunned down outside her home after reporting on collision between cartels and government.
Luis Chaparro, a freelance journalist who worked closely with Breach at "El Norte," a newspaper based in Cd. Juarez, told Bojorquez "every journalist in Mexico is a target now." Chaparro added, "She was brave. I felt that bullet was too close for me."
Oscar Cantu, the owner of "El Norte," where Breach's articles were published, said Breach knew she was publishing dangerous content, but never told him she felt in danger, though "she must have known."
---
This story is updated to include a statement from the U.S. Customs and Border Protection.
Thanks for reading CBS NEWS.
Create your free account or log in
for more features.