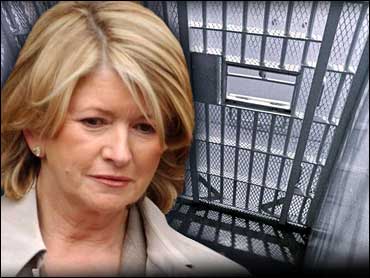 Martha Prison No 'Camp Cupcake'
There have been reports that life is easy in the minimum security federal prison where domestic diva Martha Stewart will serve her sentence.
"Camp Cupcake" is what some dub the federal facility in Alderson, W.Va., some 270 miles southwest of Washington, D.C. in the foothills of the Allegheny Mountains. But that's just not so, reports CBS News Correspondent Joie Chen on The Early Show.
She says former inmates, former guards, and townspeople tell her that, while the landscaping may be lush, it's no country club. "Although things might not be as bad as Martha Stewart might be imagining right about now, they're certainly not going to be as comfy as she might like," Chen observes.
Other women who have spent time there say Stewart will have her rights stripped away almost immediately. "The procedure is very tough. You are going to get your first strip search just as soon as you get in," says Judith Kelly, who spent three months at Alderson last year after being convicted of trespassing during a political protest.
Over time, Kelly joined the prison landscaping crew and learned to live in the facility, which houses nearly 1,000 inmates.
"There were 125 of us in one section," Kelly says, "in little spaces with low walls and bunk beds and a little built-in desk and two lockers and no doors - just open space, so you could hear everybody. And there was a lot of noise. If you were on the upper bunk, you could see everybody in the upper bunk in the whole room - so no privacy to speak of."
For someone like Stewart, accustomed to the high life, the loss of individuality could be devastating, Chen points out. But guards say they try to show prisoners respect; she'll be called "Miss Stewart" at Alderson.
Kelly says the women in Alderson are eager to see Stewart join them: "They were all abuzz when she was being prosecuted, saying, 'Wouldn't it be great if she comes here …not that she should go to prison ... but wouldn't it be great if she could shine a light on the conditions here, with her clout, her fame?'"
Experts say there are definite steps Stewart could take to ease her transition and help her get along with fellow inmates.
David Novak served time in jail and is now a consultant, helping people prepare for life behind bars. He's had about 1,000 clients, many very high-profile. He told The Early Show co-anchor Julie Chen the first thing Stewart needs to do is "recognize that this is a temporary challenge and she will get through it like millions before her and, unfortunately, millions after her.
"Miss Stewart needs to do everything she can to stay as in the center of the bell curve as possible - do everything possible to ingratiate herself to the community and make sure she does not cause any problems for the staff."
The federal sentencing consultant, who wrote "Downtime: A Guide to Federal Incarceration," says, "Because of the notoriety she's gained, being able to blend is going to be an impossibility.
"But the other inmates are going to watch her very carefully immediately after she turns herself in to see how she conducts herself - whether she recognizes that she's no better or no worse than any inmate, whether she recognizes she is certainly not due any special treatment by staff. So in that respect, it's important, and it is a possibility, for her to (try to) blend in."
Novak notes Stewart will have to learn prison etiquette and to abide by it. Among the no-no's:
Touching another inmate's belongings

Being seen speaking directly to staff without another inmate present

Asking too many questions of another inmate

Butting into conversations

Doing anything that brings the attention of the staff to your fellow inmates

Breaches of inmate etiquette could result in being ostracized by the inmate population.

What will life be life for Stewart? "Incredibly mundane," Novak says. "She'll wake up at 6 in the morning and take her first of three communal meals (in the CDR, or central dining room). After breakfast, she'll report to work. She'll work anywhere from seven to eight hours a day, at one of a number of menial tasks in support of the infrastructure of the institution."

In what could be seen as the ultimate irony if it happens to Stewart, "Alderson traditionally assigns inmates to 90 days of chow hall duty," which entails such chores as doing the dishes.
Thanks for reading CBS NEWS.
Create your free account or log in
for more features.