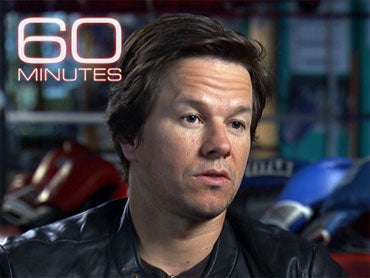 Mark Wahlberg On His New Life, New Film
Mark Wahlberg has made a career of reinventing himself like no one else in show business. Today he is not only one of the most sought-after actors in Hollywood, he's also one of the top producers - this from somebody who was sitting in a Boston prison when most kids his age were graduating from high school.
The former street tough has been nominated for an Academy Award and is an executive producer of four television shows. But now he's on the verge of unveiling a highly anticipated movie that became an obsession.
He produced and stars in "The Fighter," an intense and true family drama about two boxing brothers from Wahlberg's native Massachusetts. "The Fighter" will premiere next month.
But now you will get a peek at what Mark Wahlberg says is the most satisfying (and brutal) project he's ever been involved in.


---
60 Minutes Overtime: Wahlberg's Entourage
On a "60 Minutes" shoot about his new movie "The Fighter," Mark Wahlberg's personal entourage was never far behind. Meet the real-life inspirations behind the HBO series "Entourage."
---

Full Segment: Mark Wahlberg
Extra: Wahlberg's First Date With His Wife
Extra: Looking Back At "Boogie Nights"
Extra: Can Mark Wahlberg Sing?
Extra: Wahlberg on Turning 40
Photos: Mark Wahlberg

In the movie, Wahlberg plays "Irish" Micky Ward, the blue collar boxer and perennial underdog from Lowell, Mass. who struggles to emerge from the shadow of his older brother Dicky, a promising boxer turned-crack head, played by Christian Bale.

The rocky relationship between the two brothers is at the heart of "The Fighter." For the movie's boxing scenes, Wahlberg stepped into the ring himself. Stunt men were out of the question.

"Was it hard to just stand and take it and take it and take it?" correspondent Lara Logan asked.

"It doesn't tickle," Wahlberg replied, laughing.

Asked if he ever got hurt, Wahlberg said, "I almost got my nose broken a couple of times. Because when we shot the fights, the goal for me was always to make it as real as possible."

To that end, Wahlberg got ready for the film as if he was training for a title fight. "I didn't want to look like an actor who could box, I wanted to look like a boxer who could win the world title," he explained.

At his home in Beverly Hills, Wahlberg built a boxing mecca, complete with a top-of-the line ring. "We were in here eight to ten hours a day," he told Logan.

It was there that he brought the real brothers, Micky and Dicky, to help with his training.

Wahlberg trained for the role for four years, not knowing whether one frame of the film would ever be shot. "The Fighter" almost didn't get made; directors and co-stars came and went.

"Did you ever think, 'You know, gosh, I'm never gonna get this made. This is just impossible'?" Logan asked.

"There were certainly times where I would wake up at 4:30 in the morning, you know, my trainer would ring the bell. And, 'Oh God.' I'm like, 'I better get this movie made.' You know, 'Kill somebody if I don't get this movie made,'" Wahlberg recalled.

Wahlberg acknowledged he got obsessed with the project.

"What made you say, 'This is the one.' What was it about it?" Logan asked.

"I was such a huge Micky Ward fan," he said. "I mean, God, you know, the name Micky Ward was to me, like the name Larry Bird - just a local sports hero."

In Micky Ward, Wahlberg also saw glimpses of his own story: like Ward, he was one of nine kids and grew up in working class Massachusetts.

"Were these streets really rough when you were growing up?" Logan asked Wahlberg as they walked through the Dorchester section of Boston.

"The old guy from the store?" Wahlberg noted during their walk. "He thinks I owe him money…. I think it's my brother who owes him money. It's my brother, Georgie! It's my brother!"

Wahlberg dropped out of school when he was 13. He ran with the wrong crowd and from the law.

"What happened to a lot of the other kids that were on the streets with you?" Logan asked.

"Well, unfortunately, you know, a lot of friends are either dead or in jail," he replied.

Wahlberg used to sneak out of his bedroom window and hit the streets for late nights of boozing, brawling, dealing and stealing.

Asked if he was a good thief, Wahlberg told Logan "I was pretty good. I was pretty good. I was pretty daring."

"You were a pain in the neck but you were always respectful," Father Jim Flavin told Wahlberg.

A rare positive influence for Wahlberg was Flavin. The street punk and the parish priest struck up an unlikely friendship. Flavin saw a glimmer of Wahlberg's future one day during one of Wahlberg's many appearances in court before a judge.

"He was just pouring it onto the judge, you know, 'I'll never do it again.' You know, 'I'm sorry,' and he was wonderful. You know, he started tearing up, and the judge just melted and said, 'All right, you know, this'll be it.' And he turned around and started out. And he looked at me and winked. And I said, 'You little bugger. That was an Academy Award performance in the court room,'" Fr. Flavin remembered.

"Father Flavin says that he could barely see you over the steering wheel when you were driving around, waving at him from stolen cars," Logan told Wahlberg.

"That is true," Wahlberg replied, laughing. "I just liked to drive."

"A lotta people like to drive cars, but they don't necessarily steal them to drive them," Logan remarked.

"Well, that was not a good idea," Wahlberg acknowledged.

But on an April night in 1988, Mark's crimes turned more serious. He attacked a man with a stick on a Dorchester sidewalk simply because he wanted the man's two cases of beer.

"Did you realize that this man who you'd hit with a stick in the eye, that he'd lost his eye?" Logan asked.

"Not until later, until we started going through the court proceedings," Wahlberg said.

Asked what he thought, Wahlberg said, "Oh God, I was just, you know, horrified."

Wahlberg said he apologized to the man. "I got up in front of the court, was able to address the court and him. And, then you know, they just put the shackles on me and took me away," he remembered.

Wahlberg pled guilty and was sent to a 19th century prison. He was 17 years old.

"It was one of the worst prisons we had in Boston," Flavin remembered.

Asked if Wahlberg was afraid, Flavin said, "He'd never admit it."

"But you thought he was?" Logan asked.

"Yeah," Flavin replied.

"At first, I'm thinking, well, I'm one of the guys now. I made it. And then I just realized, well, this is what it means to be one of the guys. And I just wanted more out of my life," Wahlberg said.

After serving 45 days in prison, his life turned when he followed his older brother Donnie into a music studio. Wahlberg became a new man: "Marky Mark," a white rapper in the hip-hop world.

His 1991 song, "Good Vibrations," went gold. He became known for his antics on stage, where to the delight of screaming girls he dropped his pants.

"It's not like I should take credit for this ingenious idea. I just pulled down my pants. And my mother did not like it all," Wahlberg said.

When his mother complained, he told his mom he wouldn't do it anymore.

"And then you went out, and did it again," Logan pointed out.

"Yeah," Wahlberg admitted.

The dropping of his drawers inspired an ad campaign that featured Wahlberg in his Calvin Klein underwear.

"When you look back at that part of your career, how do you feel about it?" Logan asked.

"It was certainly, ah, got my foot in the door and allowed me to get where I am today. But I'm glad that I don't do that anymore," Wahlberg replied.

Soon after, Wahlberg received a pivotal phone call from director Penny Marshall. She was casting a new movie, "Renaissance Man."

"And when I sat down with her, I was like, 'Nah, I don't wanna act.' She goes, 'What do you mean? You're acting all the time, you're acting right now. You know, you're just acting like you're cool, you act like a tough guy. You know, take the pages. Go outside, look 'em over, and then come back in, and, and audition for one of the parts,'" Wahlberg remembered.

He did and he got the job.

"Was it hard for you to be taken seriously as an actor in the beginning? Did people kinda scoff at you because you were the sort of rap boy?" Logan asked.

"It was definitely something that was frowned upon. And I don't think all the other things that I was associated with helped. But you know I felt like really found my niche. This is what I'm supposed to be doing," Wahlberg said.

Acting forced him to become disciplined for the first time in his life. "In the music business, they kind of encourage you to be irresponsible," he said.

"You had been pretty good at being irresponsible up to that point," Logan pointed out.

"Exactly. So I needed the change of pace," he replied.

He earned the respect of critics after he pulled off a flawless performance as an innocent teenager turned porn star in "Boogie Nights."

"There's something so vulnerable about you in that film that really took people by surprise 'cause that wasn't the image that anyone had of you," Logan said.

"That was a big turning point for me, you know, 'cause I was really worried about 'What are the guys in the neighborhood gonna think?' But then I was, like, 'You know, what? If I wanna be an actor, I gotta be an actor. I can't worry about what everybody else's gonna think,'" Wahlberg explained.

A few years later came the film "The Departed" and an Oscar nomination for Wahlberg.

But what has perhaps given Wahlberg the most cachet in Hollywood is his series about Hollywood. As an executive producer, he developed "Entourage," the hit HBO show about a star actor who hires his boyhood friends to serve as his entourage.

Asked whose idea it was, Wahlberg said, "It depends on who you ask."

"I'm asking you," Logan replied.

"Well, obviously, I would say it's my idea because it's based on my life and my guys," Wahlberg said.

"It's based on your life, but how much of your life ends up in it?" she asked.

"Very loose," Wahlberg said.

Maybe not so loose: in "Entourage," the character Johnny Drama likes to hit golf balls from his roof top.

Guess where that idea came from: Wahlberg likes to drive golf balls into his Beverly Hills neighborhood.

"Some people might expect Hollywood actors to have an entourage because they're the kind of prima donnas but it seems to me that you really have an entourage because you can't say no," Logan remarked.

"I'm not good at saying no. That is a problem," he acknowledged.

It nearly became a real problem on the set of one of his bigger films.
"I remember bringing my friends to the set of 'The Perfect Storm.' It was the first time I shot a movie in Boston, and you know, they're looking at the cameras and all the equipment, and they're like, 'What's one of those things worth?' I'm like, 'One of those Panavision cameras? It's probably like $250,000.' And they're like, 'Oh, my God, we're gonna steal this thing.' I'm like, 'First of all, you can't steal that off the movie. Okay? We're shooting, we need this thing to shoot. But second of all, where are you gonna sell a Panavision camera? To George at the corner store?'" Wahlberg recalled.

Wahlberg has become a powerhouse in the entertainment world. He is an executive producer of three other series on HBO, including "Boardwalk Empire," the high profile mob drama he co-produces with Martin Scorcese.

More series and movies are in the pipeline. He prefers producing to acting, partly because it allows him to spend more time at home with his wife and four kids.

He's gone from bad boy to family guy at his home in Beverly Hills. It's obvious how much he enjoys this new life.

Asked what he loves about his family life, Wahlberg said, "Oh, them, waking up early and climbing in the bed with us or seeing my son smile, you know, hearing my daughter read. I just don't like them on sugar. 'Cause then it's gonna go to Spankytown, and I don't want to go to Spankytown."

Wahlberg is not only devoted to his family, he tries to make it to church every day, no matter where he is in the world.

And when Father Flavin's parish gym needed a facelift back home, it was Wahlberg who stepped in. The priest told Logan Wahlberg gave hundreds of thousands of dollars for the project.

In Dorchester, at the Boys and Girls Club - a place where he was once banned for life - Wahlberg gives his time and money to help kids, many of whom now see him as a hometown hero.

"What do you say to those kids when they look at you and say, 'Well, you didn't finish high school and look where you are?'" Logan asked.

"It's my biggest regret. I feel like, if I was able to do what I did with not going to high school and getting a college degree, imagine what I could have done with a real education. I'd be running whatever studio I work for now," Wahlberg said.

Wahlberg feels he snuck in Hollywood's back door. As he approaches the age of 40, with a movie coming out next month that he considers his proudest achievement, Mark Wahlberg knows he made a narrow escape from life on the streets.

"How do you define yourself, I mean, when you look at your career and who you are?" Logan asked.

"A lucky son of a bitch," Wahlberg replied.
---
Now Available: America's number one news program now has a companion iPad app! The "60 Minutes" iPad app features the same hard-hitting investigative reports, interviews, feature segments and profiles of people in the news that are the hallmark of the iconic broadcast show, plus original video content from "60 Minutes Overtime." Check it out in the iTunes app store.
Produced by Draggan Mihailovich
Thanks for reading CBS NEWS.
Create your free account or log in
for more features.