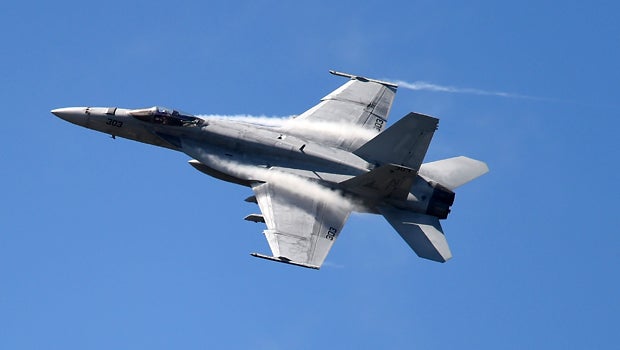 Marine Corps F/A-18 Hornet crashes off Japan
One of the Marine Corps' F/A-18 Hornet jets crashed off Japan Wednesday, military officials tell CBS News, on the 75th Anniversary of the Pearl Harbor attack.
The pilot, who was from the to 1st Marine Aircraft Wing, Okinawa, ejected from the plane during a regular training mission at about 6:40 p.m. local time, 120 miles southeast of Iwakuni in southern Japan, the Marine Corps said in a statement.
A search-and-rescue operation has been launched, officials said. The cause of the accident and the fate of the pilot are not clear at this time.
U.S. Defense Secretary Ash Carter is in Japan for the anniversary. He delivered remarks Wednesday with Japanese Defense Minister Tomomi Inada.
"It's a testament to the strength of our alliance and the character of the Japanese people that a mere 75 years after Pearl Harbor, my friend and counterpart, Minister Inada, and I can stand next to each other proudly and discuss how our two countries can strengthen the security of this region together," Carter said.
He stressed his view that U.S.-Japan relations have never been stronger. "America's interests in this region are enduring," he said in reference to speculation about the direction of President-elect Trump's Asia policy.
The Marine Corps has air installations in at least two places in Japan, including in the large base on Okinawa.
Thanks for reading CBS NEWS.
Create your free account or log in
for more features.