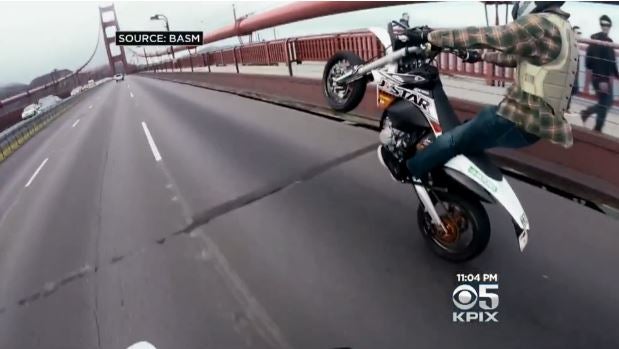 Sheriff's deputy fired after outing in dirt bike gang
SAN FRANCISCO -- The apparent leader of a group of dirt bikers seen on video tearing through city streets is no longer employed by the Marin County Sheriff's Department following a CBS San Francisco investigation into the group.
The riders have been tearing through the streets of San Francisco for months, putting people's lives in danger. Police have run into difficulty trying to catching the riders because the chase is simply too dangerous.
Videos the group posted on the internet show them riding in a pack down busy streets, running stop signs, doing wheelies, driving their motorbikes on sidewalks and up and down stairs, mostly in San Francisco.
Zack Schlief, also known as Zack Douglas, was spotted before a ride giving instructions to newbies in the group: "Everyone new welcome, if you have never been on big rides before, it's a lot of fun. When you are the one that is leading the ride, like me and him, it's like f***ing herding cats," we heard him say.
On Zack's Facebook page CBS San Francisco found a photo of him posing by a Marin County Sheriff's squad car, but just a day after the station provided the sheriff's office with videos of the group, it confirmed that Zack was no longer employed by the department. They would not say whether or not Zack was fired due to privacy issues.
Thanks for reading CBS NEWS.
Create your free account or log in
for more features.