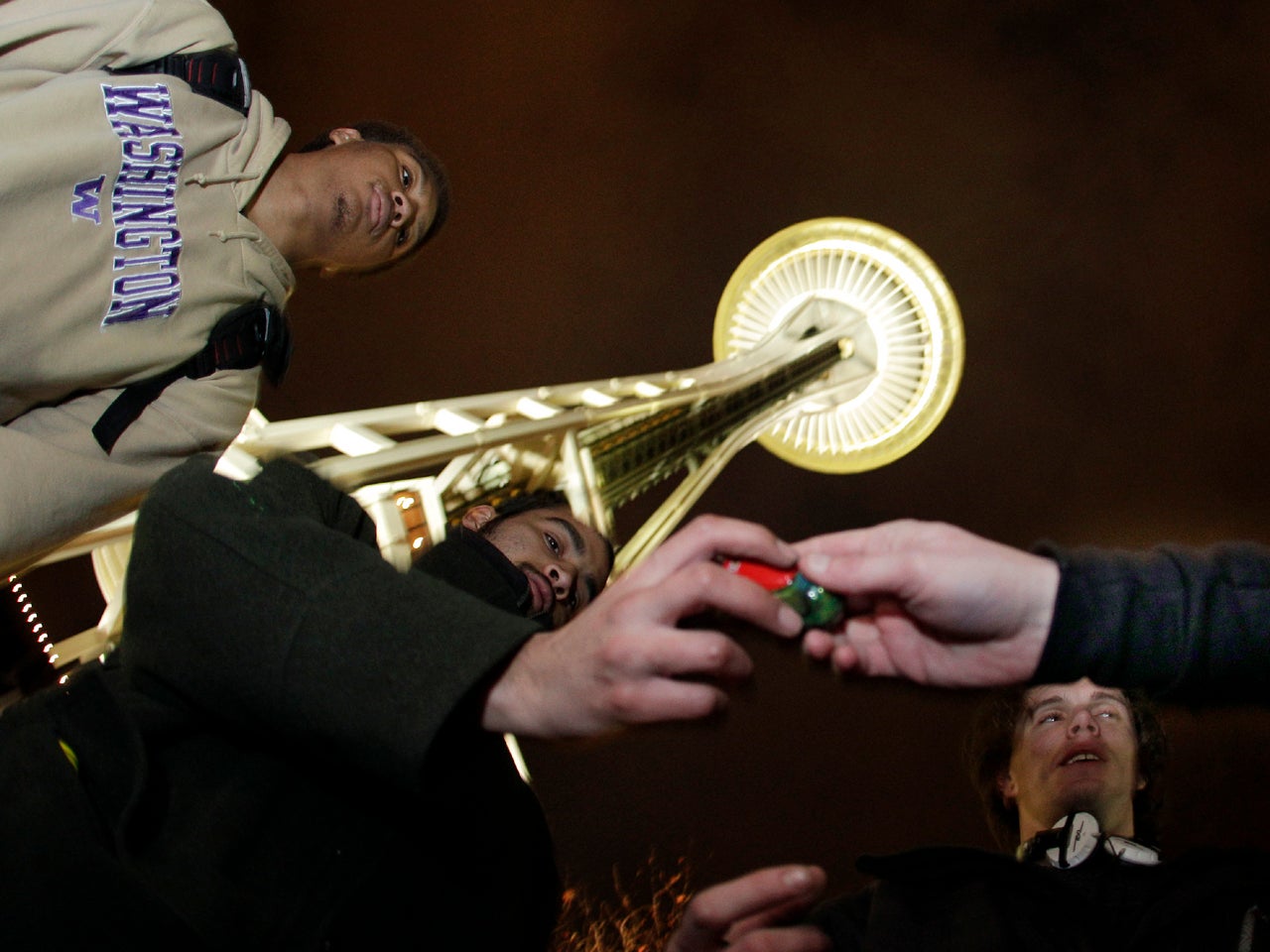 Marijuana legalized in Wash.: Seattle celebrates
(CBS News) The winds of change are blowing through Washington State this morning -- and they may smell a little funny.
A new law is now in effect -- the first of its kind in the U.S. -- allowing adults to own marijuana for non-medical use.
Supporters in Seattle wasted no time celebrating. At the stroke of midnight, there were cheers as marijuana officially became legal in Washington State.
Complete coverage: Marijuana Nation
An impromptu celebration was held, appropriately enough, at the Space Needle, a Seattle high point. The air was filled with the scent of victory for those who had campaigned for this night -- although that itself is stretching the new law. It is not legal to use marijuana in public, just like alcohol.
And while it is now legal for those 21 and older to buy marijuana, it is not yet actually legal to sell it. The state still has to write rules for licensing marijuana retailers.
Washington voters passed the law partly because of the efforts of one well-traveled resident of the state. Rick Steves, who for 20 years has hosted his popular public television travel show, was prominent among those campaigning for legal marijuana. Steves has said, "I've spent a third of my adult life in Europe hanging out with people who think it's wacky for locking up people for smoking pot."
In a show from Amsterdam, Steves gave a preview of what could soon be coming to cities and towns in Washington. He says America should not fear. "Consumption is not going to go up a lot," Steves said. "By every statistic, our government's and the Dutch government's, Americans smoke more pot than the Dutch and the Dutch have the most liberal laws on file."
Seattle's City Attorney Peter Holmes also pushed for the new law. He said, "All we have done with prohibition is fill our jails and to make drug dealers quite rich."
He says legal marijuana -- even with high taxes -- will be cheaper than illegal marijuana. Holmes said he "absolutely" wants to put drug dealers out of business.
Now that marijuana is legal in Washington, the state is going to start collecting taxes on it. The state hopes to collect some $500 million a year. But there is one catch: marijuana remains illegal under federal law.
For John Blackstone's full report, watch the video in the player above.
Marijuana is also legal for non-medical use in Colorado.
Thanks for reading CBS NEWS.
Create your free account or log in
for more features.