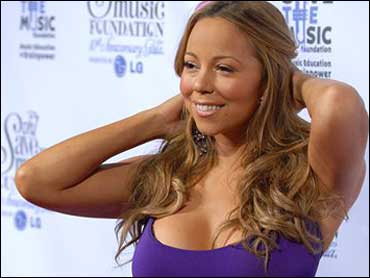 Mariah Passes Elvis For Most #1 Singles
With her 18th chart-topper "Touch My Body," Mariah Carey has passed Elvis Presley for the most No. 1 singles on the Billboard Hot 100, and is now second only to the Beatles.
But while the diva was in full celebration mode after learning of her latest milestone, she was also quick to put her accomplishment in perspective.
"I really can never put myself in the category of people who have not only revolutionized music but also changed the world," Carey told The Associated Press on Tuesday via phone from London. "That's a completely different era and time ... I'm just feeling really happy and grateful."
Early Show national correspondent Hattie Kauffman points out that both the Beatles and Elvis needed buyers to actually enter a store, but, in the digital age, all buyers need to do to get Mariah's music is "click".
---

Photos: Mariah Carey And Other Stars Who Love Their Curves

---
Carey's single is the new No. 1 single on Billboard's Hot 100 singles chart: The song also is No. 1 on the trade magazine's digital download chart thanks to a precedent-setting 286,000 downloads in its debut week. She had been tied with Presley with 17 No. 1 singles; the Beatles are the all-time leaders with 20 (Madonna also beat a Presley record this week, surpassing the King for the most top 10 hits with her 37th for her hit "4 Minutes."
---

Photos: Eternally Elvis

---
Carey said being in such company was gratifying not only because of her personal success, but what it meant for women and minorities.

"For me, in my mind the accomplishment is just that much sweeter," she said. "In terms of my ethnicity, always feeling like an outsider, always feeling different ... for me it's about saying, 'Thank you Lord, for giving me the faith to believe in myself when other people had written me off."'

"Touch My Body" is the first single off of Carey's upcoming album "EMC2," due out April 16. It is the follow-up to her Grammy-winning disc "The Emancipation of Mimi," released in 2005, that year's best-selling album with five million copies sold; it marked a huge comeback for the multiplatinum superstar after personal and professional setbacks.

Like that album, Carey said "EMC2" continues her sense of freedom and rebirth: "It's like emancipation of Mariah Carey to the second power and beyond."

"It's quite possible that this album will enable her to catch the Beatles," Billboard Senior Analyst Geoff Mayfield told The Early Show's Kauffman. "She's at 18 now. They had 20 number ones."

Carey, 38, said this is the most enjoyable point of her nearly two-decade old career, and that's her priority these days, not trying to set sales records or even making pop history.

"I've gone through enough of my life worrying about that kind if thing," said Carey.

"I want to encourage anyone else out there who feels like maybe they can't overcome an obstacle, I feel like I'm living proof ... never lose your faith," she added. "I'm seriously a grateful individual right now."
Thanks for reading CBS NEWS.
Create your free account or log in
for more features.