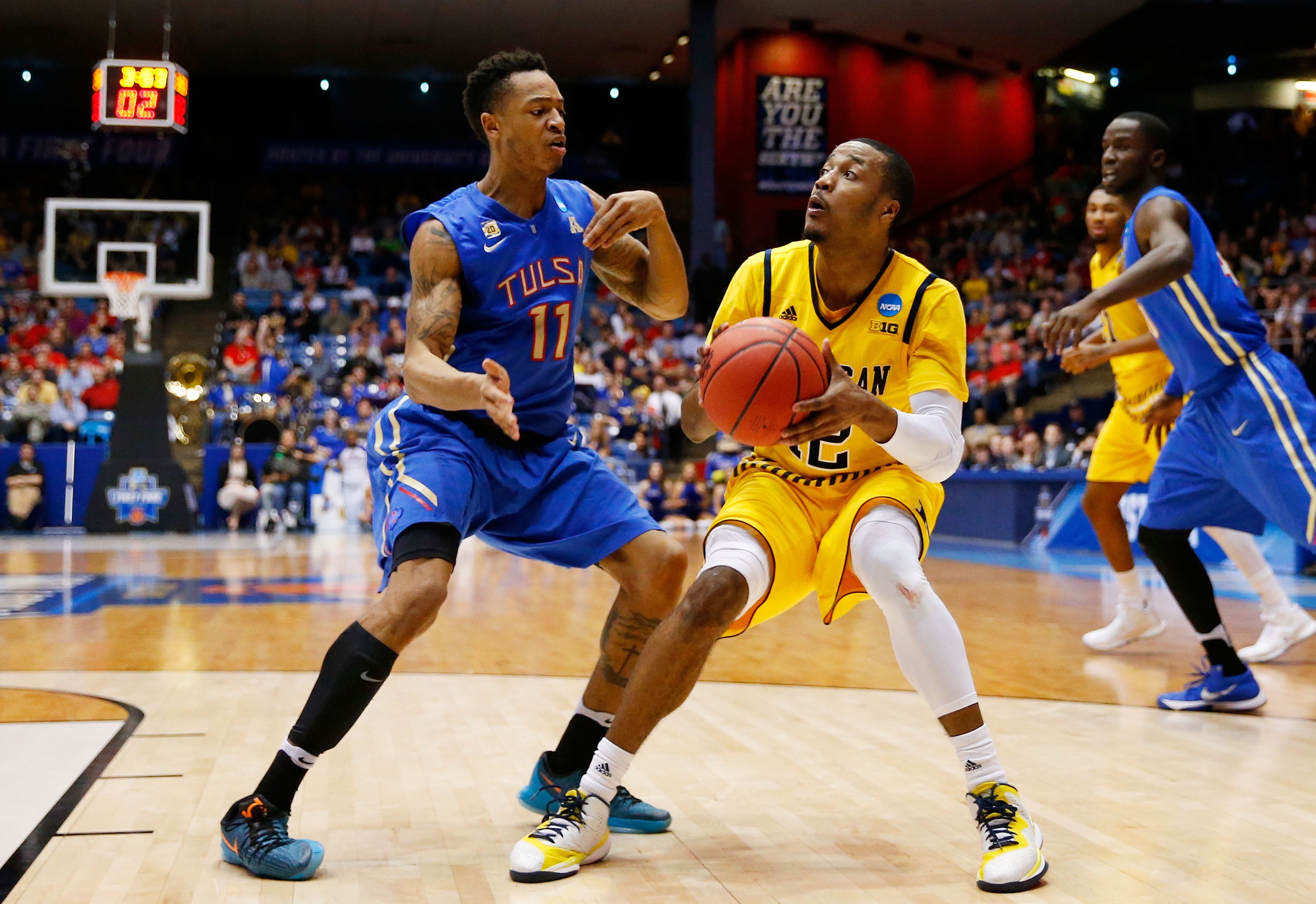 NCAA Tournament kicks into high gear after "First Four"
Holy Cross 59, Southern 55
DAYTON, Ohio -- Robert Champion scored 19 points, including a key 3-pointer in the final minute, to help Holy Cross beat Southern University 59-55 Wednesday night for its first NCAA Tournament victory since 1953.
Champion, a junior guard, also hit two key free throws with 14 seconds left to put the game out of reach. He connected on as many 3-pointers as the entire Southern team, which was 3 for 20 from beyond the arc in a sluggish, mistake-filled First Four game.
Holy Cross (15-19) was an unlikely NCAA participant, earning its automatic bid by winning four straight road games to take the Patriot League Tournament title. Now, the 16th-seeded Crusaders advance to play No. 1 seed Oregon in the West Regional on Friday in Spokane, Washington.
The Crusaders had lost nine consecutive NCAA Tournament games since defeating Navy and Wake Forest in 1953 -- six years after Holy Cross won the national championship.
Holy Cross led by as many as 12 in the first half thanks to a smothering 1-3-1 zone defense that Southern struggled to solve, but a 9-0 run allowed the Jaguars to cut the lead to 27-22 at halftime.
Southern fought back in the second half and tied it with 1:24 left, but Champion hit his big 3 to put Holy Cross ahead to stay.
Southern (22-13), a historically black school in Baton Rouge, Louisiana, was ineligible for postseason play the past two years because of a problem with its academic reports to the NCAA. It earned an automatic bid when it beat Jackson State 54-53 in the championship game of the Southwestern Athletic Conference Tournament.
Anthony Thompson added 12 points for the Crusaders, and Karl Charles had eight.
Adrian Rodgers led Southern with 14 points, and Shawn Prudhomme had 10.
The Crusaders were the 25th team since 1955 to get into the NCAA Tournament with a losing record, according to STATS. Hampton was 16-17 before beating Manhattan in a First Four game last year. Holy Cross has had 12 previous NCAA Tournament appearances, the last one in 2007.
Michigan 67, Tulsa 62
DAYTON, Ohio -- Zak Irvin hit a go-ahead 3-pointer and a pair of free throws in the closing minute as Michigan pulled out another one at the end on Wednesday night, beating Tulsa 67-62 in the First Four.
The Wolverines (23-12) made the leap from bubble team to the NCAA Tournament with their last-second drama. They hit a pair of end-game shots for wins in the Big Ten Tournament, including one by Irvin that beat Northwestern.
His 3-pointer put the Wolverines up 62-60 with 52 seconds to go, and his two free throws with 10 seconds left sent the 11th-seeded Wolverines into a matchup against rival Notre Dame in Brooklyn on Friday night.
Tulsa (20-12) got 23 points from Shaquille Harrison, but its senior-laden lineup couldn't keep up at the end. There were five ties and 12 lead changes in the frantic second half.
Tulsa didn't even expect to get to the First Four after losing its opening game in the American Athletic Tournament -- Harrison tweeted that the NIT was likely the next destination. But the Golden Hurricane had one advantage over Michigan -- much more experience, with four starting seniors.
Michigan has only two seniors, and both are hurt. But the Wolverines' knack for finding a way in the final seconds held up. Irvin had 16 points as four Wolverines reached double figures.
Irvin hit a jumper with 3.3 seconds left for a 72-70 win over Northwestern in the second round of the Big Ten Tournament. The Wolverines then upset top-seeded Indiana 72-69 on Kameron Chatman's 3 from the right corner at the buzzer in the quarterfinals.
The Wolverines had a lot of fans in the stands at UD Arena, a three-hour drive from Ann Arbor. The rest of the fans booed them loudly when they took the court for warmups and again during introductions, a reminder that they were in Ohio now.
They couldn't hit a 3-pointer -- a staple of their high-scoring offense -- and wound up struggling to put runs together. The Wolverines lead the Big Ten with 9.3 made 3s per game, but went only 6 of 25 from beyond the arc.
Tulsa forward Rashad Smith twisted his right ankle when he landed after making a basket that completed an 8-0 run midway through the first half for a 16-9 lead. Smith put little weight on the foot as he went to the locker room for treatment, then returned later in the half and got back into the game.
Michigan's Derrick Walton Jr. made a pair of 3s for a 28-20 halftime lead, the fewest points Tulsa had scored in an opening half all season. That senior experience didn't show in the shooting numbers, with the Golden Hurricane shooting only 36 percent and missing all three of their free throws.
The seniors led the way at the start of the second half, turning it into a back-and-forth game.
Thanks for reading CBS NEWS.
Create your free account or log in
for more features.