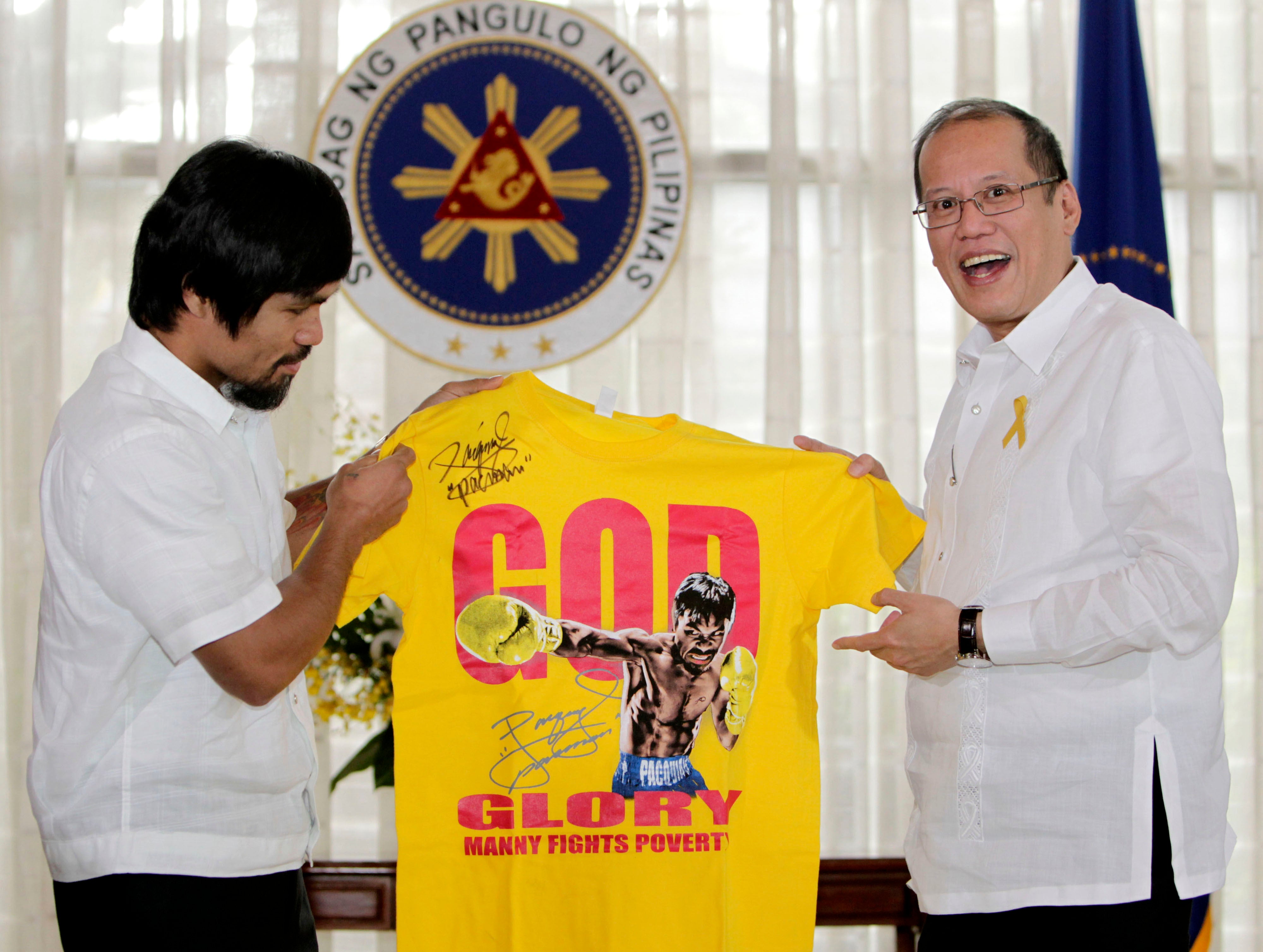 Manny Pacquiao leads anti-condom fight at home
With eight world titles in under his belt - including impressive wins against the likes of Oscar de la Hoya and "Sugar" Shane Mosley - Manny "Pac-Man" Pacquiao, the Filipino boxing champion, has little left to prove in the ring, in the boxing ring that is.
Last year, Pacquiao entered the political ring when he ran for Congress. But while he won the election by a landslide, doubts over his ability to juggle both careers, and more importantly, his ability to hold public office and legislate, have persisted. In the political arena, the "Fighting Pride of the Philippines" has much to prove.
It has been a quiet fight for most of his first term, as he has spent most of his time training for his matches, rather than attending sessions in Congress. But while he was in the United States training for his fight against Mosley, a bigger fight was brewing back home. On the left corner, the Catholic Church and the so-called "pro-life" advocates, and on the right corner, the "pro-choice" advocates.
For over 16 years, different versions of the Reproductive Health (RH) Bill - a proposed law that will make modern family planning methods accessible to most Filipinos and sex education mandatory - have been offered in Congress. But they have all met stiff opposition from the conservative but influential Catholic hierarchy in the country, and politicians who are either devout Catholics or afraid to lose Catholic votes - who all say wearing condoms and using contraceptives are sins.
But this time, the story is different. For the first time, it seems like the bill has a good shot at getting passed into law. As the country's population nears the 95 million mark, and a new generation of free thinkers are born, more and more Filipinos, as indicated in surveys, think it's a high time the government invest in a comprehensive reproductive health program. Even the current president, Benigno Aquino III, whose mother, democracy icon Cory Aquino was famously religious, is supporting the bill.
Recently though, the Catholic Church has found a new weapon in its crusade to block any and all efforts to make condoms and contraceptives freely available to the public - the honorable Rep. Manny Pacquiao. As he resumed office in Congress, just days after his victory in Las Vegas over Mosley, he wasted no time in making his stand on the issue known.
In an interview on local news network GMA News TV, he said, "In the Bible, God says, 'Go forth and multiply.' He didn't say, 'Multiply and just have two or three children.'"
Anyone who has seen any of Pacquiao's fights knows that he is a devoted Catholic - he prays before he walks into the stadium, he prays in the ring before he gets ready to rumble, and he does not forget to give thanks to God after each win. That he has sided with the Catholic Church should not come as a surprise then.
However, critics pointed out that in an article that came out earlier this year, Pacquiao's wife, Jinkee, admitted to using contraceptives.
"After Queenie, I told Manny, four is enough. I have not had ligation but I am taking pills," she said.
Later, she confirmed her statement but said Pacquiao had no knowledge that she was using contraceptives, and that she was fully supporting her husband's anti-contraceptives stance, while Pacquiao said Jinkee has stopped taking the pills.
But nothing could deter Pacquiao from defending his stance, it seems, as he took to the floor of Congress to question Rep. Edcel Lagman, one of the authors of the bill. He opened by saying it would serve the country better if they focus on making laws that would alleviate poverty.
To this, Lagman replied, "The RH Bill is just one solution to poverty. But it's not the only solution. If we combine this with other solutions, then we might be able to alleviate poverty."
Pacquiao pushed the issue further by questioning the government spending for the reproductive health program the bill would create.
"How many billion pesos will be allocated each year? Won't this be a burden to taxpayers?"
Lagman said the budget would be peanuts compared to many of the bigger government projects, and quoted the United Nation Children's Fund or UNICEF as saying that family planning brings the "most benefits to more people with the least cost."
"Are we going to deny our mothers and women the chance to avoid high-risk pregnancy?" asked Lagman, who was referring to the 11 Filipino women who die every day giving birth.
Throughout the debate, Pacquiao found himself asking the same questions over and over again, and questions that have been asked in previous sessions. The neophyte congressman gave a good fight, but if anything, his effort only revealed his inexperience and lack of knowledge.
This round definitely went to the veteran lawmaker Lagman. But Pacquiao has not showed any sign that he is relenting. He insists that the country's swelling population should not be held liable for the rising poverty.
"We should blame corruption because the money that (helps) the poor goes to the pockets of officials who are already rich," he said.
But while that is true, pro-choice advocates say that the country's economic growth has failed to keep up with population growth, which is one of the highest in Asia. Pacquiao likes to use his own story to illustrate the non-correlation between population and standard of living.
"When we were young, there were four of us siblings, and my parents did not have jobs, we didn't have a house. But with sheer perseverance and prayers, we survived, didn't we?"
But in a country where more than a quarter of the population are living below $1.35 a day, sure, many aspire to be like him, but how many can actually become Manny Pacquiao?
Thanks for reading CBS NEWS.
Create your free account or log in
for more features.