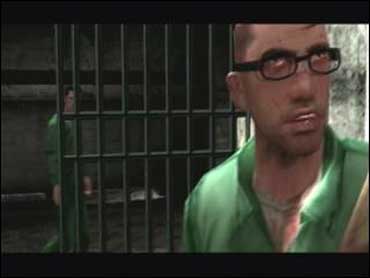 "Manhunt 2" Pulled From Production
Video game publisher Take-Two Interactive Software Inc. said Thursday it was temporarily suspending the release of the violent title "Manhunt 2" because of an ongoing ratings controversy in the United States and a ban in Britain and Ireland.
The New York-based company said in a statement that it needed time to "reviews its options" but would "continue to stand behind this extraordinary game."
"We believe in freedom of creative expression, as well as responsible marketing, both of which are essential to our business of making great entertainment," the company said.
"Manhunt 2," had been scheduled for a July 10 release in the United States on both Nintendo Co.'s Wii and the PlayStation 2 from Sony Corp.
But critics said they were concerned with the game's content, which depicts the escape of an amnesiac scientist and a psychotic killer from an asylum and their subsequent killing spree. In the Wii version, the console's motion-sensitive remote is waved around to control a virtual murder weapon.
The suspension was a setback for creator Rockstar Games, which has come under fire for its popular "Grand Theft Auto" series of urban crime games, and Take-Two, which earlier this year underwent a shareholder coup that ousted its chief executive and nearly all of its board.
A spokesman for Rockstar said he was unable to comment on the suspension. Earlier Thursday, Take-Two had issued a statement saying it was determined to bring the title to market regardless of criticism.
In the United States, the video game industry's self-regulated ratings board gave a preliminary version of "Manhunt 2" an "adults only" rating instead of the more lenient, and far more popular, "mature" rating for ages 17 and up.
Slapping "Manhunt 2" with the Entertainment Software Rating Board's most stringent rating would likely doom sales. Large retailers including Best Buy Co., Target Corp. and Wal-Mart Stores Inc. won't stock AO-rated games.
At the same time, Nintendo and Sony said their policies bar any AO-rated content on their systems. Microsoft Corp. has a similar policy, but "Manhunt 2" wasn't planned for its Xbox 360. There are no such restrictions on games for personal computers.
Rockstar was given 30 days after receiving the ESRB's suggested rating to present an appeal or make changes to the game. On Thursday evening, the official Web site for "Manhunt 2" still said "coming July 2007."
After Britain and Ireland banned the game Tuesday, Italian Communications Minister Paolo Gentiloni said Thursday that he would seek to have the sale of the game canceled there as well. In a statement he called the game "cruel and sadistic, with a squalid environment and a continuous, insistent encouragement to violence and murder."
Rockstar and Take-Two have long been a focal point for debate over the effect of video-game violence on children.
Rockstar's "Grand Theft Auto" series features characters who develop underworld careers through bank robberies, assassinations, drug-dealing, pimping and other crime. Two years ago, Rockstar was forced to replace its first edition of "Grand Theft Auto: San Andreas" after a hacker discovered a password-protected game inside it that involved a sexual encounter.
By Matt Slagle
Thanks for reading CBS NEWS.
Create your free account or log in
for more features.