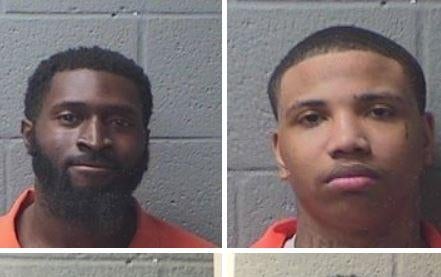 Manhunt for 2 escaped murder suspects widens to 3 states
ORANGEBURG, S.C. -- Two escaped murder suspects are on the loose tonight after a weekend jail break in South Carolina. Police say Tyshon Johnson and Curtis Green may be armed and dangerous.
A third inmate who escaped, Christopher Boltin, was recaptured.
The brazen escape took less than 10 minutes to play out Saturday night at the Orangeburg-Calhoun Regional Detention Center.
Three inmates threw blankets over barbed wire, quickly jumped the fence and ran off toward the woods.
CBS News has learned the escape happened after an electrical shortage opened cell doors in one section of the jail. About 40 inmates filed into a common area.
A few inmates took advantage of the situation and jumped one of the guards by kicking, punching and blasting his face with the guard's pepper spray.
A massive manhunt is still underway for two of the men -- Johnson and Green -- both were in jail charged with separate murders.
Police recaptured Boltin, who was jailed for carjacking, on Sunday. He was arrested about 18 miles north of Orangeburg, along with his father, who had assisted him. Both men are behind bars.
One deputy told CBS News they have received some solid leads where people have spotted the still-missing men in the local area. Authorities are warning the public not to approach the men if they spot them and call for help.
Thanks for reading CBS NEWS.
Create your free account or log in
for more features.