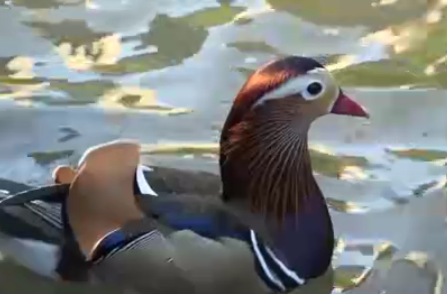 Rare Mandarin duck finds home in New York City's Central Park
NEW YORK -- A rare duck is causing a stir in New York City. The Mandarin duck, known for its multicolored feathers and hot pink bill, is native to East Asia. The big question is: Why is it in the middle of Manhattan?
CBS New York reports that photographer Dennis Newsham can't get enough of the duck.
"I took a couple hundred [pictures] because it's a rare bird and I was trying to get some action shots, and I got some of it flying," Newsham said.
The Harlem man isn't the only one flocking to Central Park to get a glimpse. Since the bird was first spotted on October 10, New Yorkers and tourists have swarmed to a pond in the southeast corner of the park near 59th and Fifth Avenue.
"It's an incredible gift to New York," said bird-watcher Yovanna Davinci.
"This is a wonderful opportunity to see a beautiful animal," said Michelle Ashkin, co-director of education at the Wild Bird Fund.
Even students on school field trips are stopping by.
Bird-watcher Dave Barrett said it's one of the most colorful ducks you can find.
"It's beautiful. That's the thing that is getting people's imaginations fired. ... It's the most beautiful duck, probably in the world," he said.
Barrett said he's checked with every zoo in the city and none are missing a duck. It leads the bird-watching community to believe it was a domestic pet, which is illegal in New York City.
"It might have got away or someone might have got tired of it and dumped it," Barrett said.
It also may have flown to Manhattan from a neighboring town.
The city doesn't plan on removing the duck unless it appears to be unhealthy or in danger. Bird experts said they don't think the duck will migrate for the winter, but it should survive.
Thanks for reading CBS NEWS.
Create your free account or log in
for more features.