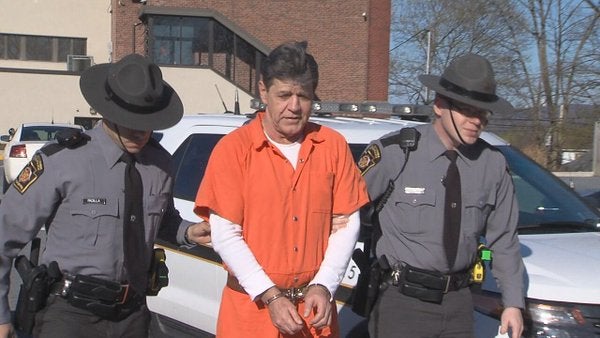 Man to be tried in death of daughter shot by constable
ENOLA, Pa. --The father of a 12-year-old Pennsylvania girl accidentally shot by a constable serving eviction papers has been ordered to stand trial on homicide charges in her death.
A judge on Tuesday upheld charges including criminal homicide and aggravated assault against 58-year-old Donald Meyer in the Jan. 11 death of Ciara Meyer, CBS affiliate WHP reported.
Authorities say Meyer pointed a loaded rifle at a constable, who fired a shot that traveled through Meyer's arm and struck the girl, who was standing behind her father.
An apartment complex employee testified that video of the confrontation shows the girl crying "Dad, Dad, please stop" and trying to grab her father's arm before the shot.
The constable, 46-year-old Clarke Steele, does not face any charges in the case, Perry County District Attorney Andrew Bender said in January. The investigation, Bender said, revealed Steele "discharged his weapon lawfully in self-defense."
Bender said Meyer will also face weapons charges, stating he was not permitted to legally own weapons because of a previous involuntary mental health commitment. Meyer also previously falsified documents to purchase weapons, prosecutors said.
"But for Donald Meyer, Jr.'s extremely reckless actions in pointing a loaded semi-automatic rifle at a uniformed law enforcement officer, Ciara Meyer would not have been killed," Bender said.
During his preliminary arraignment in January, Meyer told WHP reporter Lara Greenberg the case against him is "a big cover up."
"They're responsible for the murder and shooting of my daughter and me, and now it's a big cover up. They're charging me with a felony for protecting my family," Meyer said.
Meyer said at the time he doesn't feel as though he was in the wrong.
"Heck no. Now they're charging me with murder of my own daughter. My God, they stole everything from me," Meyer said. "Everybody knows I love kids. My daughter was, when they killed her, they took my heart right out of me."
Ciara was home from school that day because she was sick, WHP reported.
Thanks for reading CBS NEWS.
Create your free account or log in
for more features.