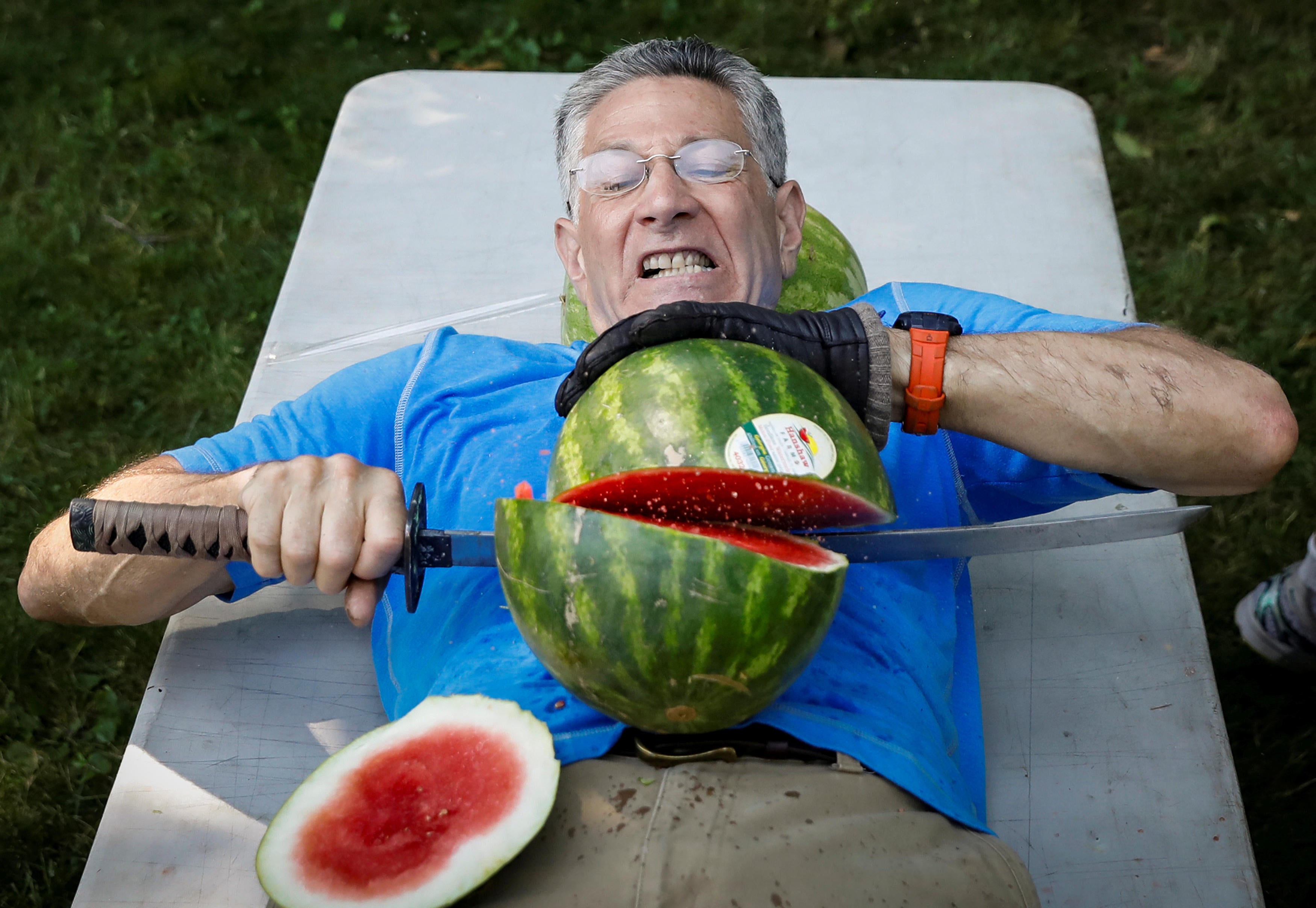 Man slices 27 watermelons in half on stomach, sets Guinness World Record
A New York City man became a real-life "fruit ninja" this week when he sliced 27 watermelons in half on his own stomach in 60 seconds, setting a new Guinness World Record. But he warns: Don't try this at home.
Ashrita Furman, who has been setting records for 35 years, claimed his latest title Tuesday in Queens, New York, with a team of about five helpers. He sliced through seven more melons than Guinness organizers said he needed to set the record.
"My first reaction is I'm relieved that I didn't kill myself," Furman told Reuters, "and the second is I'm exhilarated because it not only is a skillful record but also it's something that I invented and now it's out there and other people can challenge it."
The 64-year-old pitched the idea to Guinness officials after his record for most watermelons chopped on another person's stomach was bested in April. The friend he'd collaborated with in the past was busy this time around, so after with little bit of practice and meditation, Furman set out to do it himself.
"It was really his idea. I said, 'I don't think that's possible,'" Furman told CBS News. "There's very little leverage [on your own] ... There's this greater danger."
With a machete in one hand and a glove on the other, Furman laid down on a folding table and readied himself for the fruit onslaught. A line of assistants passed the watermelons onto his stomach-turned-cutting board and, as he let out a battle cry, Furman cleanly and quickly sliced his way to the world record.
Furman says he walked away with only a few minor cuts on his stomach. However, he cautions that this type of stunt is "really not safe" for amateurs.
"Honestly, I hope really people don't try it unless they don't know what they're doing," said Furman, who says he has worked with swords in similar stunts in the past. "It's really not safe unless you have experience with a sword."
As for the melons? The discarded pieces are being donated to runners in the Self-Transcendence 3100 Mile Race, a 52-day ultramarathon which is taking place in Queens, not far from where Furman set his latest record.
Guiness World Records has dubbed Furman, who has made it his life's mission to break as many records as he can, its "most prolific record-breaker." He says has earned at least 730 records -- more than 200 of which are still in good standing.
Furman says he has broken records -- ranging from fastest mile on a pogo stick and longest time to hula hoop underwater -- in more than 40 countries and on every single continent. His next challenge? Reclaiming his title for longest time standing on a Swiss ball.
Thanks for reading CBS NEWS.
Create your free account or log in
for more features.