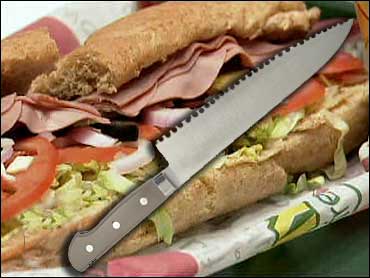 Man Says Subway Baked A Knife Into His Bun
A man claims that he was nearly cut when he found a knife baked into the bun of a cold-cut 12-inch sandwich he bought at a Subway restaurant in New York City.
John Agnesini says he knew his lunch didn't taste right. The 27-year-old says he was horrified to find a 7-inch serrated blade in the bread.
He says it was protruding into the half of the sandwich he was about to start chomping on and that it "could've slashed" the side of his mouth.
Agnesini told CBS News Early Show anchor Harry Smith that he bit into the handle of the partially melted knife handle, but did not swallow any of it.
Instead, he says he fell ill with "severe stomach issues" for hours after eating. He attributes it to food poisoning from the embedded blade.
"He reached out to Subway and unfortunately there hasn't been much of a response," Agnesini's lawyer Yetta Kurland told Smith. "We've gotten calls from around the country with other people saying that there've been same or similar incidents happening. We're certainly going to investigate that and we'll be looking into any other health code violations."
Subway spokesman Kevin Kane says food safety and customer comments are taken "very seriously" and that the company is "investigating the facts."
"I think the crux of this lawsuit is really about public health and public safety," Kurland said. "It is unbelievable to us that a food product could contain such a dangerous object in it. Most of us as New Yorkers and probably throughout the country really rely on restaurants and food service industries to provide safe eating for us."
Agnesini says that he has not been back to the Subway restaurant since the incident.
Thanks for reading CBS NEWS.
Create your free account or log in
for more features.