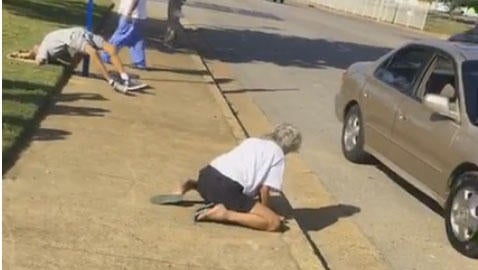 Man defends Facebook Live video of heroin-overdosed couple
MEMPHIS, Tenn. A man who filmed a couple who had overdosed on heroin and were lying unconscious on a Memphis sidewalk as people mocked them is defending his decision to post the video live on Facebook.
According to police, the two people said they "snorted some heroin" in a nearby Walgreens bathroom, reports CBS station WREG in Memphis.
At one point in the video, Courtland Garner puts his phone inches from the woman's face. He and others in the crowd can be heard laughing at the pair. A driver who was passing called 911, and emergency responders were able to revive the married couple.
Garner is unapologetic, saying he wasn't the first person on the scene and knew someone already had called for help. He told The Associated Press he shared the video to alert children to the dangers of doing drugs.
The video has been viewed nearly 3 million times.
Many people who commented online criticized Garner for sharing it. He should have offered the couple assistance, they said, instead of sharing the moment on social media.
Garner said children might benefit from watching the video.
"I hope one child who sees this video will realize how silly doing drugs makes you look," he said. "They'll have that image in their head for life, so they'll never want to touch a drug like that because they'll know the results."
"What they were doing was children things. It was a spectacle. It made me laugh. They can help themselves," said Garner. "I know for a fact all the kids are on social media, and when kids see that video, you know what they are going to say? I don't want to look stupid like that I don't want to do those drugs," he told WREG.
Carla Hiers, 59, and her 60-year-old husband, Ronald, told police they snorted heroin in a nearby drug store bathroom before they were found on the street, said Memphis Police Officer Louis Brownlee. The couple was taken to a hospital and survived the incident. Carla Hiers was taken into custody after police discovered an outstanding warrant on a theft charge and several driving offenses, Brownlee said.
Two telephone numbers listed for her were not working Friday.
Memphis police are encouraging people to notify authorities if they believe someone has overdosed.
"We have to show compassion instead of recording things," Brownlee said. "We have to take an active role and do what's right and get people the help they need."
NOTE: Video includes graphic language.
Thanks for reading CBS NEWS.
Create your free account or log in
for more features.