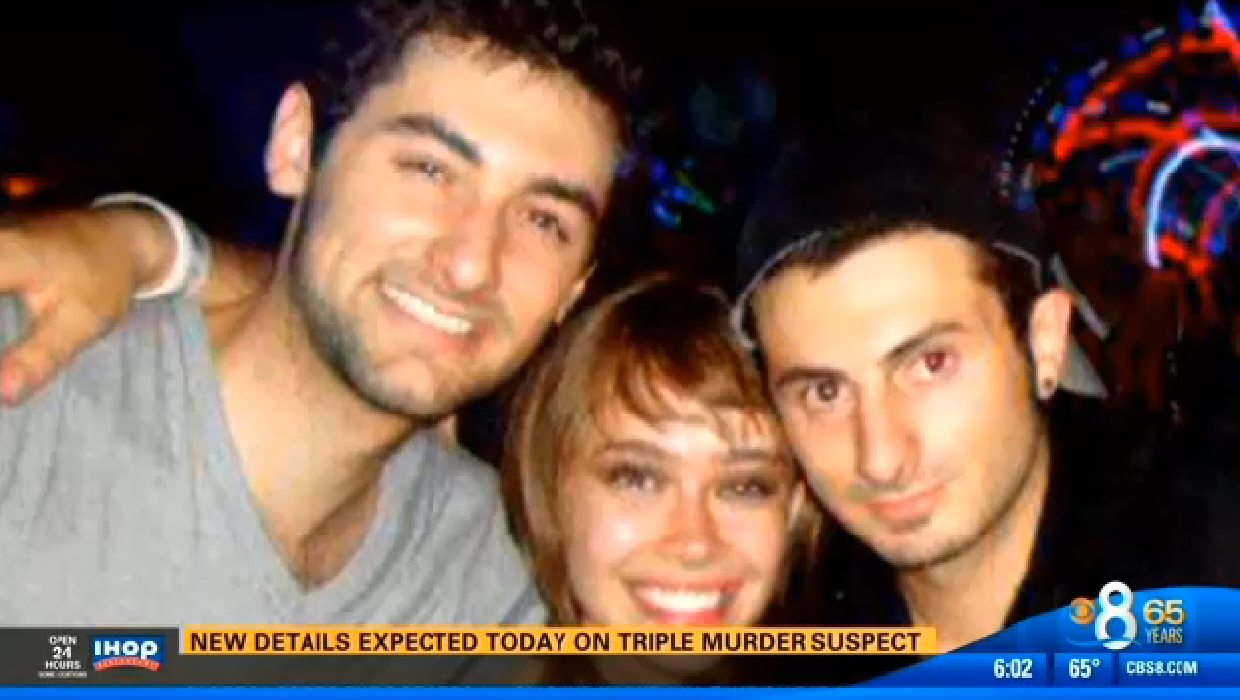 Man arrested in connection with Christmastime triple homicide
RIVERSIDE, Calif. - A man has been arrested months after two young brothers and one sibling's fiancée were found shot in the head in Southern California around Christmastime last year, police said Saturday.
Carlo Gallopa Mercado, 29, was arrested late Friday night and booked Saturday on suspicion of three counts of murder, police Lt. Mike Hastings said.
Salvadore Belvedere and Ilona Flint, both 22 years old, were found with gunshot wounds to the head in the parking lot of the Westfield Mission Valley mall in San Diego in the early hours of Christmas Eve last year. Flint was declared dead at the scene, and Belvedere died a few days later at a hospital.
Belvedere's 24-year-old brother, Gianni, who was Flint's fiancé, disappeared around the same time. About 3 1/2 weeks later and some 90 miles north in Riverside, a caller reported a bad smell coming from a car in a parking lot.
Police found Gianni Belvedere dead in the trunk. He had also been shot in the head.
The two men's sister Antoinette Belvedere said at a brief news conference that detectives had come to the family home Saturday morning to tell them of the arrest. She said the family was relieved but still stunned.
"We're holding up," she said. "You know, it's a sense of relief to get this information that somebody's been caught, and we just got the news, so we're still processing everything."
Police would not say what relationship, if any, the suspect had to the victims or release what evidence led his arrest. Police Chief Shelley Zimmerman planned to discuss the investigation and arrest at a Monday news conference.
Mercado was being held without bail and was scheduled to be arraigned on Wednesday, county jail records show.
Mercado's attorney Michael Berg told KNSD-TV that his client denies any involvement in the killing.
"He doesn't fit the mold. I haven't seen anything that would tie him to these homicides, to the victims," Berg said.
The San Diego Union-Tribune reports police say Mercado was stopped at a law enforcement checkpoint near Camp Pendleton and had weapons confiscated on Jan. 18, just weeks after the slayings. The 29-year-old was charged with possession of an assault weapon, possession of a silencer, manufacturing a large-capacity magazine and having a concealed weapon in the vehicle. He reportedly pleaded guilty to one felony charge for possessing a silencer and prosecutors dropped the other charges. He was expected to be sentenced in July.
According to the paper, Mercado was also arrested in April on gun-related offenses.
It is not clear whether any of those charges have any connection to the murder case.
Thanks for reading CBS NEWS.
Create your free account or log in
for more features.