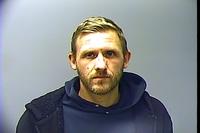 Man arrested for "terroristic" death threats against CNN's Don Lemon
An Arkansas man was arrested on Election Day for allegedly making death threats against CNN anchor Don Lemon in more than 40 calls he placed to the network's headquarters. Authorities said the man also called MSNBC and two top Democrats in Congress, showing a "pattern of harassment toward certain political affiliations."
Benjamin Craig Matthews, 39, faces five felony counts of terroristic threatening, as well as 13 misdemeanor counts for threats and harassing communications, according to an affidavit filed in Baxter County Circuit Court.
Matthews allegedly called CNN's Atlanta headquarters dozens of times between Oct. 31 and Nov. 2. Those included three calls Oct. 31, and six calls within 23 minutes on both Nov. 1 and 2, the affidavit says.
Matthews allegedly made violent threats against Lemon in several calls. In one of his first calls, he said he would like to "kick the s--- out of" Lemon, the affidavit says. The next day, he asked an operator to connect him to Lemon's "dead body hanging from a tree." In another call he asked to direct his call to "pipe bombs for" Lemon, and in another he talked about "bloody pictures" of Lemon "cut up in small pieces, like the movie Saw," the affidavit says.
An investigator with the Atlanta Police Department tracked the calls to Matthews and referred the case to authorities in Arkansas.
According to the affidavit, Matthews also called Rep. Maxine Waters, D-California, Senate Minority Leader Chuck Schumer, D-New York, the Washington Speakers Bureau, Planned Parenthood, and Stormy Daniels' attorney Michael Avenatti. It's unclear what he said in those calls, but the affidavit said they suggested a pattern of political harassment.
Matthews, from Mountain Home, is being held on $15,000 bail. Jail records did not list an attorney for him.
His arrest came less than two weeks after a Florida man, Cesar Sayoc, was arrested for allegedly sending mail bombs to CNN's New York office and to several leading Democrats, including former President Barack Obama, Hillary Clinton and Maxine Waters. Sayoc, who is being held on federal charges, had been living in a van covered with stickers, including ones that said "CNN Sucks" and "Dishonest Media."
CNN did not immediately return a request for comment.
Thanks for reading CBS NEWS.
Create your free account or log in
for more features.