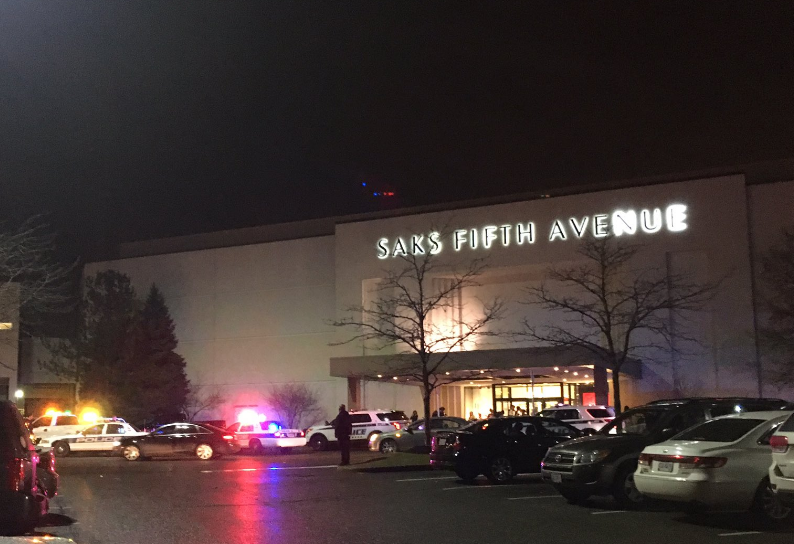 Chaotic mall disturbances reported across U.S. on Boxing Day
There were at least 10 disturbances reported at malls across the country on Monday, one of the busiest days of the year.
It's unclear if any of the incidents are related.
Police in Ohio say officers have used pepper spray to disperse a large crowd following a fight at the Beachwood Place Mall, an upscale shopping mall.
Police said it appeared to have been loosely organized on social media, CBS affiliate WOIO reports.
Officers initially responded to the scene for a report of shots fired. Police later confirmed that there were no gunshots.
One male juvenile was arrested for attempting to strike an officer that was dealing with another disorderly patron, police said. There were no further arrests. The mall was placed on lockdown around 7 p.m. but later reopened.
A woman who works inside the mall said she witnessed a crowd running in panic. An ambulance arrived on scene around 7:30 p.m. Fire officials say a man and a police officer were exposed to the pepper spray and received medical treatment. No one else was injured.
It was not immediately clear what led to the fight.
At Roosevelt Field mall on Long Island, a fistfight prompted many 911 callers to falsely report gunfire. Nassau County Police Department officials tell Newsday on Monday no shots were actually fired.
Commissioner Thomas Krumpter tells the newspaper shoppers called 911 after reacting to a fight in the food court.
Police responded to The Mills at Jersey Gardens Monday evening after an altercation prompted a panic among shoppers around 5:00 p.m., CBS New York reports.
CBS 1010 WINS reported that police initially received reports of gunshots inside the mall.
Police with long guns searched the food court after shoppers heard a sudden, sharp loud noise.
"It sounded like shots to me," shopper Carol Kuhn told CBS New York. "I've heard gunfire before and that's what it sounds like to me."
Many of the shoppers on this busy day-after-Christmas decided to flee, filling back hallways and heading towards emergency exits. Along the way there was some pushing and shoving.
According to Elizabeth Mayor Chris Bollwage, a total of eight to ten people - including two boys and a pregnant woman - were injured in the ensuing chaos with non-life threatening injuries.
They were treated on scene before being transferred to local hospitals for further evaluations, according to the mayor.
"Yelling gunshots in a crowded mall when it didn't happen clearly ensues a chaotic event which is what we have here," Bollwage said.
Elizabeth and New Jersey State Police - in addition to Union County Sheriffs - all responded, shutting down roads leading to the mall and bringing traffic to a standstill for several hours.
Jersey Gardens - closed Monday - is scheduled to reopen Tuesday morning.
In Memphis, authorities and witnesses say there have been disturbances at two malls in the city and one of them had to be shut down.
Witnesses at the East Memphis mall say people were told to leave after a dispute between a girl and a boy quickly escalated and involved others. At Wolfchase Galleria, police say a large group of people started a disturbance in the food court area Monday night.
At the Hamilton Place mall in Chattanooga, Tennessee, authorities were called Monday after someone set off fireworks inside the mall, CBS affiliate WDEF reports.
Investigators say a group of individuals set off fireworks, to possibly cover up a shoplifting crime. Police say several people were injured when they were pushed down in the rush to leave the area.
The injuries are minor.
Chattanooga Police have descriptions of the suspects involved, and will be following up on all potential leads as well as looking at video footage to hold them accountable for their actions.
Police in a Denver suburb evacuated a mall due to multiple skirmishes.
Aurora police posted on Twitter that no injuries were reported at the Town Center at Aurora on Monday. Police had earlier characterized the incident as a "large disturbance."
A man who answered the mall security line told The Associated Press that the mall is on lockdown until further notice. He declined to give his name.
Authorities are asking the public to avoid the area unless picking up a family member.
Officers were working on clearing out parking lots.
A North Carolina mall has been evacuated after a fight sent a crowd of after-Christmas shoppers fleeing.
Fayetteville Police Lt. Todd Joyce says police were called to Cross Creek Mall around 5 p.m. Monday because of a disturbance. He says some teenagers were apparently involved in a fight at the mall.
He said officers found no one injured from the altercation. He says there's no evidence shots were fired, even though some witnesses thought they heard a gunshot. Witnesses tell media outlets that there was chaos as hundreds tried to flee the mall
Joyce says no arrests have been made, but police are reviewing mall security video to see if charges are warranted.
He says emergency medical personnel were called to assist someone who had a medical episode while fleeing.
Police in Pittsburgh confirmed a "handful" of arrests were made during an "incident involving several youths" at the Monroeville Mall on Monday, CBS Pittsburgh reported.
A fight among a group of teens and young adults was initially confined to a small area of the Monroeville Mall early Monday evening, but the chaos and confusion quickly spread.
"I saw everything. Like, I heard people screaming and running," Becca Wilhelm said.
"When we first walked in, there was a bunch of people there, like the canine dogs, all the police were there," Hannah Pulit said.
"And then we walked into Hollister, and we went to walk up to the front to look at more things, and then they were like, 'You can go out at your own risk.' ... You had to walk around the entire mall [to get out]."
Despite several witness accounts, mall spokesperson Stacey Keating tells CBS Pittsburgh the mall was never under lockdown.
She says Dick's Sporting Goods lowered its security gate, but no one was ever locked inside the mall.
Sources close to the investigation tell CBS Pittsburgh multiple juveniles were either held at the police substation at the mall or taken to the main headquarters. Port Authority buses were called for transport. Parents came to pick up many of the teens.
"They were just loaded inside the mall with security guards and everything. There was a ton," Wilhelm said.

Thanks for reading CBS NEWS.
Create your free account or log in
for more features.