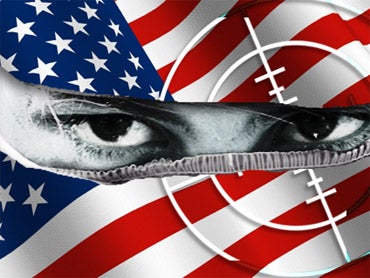 If you're like most American women, there's a good chance you're spending several hundred dollars on makeup each year.
Your makeup kit is probably overflowing with all sorts of products that you never use, and trying to figure out what to keep and what to toss could be driving you bonkers.
So super stylist David Evangelista visits The Early Show on Monday to sort through the must-haves in the world of makeup.
First, it's vital to have a great makeup case that displays all of your products well (no need to rifle through a bag looking for an eyeliner). And it also has lots of compartments to sort items in an orderly manner.
The makeup kit featured on the show is from Japonesque, and runs about $60. It has four small "drawers" for items like tweezers, makeup removing swabs, concealers, etc., and a large bottom drawer for larger, bulkier items like brushes, powders, etc.
Next, it's important to have a few vital tools to look your best. A few basics you must have in your makeup kit are:
Good makeup sponges - The Sephora Sponge Wedges ($6 for 8) are made from synthetic material and are far more substantial than other makeup wedges. They blend makeup smoothly into your skin for a sheer, natural appearance, and it doesn't crumble all over the place like other sponges. Moreover, they can be rinsed and reused - and the plastic case they come in helps keep them ultra sterile (and it helps to avoid letting the sponges fly around in your makeup case).
Great brushes - If there's absolutely one thing you MUST invest in, it's a set of excellent quality, full-size makeup brushes. Think of them like a classic Chanel suit - they will last you years if properly cared for (sometimes, even a lifetime), and whenever you use them you'll look and feel great. Squirrel hair and sable brushes are among the top of the line available (which, by the by, are made without killing the animals), and feel like silk against your skin.

It's important to buy a few select brushes:


A powder brush to apply face powder

A blush brush for powder blush

All-over eye-shadow brush to apply shadow all over the lid and brow bone

A smaller eye-shadow brush for contouring the crease of your eye

An eyeliner brush for powder liners

A retractable lip brush - far more sanitary than those that aren't covered

An eyebrow/eyelash comb/brush combo


The line showcased on the show also comes from Japonesque, and prices on each range from $10 to $35.
A good tweezer - To get to those stray hairs that are making your brows look downright bushy, you need a good tweezer. To get to the ultra-fine hairs that are growing between your brows and looking funky, you need a spectacular tweezer, Evangelista says.

The Tweezerman slant tweezer (about $20) is the gold standard in the makeup world. They grasp the finest of hairs, and the slanted shape allows you to get those teeny tiny hairs that are popping up just above the skin's surface. And, they'll last for a lifetime. Another good purchase: brow gel to set your perfectly groomed brows in place, and for those going grey, check out the tinted brow gels now available.

An eyelash curler - Makeup artists agree that every woman needs a good eyelash curler to "make them look more awake." The favorite among makeup artists worldwide: Shu Uemura's Eyelash Curler ($15). Its arc is wide enough to fit all your lashes, and it comes with a firm pair of lash pads that don't tug or pull. It curls quickly and evenly, and you're not left crying after a lengthy curl, as you often are with other curlers.
Makeup removal swabs - These are the latest hot things on the makeup scene: they're swabs that snap open to release built-in makeup remover. Swab Plus ($2 for a pack of 12) work in a myriad of ways: first, they remove makeup, but they also smudge freshly applied eyeliner for a softer look, and clean off the little globs of mascara you may get on your brow-bone after application, or the too-wide lip liner that you've plastered around your mouth. One end of swab plus is like a regular Q-tip, which you can also use in application of your makeup, so these are really like 2-in-one wonder tools.

Once you have your tools, getting a gorgeous glow is simple - all you need are a few, basic cosmetics.

Tinted moisturizer - This evens out your skin tone, toning down blotchy red spots and color inconsistencies while moisturizing. The bonus: unlike foundation, which can look cakey or just too visible, tinted moisturizer just blends right into your skin and leaves you with a soft, almost invisible tint. A makeup artist favorite is Laura Mercier's tinted moisturizer ($38), which also contains SPF 20 so your skin is protected when you leave the house.
Concealer - If you've got huge bags under your eyes or a zit that strangely resembles Mt. Vesuvius, you're going to need a good concealer. Evangelista's favorites: Laura Mercier's Secret Camouflage ($28) for pimples or eruptions, and YSL's Touche Eclat ($36) for those horrid under-eye bags. This "magic wand" is Evangelista's favorite product of all time. It has a little brush at the tip and a pump-action style to get the liquid to the tip. It acts more like a light reflector and actually only comes in one shade. A light coating will make a world of difference on those under-eye bags, or you can easily layer it without looking cakey if the bags are ultra, ultra dark.
Translucent powder - To set your entire look, you absolutely must powder lightly. Estee Lauder's So Ingenious ($30) is a good, lightweight, light-refracting choice.
Blush - You have to add an extra pop to your face with a rosy cheek, so go for a brightly colored powder blush or one of the new gel/stain blushes. A few good suggestions: Lorac's lip/cheek sheer wash ($24), as the name says, it can be used on lips as well; or Benefit's Dandelion ($26), a powder that gives your cheeks that just-pinched look; or L'Oreal's Blush Delice Sheer Powder Blush ($8.95), which gives you a lot of color without a lot of price.
Eyeliner and mascara - Nothing's going to make you look more awake than a little eyeliner and mascara to pop your eyes. For eyeliner, Evangelistas loves Nars' Night Breed powder liner, ($18) which can be pressed into your lash-line with your eyeliner brush. The ultimate in mascaras, according to most makeup artists: Maybelline Great Lash (around $5) which will lengthen and thicken without clumping.
Lip gloss - Forget about worrying with lip liner and rigid lipsticks; lip gloss is the ultimate way to go. Evangelista's favorites: Chanel Glossimers ($24.50), which add a good dose of color with shine, and Neutrogena's Moisture Shine Gloss (around $7), which also pops a pout with gorgeous color and shimmer.
Thanks for reading CBS NEWS.
Create your free account or log in
for more features.