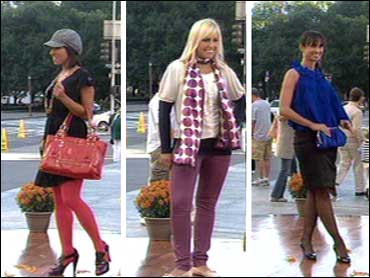 Make A Bold Fall Fashion Statement
This fall season is all about making a bold fashion statement with trendy bright colors. Dawn Yanek, Editor-at-Large of Life & Style Weekly magazine joins us to show both women and men how to incorporate these vibrant colors in their wardrobe.
Don't be afraid of color, Yanek says. It's a great way to update your wardrobe for the new season, as well as inject a healthy dose of brightness into some of the bleaker, colder months.
Some guidelines: Don't go overboard, make the trends work for you instead of just wearing them to wear them, and of course - have fun! If you're afraid of color, start out slowly and buy a few pieces that you can wear with your already-existing wardrobe and that transcend the season.
For example, you can wear a colorful bag through the winter, or you can take a gorgeously colored top and wear it with this season's and next season's trends. Depending on what you choose, these new pieces can become basics in their own right for seasons to come.
Fall fashion tips:
Add bursts of colors with your accessories.
MODEL #1: NICOLE G.
Dress: Lush belted sweater dress, $38, Norstrom.com
Tights: Juicy Couture houndstooth texture tights, $42, Shopbop.com
Bag: Candice Double Handle Buckle Tote, $52, Aboutattitude.com
Hat: Riviera newsboy hat, $39.99
Jewelry: Ann Taylor Loft long mesh necklace, $39, AnnTaylorLoft.com
This is the easiest, most noncommittal and most affordable way to wear color. Keep your gray knit dresses and black turtlenecks -- just add a bright accessory or two. This lets you test out new colors without starting from scratch or spending a fortune.
Less can definitely be more, especially if you're just starting to experiment with color. You certainly don't want to go overboard: A little color goes a long way and you don't want to look like you're trying too hard.
Red tights add an unexpected burst of color. And these have a subtle houndstooth pattern woven into them, making them a little more complex and interesting. They're also made with a slightly heavier material, so they almost seem more like leggings than tights - perfect for fall.
Bags are the ultimate colorful accessory. Even though we didn't spend a lot of money here with this $52 patent-leather tote from About Attitude, this is one place where you can splurge if you want. It's an investment piece, and you'd be surprised how many things you can wear this with and how many compliments you'll get on it. It's really a show-stopping item.

Find the shade that works for you.

MODEL #2: NICOLE D.

Layered shirt: Yummy Tummie navy layered long-sleeve tee, $82, YummyTummie.com
Sweater: Hinge sweater, $58, Nordstrom.com
Jeans: Fresh Ink Purple jeans, $108, TheDenimShop.com
Shoes: Bakers crème flats, $29.99, Bakers.com
Jewelry: necklace, $28, Macy's stores nationwide
Scarf: $31.99, BananaRepublic.com
Purple is one of the hot colors for fall, but not every purple works for every person. For light skin and hair, go with a softer shade of purple. For darker hair or skin, go with a deeper, richer purple. The jewel tones of deep purples bring out the warmth and pink undertones of someone's complexion.
If you do go with a lighter shade of purple, don't go head to toe in a dress. Lighter shades tend to look a little more summery. We layered the lighter purple and the frilly white top with a dark, long-sleeved tee to bring an outfit like this into fall. Layering is also a big trend for fall, and it adds complexity to your look.
If you're not used to wearing color, putting it on the bottom helps because it's not the central focus, right near your face. Even though the purple pants from Fresh Ink are a bright burst of color, they don't rule the look, because the more neutral aspects are up top, where people's eyes will naturally fall. That said, it's a good idea to incorporate a bit of the color into the look as a whole when you do this so that it looks coordinated and effortless. That's where the scarf comes in. We even added an affordable necklace from Macy's (just $28) that has subtle, light-purple crystals. It's subtle, so it doesn't compete with the scarf or pants, but it helps to tie the whole look together.
Of course, if the purple pants are too bold for you, you can easily just go with the scarf - which provides a great pop of color in and of itself.

Use color to your advantage by enhancing your best features and hiding problem areas.

MODEL #3: GENEVIEVE

Top: Anne Leman, $390, Intermix-ny.com
Skirt: Bebe Pencil skirt, $98, Bebe.com
Bag: Steve Madden clutch, $48, Stevemadden.com
Shoes: INC black patent heels, $79, Macy's stores nationwide
Earrings: Earrings, $6.99, Target.com
This is a sexy look that goes from day to night. Subdued during the day with a blazer or cardigan, sexier at night without them and with ramped-up accessories.
Enhance your assets and hide your problem areas by drawing the eye to your best features with the color. For example, if you're bottom-heavy, wear color or splashes of color on the top half of your body. The darker color on the bottom will make you look slimmer below and let the focus go to your actually slimmer parts.
Conversely, if your problem areas are up top, draw attention to the lower half of your physique by doing the opposite with color.

Wear color with color by choosing shades that complement each other.

MODEL #4: CHRISTINA

Coat: Forever21 coat, $49.80, Forever21.com
Shoes: Xhilaration® Ruffled Mary Jane Flats- $19.99, Target.com
Bag: The Limited clutch, $32, Limited stores nationwide
Jeans: BCBG Maxazria Jeans, $68, BCBG.com
Top: Apt. 9 Floral Smocked-Hem Top, $34, Kohl's stores nationwide
Wearing color with color may seem intimidating, but it's really a matter of picking shades that complement each other. For example, orange and yellow, pink and purple; each of these is in the same color family. Use the color wheel as a guide: Wear related shades and tones that fall next to each other, or go bold and wear colors that follow across from each other.
It may seem strange to put pink with orange, but both colors are actually incorporated in the shirt that we've layered under the jacket. If you have a patterned shirt, use the many colors as a guide as to what colors you can accessorize with.
Also, you don't want to go overboard with color. So if you have a lot going on with color in one aspect of your outfit, you need to balance it out with something more neutral in the other. That's why we've gone with these dark-wash jeans from BCBG. The darker wash keeps things on the dressy and classic side, but they're still jeans, so it makes this outfit perfect for a weekend brunch or a day of shopping.
A bold jacket is a great way to incorporate color easily on a daily basis. Especially good on the colder, bleaker days when a burst of color can improve your mood - as well as the color in your face. We love this coat from Forever 21 - it has a great, bold color, and believe it or not, it's only $50!

Men can wear color too!

MODEL #5: WARREN - LOOK 1

Shirt: Zachary prell, $175.00, Zacharyprell.com
Sweater: H&M sweater, $19.90, H&M stores nationwide
Jeans: Fit & Drain jeans, $98
Shoes: Nobik by Shane and Shawn, $240, ShaneandShawn.com

MODEL #6: JAY - LOOK 2

Shirts: Lacoste colors polo, $79.50, Lacoste.com
Jeans: Fresh Ink grey jeans, $108, TheDenimShop.com
Shoes: Men's Converse One Star Canvas Oxfords, $29.99, Target.com
That's right, so don't be afraid of it. Of course, there are not as many options to add color like there are for women with accessories, so you'll need to stick to the basics of your outfit, and shirts are definitely the easiest way to do that.
We have two looks here - one more subtle, one a little bolder. Purple is the "it" color for men too, and we've even illustrated the idea of wearing color with color with this particular look. We've layered a navy button-down with very thin lavender stripes with a bolder purple sweater. The blue shirt grounds the look a little bit, while also adding a little bit of complexity - much more interesting than a black or white shirt underneath. Darker colors tend to come across as a bit dressier, so it's better to go with them (as opposed to the lighter, brighter ones) for a work or nighttime look.
Go bold with your more casual looks. We've paired orange and yellow Lacoste polos together for a relaxed weekend look that's much more pulled-together and interesting than your regular faded jeans and tees. And while we're on the subject, don't be afraid to steer away from your regular old blue jeans. Here, gray jeans can actually help you look a little more chic.
Wear color with color and don't be afraid to steer away from your blue jeans!
Thanks for reading CBS NEWS.
Create your free account or log in
for more features.