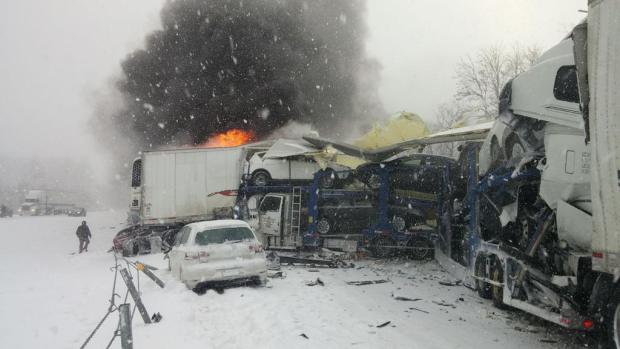 Major car pileup in Michigan blamed on driver error
KALAMAZOO, Mich. - A 193-car pileup in Michigan that killed a man and closed down a snowy stretch of I-94 for two days was blamed on driver road speed in the wintry conditions.
"This boiled down to driver behavior," Nick Schirripa, spokesman for the Michigan Department of Transportation told the Kalamazoo Gazette. "People were driving too fast and following too closely on an icy freeway during a white-out."
That behavior caused a massive multiple crash on the east-west highway in the western part of the state. In the accident, a truck carrying fireworks caught fire, causing its cargo to explode, CBS Detroit reported. A 57-year-old truck driver from Ottawa, Canada was killed and two dozen people were hospitalized, including two firefighters.
Michigan State Police officials say the pileup likely happened as chain reactions from drivers in the westbound lanes who were distracted by an earlier accident in the eastbound lanes.
But the westbound lanes wound up with more vehicles in accidents with 59 semi-tractor trailer trucks and 83 cars. The eastbound lanes had 26 semis and 34 cars.
Police are investigating the massive crash and are reviewing phone videos on social media that were shot by drivers and show a steady progression of vehicles sliding into to the semis and cars already stopped in the road.
The highway was fully reopened two days later after all of the debris was cleared.
Thanks for reading CBS NEWS.
Create your free account or log in
for more features.